NYC TOPSHOP opening events update (w/ Sharon Jones)
McCarren Pool - Summer 2008 (more by Ryan Muir)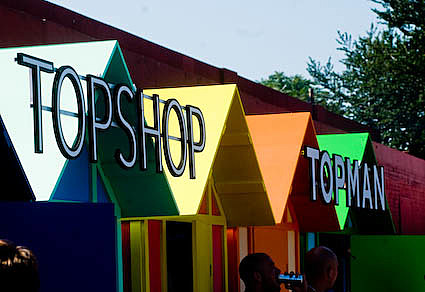 The much-delayed new Topshop store opens in NYC on Broome and Broadway on April 2nd (remember all that advertising at McCarren Pool last summer?). What does this have to do with music (besides the fact that people will probably start adding this place to the list that already includes H&M and American Apparel when they say where 'hipsters' shop)? Well, as previously posted, celebrity-musician deejays (The Rapture, Late of the Pier, James Murphy, etc), in conjunction with East Village Radio, will be playing music in the store all week while people shop (full list here).
And as also previously posted, Santigold and Mark Ronson will be performing, BUT not in the store. There are two nights of Sir Philip Greene-hosted, invite-only parties going on at Balthazar. Tonight, March 31st features Mark Ronson backed by the Dap Kings, and performances by Amazing Baby, Jimmy Fallon, Santogold/Spankrock, Nicolai from The Strokes, Alex Greenwald from Phantom Planet and Daniel Meriweather.
April 1st has Sharon Jones and the Dap Kings and "a special guest we cant announce, big voice". Maybe it's Lady Gaga, who was originally mentioned, and who plays two shows at Terminal 5 on May 2nd (after the ones that were supposed to be TONIGHT were postponed) (though I don't know about the "big voice" part).
Then on Thursday, April 2nd, TopShop is having a third party. This time at the Box, and hosted by Sir Philip Greene and Kate Moss (who has a line of clothes in the store), with performances by Adele and La Roux, and DJ sets from The Misshapes and James Murphy.
Sounds fancy.