Odd Future announce new albums, plans for tour & stuff
Timothy S. Griffin
Odd Future at FFF Fest 2011 (more by Tim Griffin)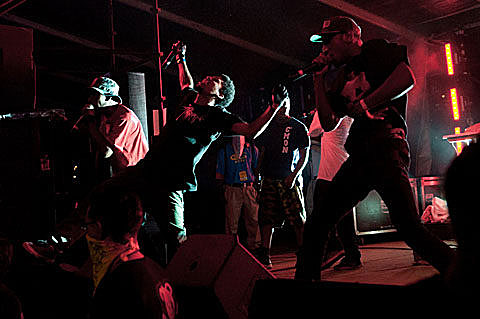 Odd Future are readying their new joint mixtape, The Odd Future Tape Vol. 2, and it's due out March 20 via their own Odd Future Records. Though other mixtapes have been released since their 2008 debut, The Odd Future Tape, this one seems to be somewhat of a conceptual followup. Their debut featured Tyler, the Creator, Left Brain, Hodgy Beats, Super 3 (1/2 of The Jet Age of Tomorrow), and Casey Veggies, who since left Odd Future (and is featured on the new Rockie Fresh single). The new tape will again feature Tyler, Hodgy, and Left Brain, in addition to Frank Ocean, Domo Genesis (who raps on the new Smoke DZA EP), Mike G, Syd the Kyd, and The Internet (aka Syd Tha Kid and producer Matt Martians).
They're about to announce a 10 city national tour which will happen in March that will include an OF pop up store in addition to a show in each city that it hits. The shows will each open with an exclusive viewing of their Adult Swim show, "Loiter Squad," which makes its premiere on March 25.
In other OF news, Tyler, the Creator will release his third album, Wolf, this May and MellowHype will release Numbers in the summer. Listen to a recent MellowHype track, "45", on Hodgy's tumblr. As Hodgy points out, "whats funny is that 45 shit aint even on numbers. just be ready. MellowHype is ill as fuck. bank on it."