Trash Talk & Odd Future brought chaos to 285 Kent after the Tyler, Earl & Frank Ocean shows (pics/video)
Frank Ocean & friends @ 285 Kent

After Frank Ocean played Terminal 5 and Tyler, the Creator and Earl Sweatshirt played Best Buy Theater, Frank, Tyler, Earl, and most of the rest of the Odd Future crew that was in town (no Mike G or Syd The Kid), made their way over to 285 Kent where the free Brooklynvegan-presented afterparty was happening with an advertised set by Trash Talk (who record for Odd Future Records) and DJ Leftbrain (of Odd Future). Doors were scheduled to open at midnight, By then there were already more than capacity on line to get in. Naturally, everyone did not get in, and some actually stayed on line outside, still hoping while listening through the door until the end of the show.
As advertised/hinted, there were special guests who turned out to be all of Odd Future (even Frank Ocean). The show started with about an hour-long DJ set where the members of Odd Future were on stage dancing around, singing along to whatever songs were playing and hyping the crowd who started to get crazy, but not as crazy as when Trash Talk actually took the stage. It was a trip to watch Frank Ocean having fun on the 285 Kent stage with his friends, after just having seen him command a sold out crowd at Terminal 5. Not to mention Tyler and Earl goofing around, after also just having played a headlining show at the sold out Best Buy Theater. Tyler, Earl and others then stayed on stage for Trash Talk as the band played a signature set that includes lots of pit action and people jumping off speakers. Odd Future didn't technically perform a live set at 285 Kent, but Tyler, as he has done in the past, took over vocals for "Radicals," which you can watch a video of below. Said video also includes footage of Trash Talk playing their song, "Awake."
sweaty Trash Talk

For Trash Talk's last song, they asked every single person in the room to run out of the venue on to the street to join with the people who couldn't get in. That didn't work out so well though, as the security at the door was already overwhelmed and chaos and a fight quickly ensued outside as Todd P and the rest of the 285 Kent crew tried to calm the masses.
Among those in the crowd were Odd Future associate Lucas, members of Real Estate (who Trash Talk shouted out), Neon Indian, and Cults. Vampire Weekend and John Legend were spotted earlier in the night at Frank Ocean (where Odd Future and Trash Talk also was), and I saw Action Bronson, Despot, and Chavez guitarist Matt Sweeney all hanging out outside the Odd Future Best Buy Theater show. All in all, an eventful night for the NYC music scene thanks to the Odd Future crew coming to town.
We have even more pictures coming, but here's one set. More of them, with the video of Tyler joining Trash Talk, below...

---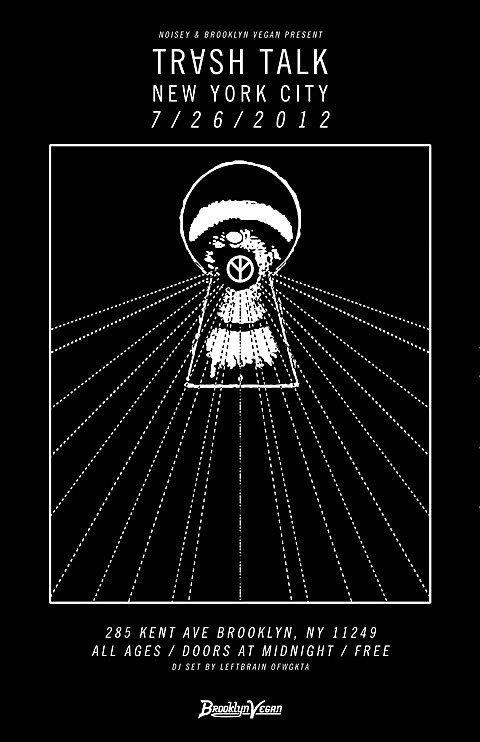 cell phone pic of the line outside 285 Kent before the show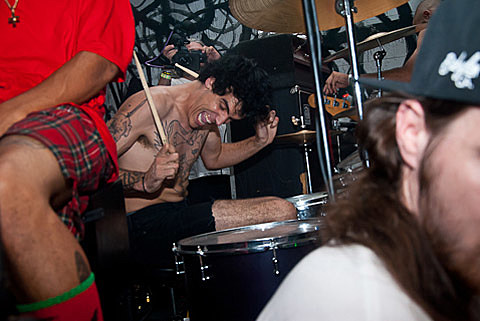 a few more cell phone pics...