O'Death announce LP, playing w/ Vietnam, Fletcher C Johnson & Shilpa Ray (who lost her boots at Baby's) — pics & dates
photos by Chris La Putt
Shilpa Ray @ Baby's All Right -- 5/24/2014

Alt-punk-rock-bluegrass-appalachian-country band O'Death are not only still at it, they recently announced they have a new album on the way via Northern Spy. No other details at the moment, but it will be their first since 2011's Outside.
On June 7, O'Death will play the Wick with fellow long-running (minus hiatuses) NYC artists Vietnam and Shilpa Ray along with guitar pop songwriter Fletcher C. Johnson (who also recently played with Parquet Courts, Guards, Shy Hunters, and King Gizzard & The Lizard Wizard). Tickets for the Brooklyn show, which is also Vietnam's only upcoming date, are on sale.
Meanwhile you can catch Fletcher and band at Baby's All Right tonight (5/30). They're the "special guest" opening the Hector's Pets record release show.
On Saturday week we caught Shilpa Ray at Baby's All Right. We were sad to since learn that someone took her boots! Shilpa writes:

What a crazy night! Baby's is so much fun. WAY TOO MUCH FUN. I've got a severe headache and I believe someone walked away with my boots last night. Give em back! I know you've got big feet and there is no way you're a ladies 5 1/2 - 6, so quit pretending. As for the rest of you thanks for coming out!! Loved Clapperclaw, Triptides, and D'NT. Special thanks to DJ Andrew Haynes.
I could say something rash, like I'm not drinking for the rest of this week, but we know that is a lie. Cheers to the Mid Atlantic states! Happy Memorial Weekend!!
I'll leave you with this: (yeah that's Stiv Bators) http://youtu.be/5CYN14Ki5o8
We missed Loved Clapperclaw and Triptides, but caught D'NT (who open for Titus Andronicus at Warsaw) and the intense harmonium playing Shilpa. Pictures from that show continue, along with a cover of the Pixies by O'Death you can listen to, below...

---
D'NT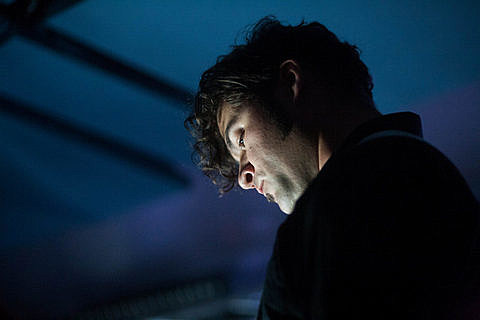 Shilpa Ray