Of Montreal announce new album (MP3s, cover art, tracklist), more NYC shows w/ Janelle Monae (dates)
Benjamin Lozovsky
Of Montreal @ Highline Ballroom in January (more by Benjamin Lozovsky)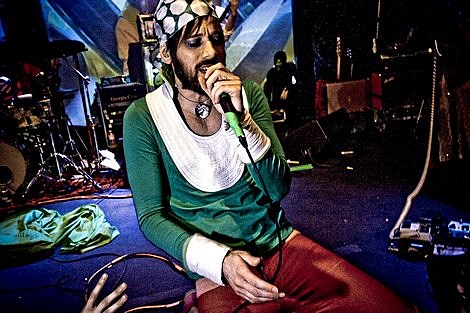 The album, co-produced by Kevin Barnes and Jon Brion, features contributions by indie/pop crossovers Janelle Monáe and Solange Knowles. Both have been known to perform with Of Montreal at the band's gigs (at Terminal 5 even). And there's good odds the band will jam with Janelle, the confirmed opener, at their brand-new Terminal 5 dates on Friday, September 17th and Saturday, September 18th. Tickets go on AmEx presale Wednesday at 11am. General sale starts Friday at noon. Who knows, maybe Susan Sarandon will even show up to spank people again.
All tour dates, appropriately weird album art and tracklist are below...


'False Priest' tracklist
I Feel Ya' Strutter
Our Riotous Defects (feat. Janelle Monáe)
Coquet Coquette
Godly Intersex
Enemy Gene (feat. Janelle Monáe)
Hydra Fancies
Like A Tourist
Sex Karma (feat. Solange Knowles)
Girl Named Hello
Famine Affair
Casualty of You
Around the Way
You Do Mutilate?
--
Of Montreal - 2010 Tour Dates
7/25 - Jackson, MI - Land Of Nod Experiment
7/30 - Montreal, QC - Osheaga Festival
7/31 - Burlington, VT - Higher Ground
8/02 - Asheville, NC - Orange Peel
8/07 - Lake Worth, FL - Lake Worth-it / Bryan Park (Kevin Barnes solo performance)
9/17 - New York, NY - Terminal 5 #
9/18 - New York, NY - Terminal 5 #
# w/ Janelle Monae opening