Of Montreal releasing rarities comp, touring; Nina Barnes and Orenda Fink formed Harouki Zombi (dates & streams)
Of Montreal at McCarren Park in June (more by Joe McCabe)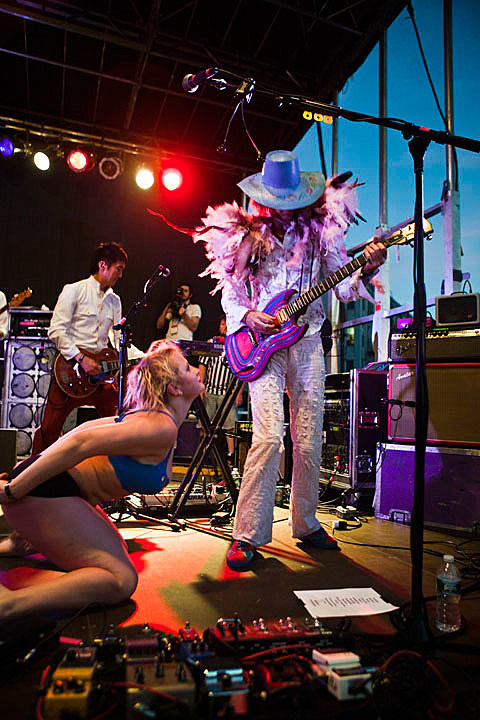 Of Montreal are set to release a rarities compilation called Daughter of Cloud on October 23 via Polyvinyl. The album compiles 17 tracks recorded from 2007 to present, 10 of which were never released and the other seven which were previously issued on limited edition, rare, or out of print releases. You can stream one of the album's tracks, "Sails, Hermaphroditic," and check out the cover art and tracklist below.
Of Montreal will also be going on a North American tour this fall, which brings them back to NYC for a show at Webster Hall on December 11, where they played twice earlier this year. Tickets for that show go on sale Friday, September 14 at noon with an AmEx presale starting Wednesday, September 12 at noon.
In related news, Kevin Barnes' wife Nina Barnes (who has worked with Of Montreal in the past) has teamed up with Orenda Fink of Azure Ray to form the duo Harouki Zombi, who will release their first EP, Objet Petit A, on October 23 via Polyvinyl. The EP includes a track written by Kevin Barnes ("Vacated Hunters") and was produced by Todd Fink of The Faint. You can stream the EP's title track and check out the tracklist below.
A list of all dates, song streams, cover art, and tracklists are below...

---
Of Montreal - "Sails, Hermaphroditic"

Harouki Zombi - "Objet Petit A"

Of Montreal - Daughter of Cloud

Daughter of Cloud Tracklist:
1 Our Love Is Senile
2 Obviousatonicnuncio
3 Sails, Hermaphroditic
4 Steppin' Out
5 Hindlopp Stat
6 Partizan Terminus
7 Georgie's Lament
8 Jan Doesn't Like It
9 Feminine Effects
10 Tender Fax
11 Psychotic Feeling
12 Alter Eagle
13 Kristiansand
14 Micro University
15 Subtext Read, Nothing New
16 Noir Blues to Tinnitus
17 Expecting to Fly (Buffalo Springfield cover)
Harouki Zombi - Objet Petit A Tracklist:
1) Objet Petit A
2) Soldier's Gun
3) Vacated Hunters
4) Swamp Theme
5) Objet Petit A (Rewards Remix)*
6) Objet Petit A (Deniallabs Remix)*
Of Montreal -- 2012 Tour Dates
09-25 Gainesville, FL - Reitz Union Rion Ballroom
10-06 Los Angeles, CA - Culture Collide Festival
10-07 Los Angeles, CA - Culture Collide Festival
10-19 Halifax, Nova Scotia - Halifax Pop Explosion
10-27 Athens, GA - Georgia Theatre
11-28 Miami, FL - The Stage
11-29 Tallahassee, FL - The Moon
11-30 Orlando, FL - The Plaza
12-01 Mobile, AL -Alabama Music Box
12-02 New Orleans, LA - Howlin' Wolf
12-03 Houston, TX - Warehouse Live
12-04 Austin, TX - Mohawk
12-05 Dallas, TX - Granada Theater
12-06 Oklahoma City, OK - ACM @ UCO Performance Lab
12-07 Omaha, NE - Slowdown
12-08 Milwaukee, WI - Turner Hall
12-09 Chicago, IL - Metro
12-10 Cleveland, OH - Beachland Ballroom
12-11 New York, NY - Webster Hall
12-12 Boston, MA - Paradise
12-13 Philadelphia, PA - The Trocadero
12-14 Washington, DC - 9:30 Club
12-15 Carrboro, NC - Cat's Cradle