OFF! announce LP & more shows (NYC on sale now) ———- tour dates & belated Way Out West pics
Off! @ a Way Out West aftershow in Gothenburg in 2011

As we were just saying, Off! were putting the finishing touches on their new album. This new press release from Vice Records has even more info:
In a creative pace to match the breathless vehemence of their music, punk/hardcore luminaries OFF! have announced the follow up to their much heralded debut First Four EPs will arrive in the form of a self-titled full length May 8th, 2012 from Vice Records. Barrelling through sixteen high intensity tracks in as many minutes, the album demonstrates the LA quartet had still further to ratchet up their visceral sonic maelstrom, delivering a "dark party" soundtrack of unleashed exasperation and bitterness executed with a rigorous precision that more than lives up to the cavalcade of accolades heaped upon them so far by the likes of Pitchfork, NPR, LA Times, among many others. Full tracklist below.

In conjunction with the impending release the band have announced a string of live dates in support of the album including a trio of appearances at next month's SXSW Festival and select record release shows in Los Angeles, San Francisco, New York, and San Diego. The Los Angeles show, which serves as the album's proper record release, is booked at the legendary Whiskey a Go Go, former host to many of the most important punk/hardcore bands of the early 80's including The Germs, The Ramones, The Misfits, and countless others.
Tickets for the previously mentioned NYC show at Bowery Ballroom are on sale now. All tour dates are listed, along with the new album tracklist, and a set of pictures I took in Sweden last year, below...

--
Way Out West photos...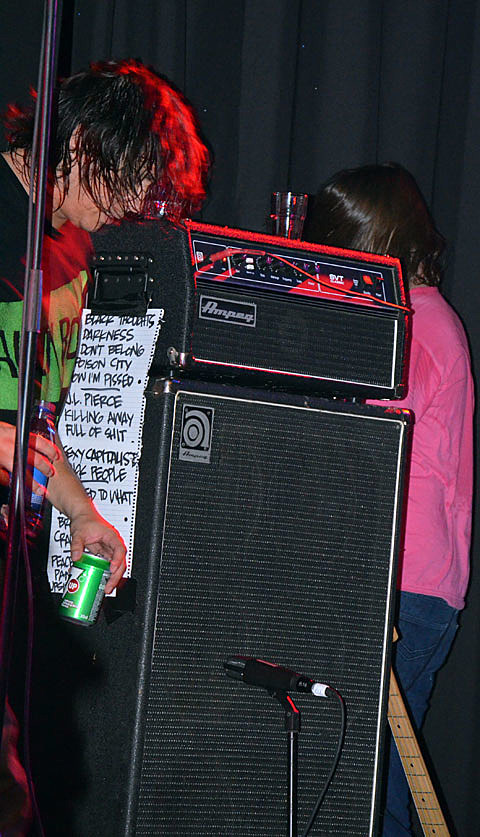 FULL TRACKLISTING
1. WIPED OUT
2. I GOT NEWS FOR YOU
3. ELIMINATION
4. CRACKED
5. WRONG
6. BORROW AND BOMB
7. TOXIC BOX
8. MAN FROM NOWHERE
9. JET BLACK GIRLS
10. KING KONG BRIGADE
11. HARBOR FREEWAY BLUES
12. FEELINGS ARE MEANT TO BE HURT
13. VAPORIZED
14. 503
15. ZERO FOR CONDUCT
16. I NEED ONE (I WANT ONE)
--
Off! -- 2012 Tour Dates
Mar 16 - Power of the Riff/BrooklynVegan @ Scoot Inn - SXSW
Mar 17 - Dickies House @ Lustre Pearl - SXSW
Mar 17 - NXNE Showcase @ Club Deville - SXSW
Mar 18 - Bro Fest @ Club Dada - Dallas, TX
Mar 24 - Burger Records Fest @ The Observatory - Santa Ana, CA
May 8 - Whiskey a Go Go - Los Angeles, CA
May 11 - Slim's - San Francisco, CA
May 14 - The Casbah - San Diego, CA
May 29 - Bowery Ballroom - New York, NY
June 2 Primavera Sound Festival