Okkervil River, Crooked Fingers, & Black Joes Lewis @ Webster Hall, NYC – pics & setlists
"Anytime I've ever seen Okkervil River perform live, they've seemed like the world's most under-slept, under-shaved band coming off a four-day bender, shredding their guts onstage as if it were their last show before their dark demise in an alley. And yet here they are on their brilliant new record with their hippie hair all tamed and their sound semi-polished and pop, as though they spent the summer at rock-hottie camp with Stuart Murdoch learning new dance moves." [EyeWeekly]
Okkervil River, Eric Bachmann's Crooked Fingers and Black Joe Lewis & The Honey Bears played their second of two nights in a row at NYC's Webster Hall last night (10/7). Crooked Fingers' new album Forfeit / Fortune came out the same day on Red Pig / Constant Artists, Inc.
"If the record took off we would have to re-evaluate and I wouldn't have a problem dancing with the devil," Bachmann said, making a half-joking reference to big retailers like Walmart with whom he shares little in common philosophically. "I don't think the system is innately bad, we're just trying to manipulate the system to where we can keep as much money that's ours as possible." [StarNews]
The first NYC show was 10/6 and that's the night the below pictures were taken. Both Okkervil setlists are down there too....

Okkervil River - Lost Coastlines

Black Joes Lewis & The Honeybears...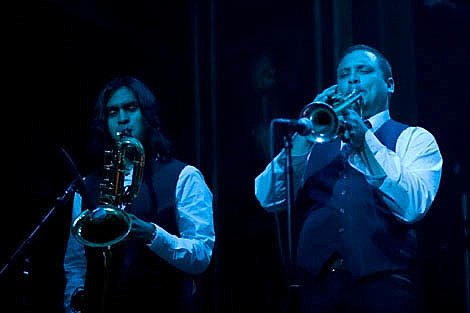 OR @ Webster Hall, night 1 - setlist
Plus Ones
Singer-Songwriter
A Hand to Take Hold of the Scene
Black
The Latest Toughs
On Tour with Zykos
Pop Lie
The War Criminal Rises and Speaks (
A Stone
Blue Tulip
Starry Stairs (with horns)
Lost Coastlines (with horns)
Our Life is Not a Movie or Maybe >
For Real
Unless its Kicks