Old 97's, Rhett Miller, Martha Wainwright, Teddy Thompson & Hayes Carll — a free NYC show, SXSW pics, video, more dates
Timothy S. Griffin
photos by Timothy Griffin
"It was hilarious to hear a man as gorgeous as Rhett Miller sing about losing at love to a better-looking man. Who could that have been?" - Jason Crane
Rhett Miller (Old 97's) @ BVSXSW 2011

Old 97's played two shows at The Bell House on Wednesday (7/13) and Thursday (7/14) with fellow Texan Robert Ellis as part of an ongoing tour. A video from the first show is below. A picture of the setlist from that same show can be viewed HERE.
Frontman Rhett Miller, who is not frustrated with Manhattan, will play in NYC again this month on July 30 on the Oval at Stuyvesant Town with Martha Wainwright, Teddy Thompson, and Hayes Carll as part of Peter Cooper VIllage/Stuyvesant Town's "Summer on the Oval series. The show runs from 4 PM to 8 PM and is free to the public. More dates for all of these artists are listed below.
Hayes Carll meanwhile plays Summerstage tonight (7/18) with Emmylou Harris and Levon Helm. We're giving away two tickets on facebook.
A belated and second set of pictures of the Old 97's playing the BrooklynVegan party at Barbarella during SXSW (where Robert Ellis can be seen in the crowd), with that video from the Bell House show, and all tour dates for everyone mentioned above, below...

--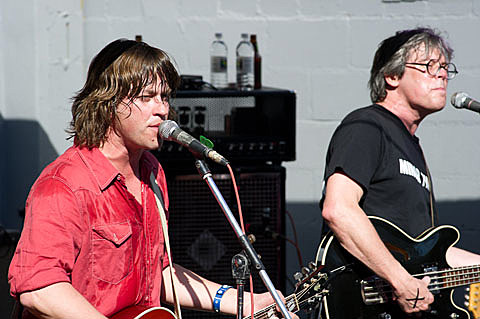 Old 97's - "Question" at The Bell House 7/13/11

Old 97's -- 2011 Tour Dates
7/18 - Chicago, IL - Lincoln Hall *
7/19 - Chicago, IL - Lincoln Hall *
7/20 - Minneapolis, MN - First Avenue *
7/21 - Kansas City, MO - Crossroads *
7/22 - Oklahoma City, OK - OPOLIS outdoor stage *
7/23 - Arlington, TX - Texas Rangers Game
8/12-14 - San Francisco, CA - Outside Lands Festival
8/16 - San Diego, CA - House of Blues (w/ Josh Ritter)
8/17 - Los Angeles, CA - The Wiltern (w/ Josh Ritter)
9/29 - Tampa, FL - Rombello Cruise 2011 Departure
10/3 - Tampa, FL - Rombello Cruise 2011 Arrival
* w/ Robert Ellis
Rhett Miller -- 2011 Tour Dates
July 23 Barefoot at the Belmont Dallas, TX w/Salim Nourallah
July 30 American Music On The Oval - Stuyvesant Town Oval New York, NY
Aug 28 Stephen Talkhouse Long Island, NY
Sept 9 Mississippi Studios Portland, OR
Sept 10 The Triple Door Seattle, WA
Sept 29 - Oct 3 Rombello Cruise 2011 Tampa, FL
Martha Wainwright -- 2011 Tour Dates
July 19 Royal Opera House London, UK w/ Rufus Wainwright
July 30 American Music On The Oval - Stuyvesant Town Oval New York, NY
Teddy Thompson -- 2011 Tour Dates
7/30/11 New York, NY American Music On The Oval - Stuyvesant Town Oval
08/05/11 Inverness, Scotland Belladrum Festival
08/06/11 Wickham Wickham Festival
08/07/11 Stratford Royal Shakespeare Company
08/11/11 London Jazz Cafe
08/13/11 Leicester Summer Sundae
08/21/11 Exeter Beautiful Days Festival
09/22/11 Morristown, NJ Mayo Preforming Arts Center
09/23/11 Burlington, VT Flynn Center for the Performing Arts
09/24/11 Orono, ME University of Maine Collins Center for the Arts
09/27/11 Buffalo, NY SUNY Buffalo Center for the Arts
09/29/11 Philadelphia, PA Kimmel Center for the Perfoming Arts: Verizon Hall
09/30/11 York, PA Strand-Capitol Perf. Arts Center
10/01/11 Newport News, VA Christopher Newport University Ferguson Center for the Arts
10/03/11 Nashville, TN Ryman Auditorium
10/07/11 Clearwater, FL Ruth Eckerd Hall
10/08/11 West Palm Beach , FL R.F. Kravis Center for the Arts Dreyfoos Hall
10/09/11 Sarasota, FL Van Wezel Perf. Arts Hall
10/11/11 Dallas, TX Morton H. Meyerson Symphony Center
10/12/11 Austin, TX Paramount Theatre
10/14/11 Santa Fe, NM Lensic Performing Arts Center
10/15/11 Tucson, AZ University Of Arizona Centennial Hall
10/16/11 Mesa, AZ Mesa Arts Center - Ikeda
10/18/11 Chico, CA Laxson Auditorium
10/19/11 San Francisco, CA The Fillmore
10/20/11 Davis, CA Jackson Hall - Mondavi PAC
10/23/11 Palm Desert, CA McCallum Theatre
10/24/11 San Diego, CA Balboa Theatre
Hayes Carll -- 2011 Tour Dates
7/18/2011 New York, NY Central Park SummerStage
7/19/2011 Tampa, FL Skipper's Smokehouse
7/20/2011 Atlanta, GA The Earl
7/22/2011 Wilmington, NC Brooklyn Arts Center
7/23/2011 Washington, DC Rock and Roll Hotel
7/24/2011 Camden, NJ XPoNential Music Festival
7/27/2011 Louisville, KY Waterfront Park
7/28/2011 Nelsonville, OH Stuart's Opera House
7/29/2011 Greensburg, PA St. Clair Park Amphitheater
7/30/2011 New York, NY Stuyvesant Town Oval
8/26/2011 Friendship, IN Whispering Beard Folk Festival
8/28/2011 Ottawa, ON Ottawa Folk Festival
9/10/2011 Houston, TX McGonigel's Mucky Duck
9/18/2011 Austin, TX ACL Festival
9/23/2011 Oklahoma City, OK the Blue Door
10/15/2011 Little Rock, AR Revolution Music Room