Om, Naam, Lichens & Six Organs of Admittance @ Europa in Brooklyn – pics, video, live recording ++ (*Bowery tonight*)
Om @ Europa

On the eternal quest towards enlightenment, Om played Europa on 10/11 as part of a four band bill that included Ben Chasny solo project Six Organs of Admittance, Lichens, and Naam. Though Om is traditionally a duo, the new (and in my estimation, interesting) direction on God is Good sees the band going outside of their traditional roles, and as such Robert Lowe of Lichens joined them on stage to embellish with percussion, guitar, keys, and tons of effects. NYCTaper was on the scene, and recorded the entire show for your enjoyment. Get that here.
If you happened to miss Europa, then you have a few chances to catch all of the bands in the coming weeks. First up, Om, Six Organs of Admittance, and Lichens plays NYC again (Bowery Ballroom) tonight (10/13). Tickets are still on sale.
The remaining band from the Europa bill, Naam is playing a ton of shows in the coming weeks including the BrooklynVegan-BBG Day Party at Fontana's on 10/23! Full dates for Naam are below, which include Iron Age at The Charleston on 10/17, the Tee Pee/Chronic Youth Day Party on 10/22 at Cake Shop with Priestess, Nebula, Hull, and others, as well as their official showcase at Union Pool on 10/23 with Priestess, Weird Owl, Nebula, Quest For Fire, and many more.
More pics and video from the Om show, and Naam tour dates (that also include some December Priestess and Early Man dates), below....

Naam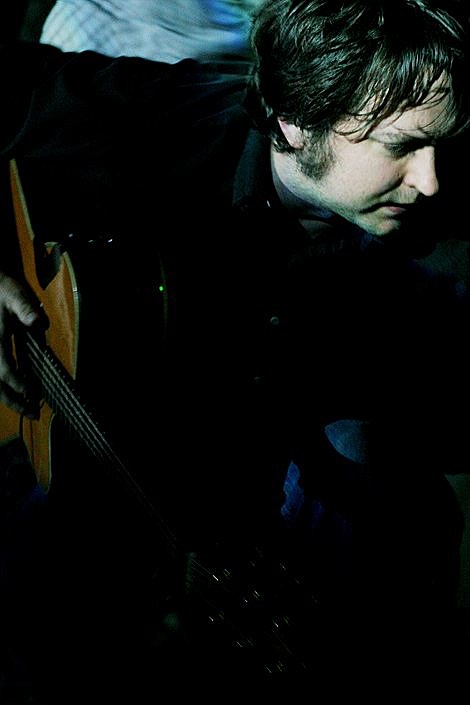 Om - "Inerrant Rays of the Sun/To The Shrinebuilder Pt. 1" @ Europa Oct 11th, 2009

Om - "Inerrant Rays of the Sun/To The Shrinebuilder Pt. 2" @ Europa Oct 11th, 2009

Om - "Cremation Ghat I" @ Europa. Oct 11th, 2009

NAAM - 2009 TOUR DATES
Oct 15 2009 @ Union Pool - NAAM LISTENING PARTY! Brooklyn, New York
Oct 17 2009 @ The Charleston with Iron Age Williamsburg, Brooklyn, New York
Oct 19 2009 @ Cake Shop with Bad Dream and Crackula Manhattan, New York
Oct 22 2009 @ Cake Shop - Tee Pee Records CMJ Day Party! Manhattan, New York
Oct 23 2009 @ Fontana's - BrooklynVegan CMJ Day Party Manhattan, New York
Oct 23 2009 @ Union Pool - Tee Pee Records CMJ Showcase! Nebula, Quest For Fire, Weird Owl and more! Brooklyn, New York
Dec 4 2009 @ Pianos with Quest For Fire and Weird Owl Manhattan, New York
Dec 5 2009 TBA Pittsburgh, Pennsylvania
Dec 6 2009 TBA Indianapolis, Indiana
Dec 7 2009 TBA Madison, Wisconsin
Dec 8 2009 @ 7th Street Entry w/ Priestess & Early Man Minneapolis
Dec 9 2009 @ Empty Bottle w/ Priestess & Early Man Chicago, Illinois
Dec 10 2009 TBA Detroit, Michigan
Dec 11 2009 @ Mohawk w/ Priestess & Early Man Buffalo, New York
Dec 12 2009 @ TBA w/ Priestess & Early Man Brooklyn, New York