on the road w/ the Turbo AC's (who play Rumblers Car Club show Saturday) — pics from Starland & Wellmont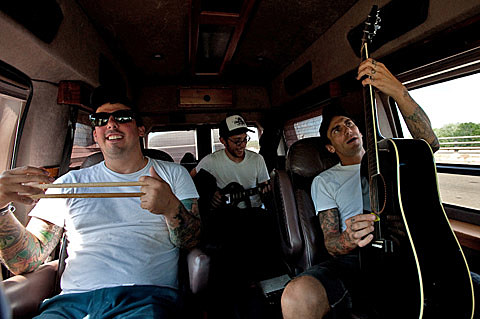 Late on a dark night you're alone on a surf board. The full moon glistens on the breaking waves as you dodge bodies that were devoured by hungry sharks. Their teeth gnash and blood splatters as the tide crashes on a beach of used syringes and broken glass where treacherous girls with sharp knives beckon and hired killers lurk in the shadows. You gotta find your way through dark alleys lit by barrel fires without getting jumped by marauding gangs to catch a train back to the city... That's the Turbo A.C.'s' take on rock'n'roll, and how they've been doing it since 1994. Subway trains, the mafia, mean streets, wanton murder, pin-up girls, liquor, cheap thrills, hot rods and flash tattoos are filtered through the grime and punk of the Lower East Side to create a unique, original sound, steeped in decades of New York City history and film noir. Probably the best take on surf, punk and rock'n'roll since Agent Orange first did it a while ago......
I got to Kevin Cole's apartment in the LES on a July Wednesday at noon to leave for Sayresville, NJ for their first night on tour with the Dropkick Murphys. I get upstairs and he tells me there has been a slight change of plans; rhythm guitarist Jer, who was in Montreal, was stopped at the border and not allowed into the U.S. So Mike O'Donnell, who was coming along to do merch, is now gonna play guitar. Departure gets pushed back an hour so they can run through the set.
We get on the road with Tim, the bass player, driving while the other three run through the set. Kevin is a guy who just never gives up, approaching every obstacle with the calm assurance of someone who has been in that situation before, and knows, somehow, someway, the gig's gonna happen, no sweat. He, and the band, seem to thrive on adversity. Their logo, a skull over crossed monkey wrenches, was born on a bar napkin in 1996, on the eve of their first full U.S. tour. The night before they were supposed to leave, Blackout Records called to inform them that their entire shipment of albums had been "melted in a chemical spill at the airport." "I was sitting there drinking my beer, thinking that we had no albums to sell, and drew the skull and monkeywrenches, knowing fuck it, the tour is booked. We're gonna go," Kevin told me. "There's no looking back. Not then, not now"
The Turbo AC's first began playing together in 1994, and by 1996 the line-up of Kevin Cole; guitar, vocals, Mike Dolan: bass, vocals, and Kevin Prunty: drums, vocals, came together. They put out five full length albums, produced by rock luminaries like Blag Dhalia, Roger Miret and Billy Milano, and lasted until 2006, when Dolan left and Tim Lozada and Jer Von Duck joined. "I figured if Mike was gonna leave, we should really shake things up, and kinda change what the band was capable of doing," Kevin said.
In true Turbo A.C.'s fashion, the new line-ups first release, Live To Win, was crippled by their label Bitzcore going out of business. They soldiered on, touring the US and Europe with no label support. After a couple years doing everything on their own, it seems like things are really falling into place for the the Turbo A.C.'s again. They have a new drummer, also named Mike, and a new album, 'Kill Everyone,' out now on Stomp Records, are on tour in the U.S. and Canada, and have a European tour booked this fall.
Talking with the band backstage at the Wellmont theatre in New Jersey, I found out that Mike O'Donnell had been filling in with the band sporadically since 1999. At the time, bass player Mike Dolan had to leave the tour, and O'Donnell had been talking to Kevin online....
"He had been writing me, telling me how much he liked the band, and that if we ever wanted a second guitar player he was totally ready, he knew all the songs...." Kevin says.
Mike continues, "I remember typing all this crap, I'm the best, I'll destroy your face, nobody can touch me on guitar, just going off...and then I get this message from Kevin, 'that sounds great, our bass player left the tour, can you fly to Iowa tomorrow to get ready for a show in Chicago?'...and I didn't really know the songs that well at all. They totally called my bluff, but I went."
"We played a Halloween show at a VFW hall, and everybody went nuts. We totally pulled it off," Kevin says. "But that's not even the end of the line of shit he talked us, boy....After that, he lets us know that he has this great van, and if we ever need to use it we can. Sure enough, before a tour, our van breaks down. We borrow his van and it almost explodes on us. It overheats to the point that flames are coming out of the console in the front. Our drummer had to wrap shirts and duct tape around his leg so he could push the gas pedal without burning his leg while we drove to get it fixed. It melted the whole dashboard."
"Oh yeah, that van was a total deathtrap," Mike laughs.
"You sold it to a guy right?" Kevin asks.
"Yeah, it broke down and he lives in it in front of my house now. Seriously." Mike tells us and the room erupts in laughter.
Over the last seventeen years, the Turbo A.C.'s have carved out their slice of rock history, sharing the stage with bands like Turbonegro, the Hellacopters, the Dwarves, Flogging Molly, the Slackers, H20, the Buzzcocks, the Hives, the Riverboat Gamblers, Deadbolt, US Bombs, At the Drive-In and Unsane, just to name a few.
The photos in this post are from both New Jersey shows where they shared a will with Chicago's Tossers and Boston's Dropkick Murphys.
The Turbo A.C.'s are next headlining the 11th annual Rumblers Car Club show this Saturday (8/20) at 484 Union Ave under the BQE. The club was founded in 1996, they have seven chapters across the U.S.A. and a new one in Hamburg, Germany. The car show starts at 10, the bands start at 3 at Union Pool with Those Hated Hearts, Three Blue Teardrops and The Memphis Murder Men. The Turbo A.C.'s go on at 7:30.
Pictures from NJ shows and the "Rumblers" flyer, below.


The Turbo A.C.'s at Starland Ballroom
The Tossers at Starland Ballroom
Dropkick Murphys at Starland Ballroom
The Turbo A.C.'s at Wellmont Theater
The Tossers at Wellmont Theater
Dropkick Murphys at Wellmont Theater