Opeth & Enslaved @ Grand Ballroom in NYC – pics
The Norwegian band [Enslaved] has slowly evolved from a Viking/black metal hybrid to include more progressive influences, sounding like a trip to hell with Wish You Were Here blasting out of the car speakers. Their 45-minute set was workman-like in its execution, with little time for interaction with the crowd...

For two hours, Opeth tore the roof off the Starland Ballroom. The Swedish band played material from nearly every album, only skipping Orchid. Opening with a new tune, "Heir Apparent," frontman Mikael Åkerfeldt had a commanding stage presence from the start. Joking around with the audience about Skid Row, Bon Jovi, the swine flu, and the well-known New Jersey record store Vintage Vinyl, Åkerfeldt has a quirky sense of humor that was front and center throughout the live set....

The band sounded tight and avoided the sound issues that Enslaved ran into earlier in the night. The crowd responded well to the Watershed material, as well as fan favorites "Deliverance" and "The Leper Affinity." ...As a live band, Opeth has loosened up over the years, with Åkerfeldt breaking out of his shell and communicating better with the crowd... Opeth is arguably at the top of their game right now, and their live show is one of the reasons for that.
Opeth's US trek with Enslaved concludes in DC tonight (5/27). More pics from Grand Ballroom, and Opeth tour dates, below....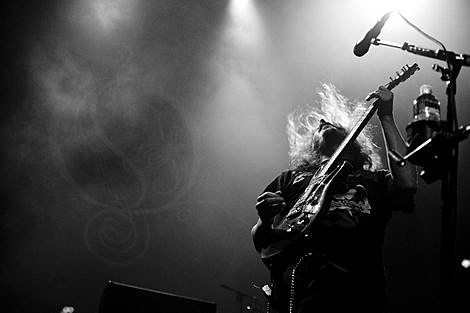 OPETH - 2009 TOUR DATES
May 27 2009 9:30 Club, Washington, Washington DC*
May 29 2009 Rock Hard Festival, Dortmund
May 30 2009 Wave Gothik, Leipzig
May 31 2009 Schlachthof, Wiesbaden
June 1 2009 Skaters Palace, Munster
June 12 2009 Download Festival, Donnington
June 13 2009 Provinssirock, Seinäjoki
June 21 2009 Metal way, Zaragoza
June 26 2009 Peace & Love, Borlänge
June 27 2009 Metaltown Festival, Gothenburg
July 2 2009 Festival, Arvika
July 3 2009 Oslo Live, Oslo
July 17 2009 Art Mania Festival, Sibiu
July 26 2009 Zwarte Cross Festival, De Schans in Lichtenvoorde
July 30 2009 Storsjöyran, Östersund
August 7 2009 Brutal Assault, Jaromer
August 15 2009 Summerbreeze, Dinkelsbuehl
August 21 2009 Lowlands, Biddinghuisen
* w/ Enslaved