Osheaga 2013 day 2 in pics: Beck, Explosions in the Sky, Tegan & Sara, Tricky, Stars and more
photos by Toby Tenenbaum
Beck / Explosions in the Sky / Tricky

Tasty textures, rocking drum fills, and a dazzling light show were just three of the reasons why Texan post-rockers Explosions in the Sky performed what was likely the best set Osheaga 2013 had seen thus far. Beginning and ending as a quintet, with three guitars, one bassist, and a drummer, the instrumental rockers proved they didn't need vocals to drive their lengthy songs, with all the guitarists playing clear, calculated riffs to provide ample sources of melody.
During the middle of the set, touring bassist Carlos Torres stepped offstage, and guitarist Michael James picked up the bass for some fast and furious picking. The songs were seven- to ten-minute-long soundscapes that shifted and evolved, never getting stale, and the band navigated through any changes expertly. The band members engaged in no banter between songs, instead allowing the denouement of one song to slowly transform into the intro of the next, but the visual spectacle was present in the form of the lights, bursts of colour that accentuated the music. [Exclaim]
Montreal's 2013 Osheaga Festival continued on Saturday (8/3), after kicking off a day earlier. We caught Beck, Explosions in the Sky, Tegan & Sara, Tricky, Stars, and more, which you can check out pictures of in this post. Other bands that played (who we didn't get shots of) include Bob Mould, The Breeders, Angel Haze, Wild Nothing, Deap Vally, and more.
Check out pictures of day 1. More of day 2, below...

--
Jimmy Eat World
Flogging Molly
Stars
Tricky
Tegan & Sara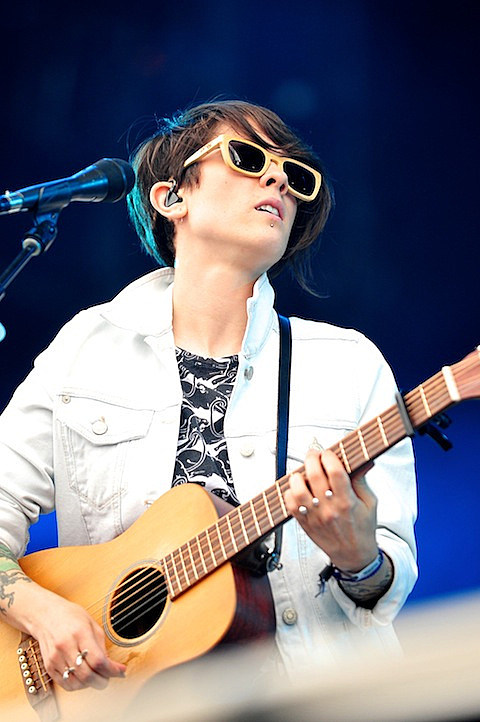 Frank Turner
K-OS
Explosions in The Sky
Beck