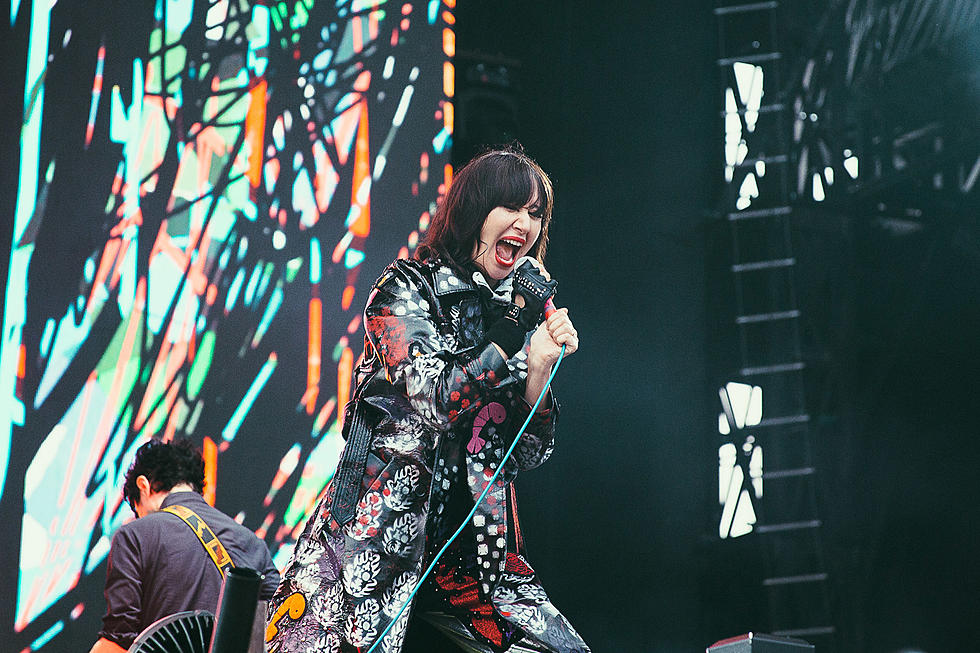 Osheaga 2018 day 1 pics (Yeah Yeah Yeahs, Travis Scott, Lykke Li, more)
photo by Em Grey
While Lollapalooza takes over Chicago's Grant Park this weekend, up in Montreal, Osheaga kicked off its 2018 edition on Friday (8/3). The first day at the Canadian festival featured sets from Yeah Yeah Yeahs, Lykke Li, St. Vincent, Travis Scott, Portugal. The Man, Sylvan Esso (as well as Nick Sandborne's solo project, Made of Oak), Jenny Lewis, Julien Baker, Manchester Orchestra, James Blake, Alex Cameron, Chromeo, and more. Check out pictures from Friday in the gallery above.
Friday headliner Travis Scott, who played Lollapalooza on Thursday, had some travel delays and was over an hour late going on stage at Osheaga. Montreal Gazette writes:
10:21 p.m. How's this for a snafu? More than a half hour after his scheduled start time, Day 1 headliner Travis Scott had still not appeared. The crowd in front of the River Stage stretched back as far as the eye could see. The PA played canned rap tracks, and people waited.

11:03 p.m. A sweatshirt-sporting Scott emerged to the sing-songy, bass-bumping beat of Nightcrawler. The crowd went crazy.

"Sorry I'm late, I got held up at customs, you know how it is," the Texas rapper said.

And thus came two Osheaga firsts: a headliner who was an hour and 18 minutes late, and an 11 o'clock festival curfew broken, in no uncertain terms. There would be fines to pay but hey, sometimes you've got to give the people what they want, and what they've been waiting for.
Earlier in the afternoon, Yeah Yeah Yeahs took the stage for a set heavy on Fever to Tell favorites. Like she did when we saw them earlier this summer at Governors Ball, Karen O jumped off stage to sing with the crowd along the barricade during the set. The band just added a Philly show to their tour, and tickets are on sale - and you can enter to win a pair.
Osheaga continues throughout the weekend in Parc Jean-Drapeau. Stay tuned for more from the festival.