Other Voices (Glen Hansard, Sam Amidon, Doveman, Bryce & Aaron Dessner, Sharon Van Etten & other surprise guests) @ Le Poisson Rouge — night 1 pics & review
Glen Hansard, Sharon Van Etten, a Dessner

Other Voices, an annual musical festival held in Dingle, Ireland, may not be nearly as old as the town's pubs, but it has already become a rich, meaningful tradition since its inception in 2002. Though typically held in a tiny church, Other Voices jumped across the Atlantic and landed in Le Poisson Rouge for a couple of nights this week with the help of Thomas Bartlett (aka Doveman), Glen Hansard, and others--and it's all for a good cause! (All proceeds of the shows go to benefit Fighting Words, a writing center for children and youth in Dingle.)
"We don't know where we're going, we don't know where we'll be when we get there, and when we get back we probably won't know where we've been, so join us on this journey this evening," said Irish actor/writer Gabriel Byrne effectively introducing the event's pleasantly discursive nature. What unfolded over the course of the next three-and-a-half hours was a hearty round of poetry, prose, and music, much in the spirit of Doveman's monthly series, the Burgundy Stain Sessions.
Artist after artist shuffled onto the stage. Highlights included Glen Hansard's beautiful stories and songs, a newer piece by Thomas Bartlett (appropriately about the rain), a song or two from the talented folk singer Sam Amidon, a beautiful brand new piece written just yesterday by Bryce and Aaron Dessner that was inspired by the streets of Dingle, a couple of traditional songs by renowned Irish fiddler Martin Hayes, Joseph O'Connor's reading of an ode that creatively highlighted many of New York's music legends, and a surprise performance by Sharon Van Etten (and her sister Heather). The guests just kept coming. Bell X1 (who played a Smiths cover), Martha Wainwright, Jape, The Lost Brothers, Justin Vivian Bond, Nico Muhly; and from the Irish literary scene: Philip King, Roddy Doyle, Colum McCann, and Paul Muldoon. An unrecognizably shaggy Damien Rice even made a surprise appearance to play a couple of beautiful, completely unplugged and unaccompanied songs on his acoustic guitar.
The camaraderie in the air was thick. Though each artist had a chance to be in the spotlight, its loose structure allowed for one-of-a-kind impromptu collaborations. After a week of running around to catch ridiculously brief sets, often with compromised sound, it was a nice change to remain still and embrace a long, calming set as talent after talent humbly took to the stage. If you go tonight, just make sure to wear comfy shoes or arrive early to snag one of the few seats.
More pictures from the night below...

--
Gabriel Byrne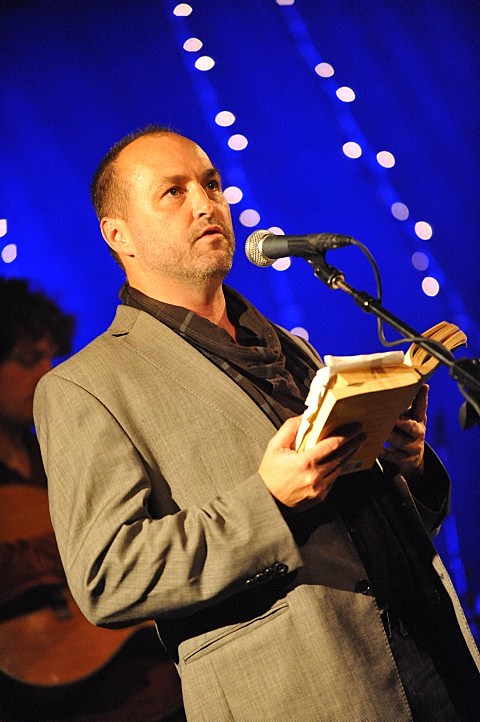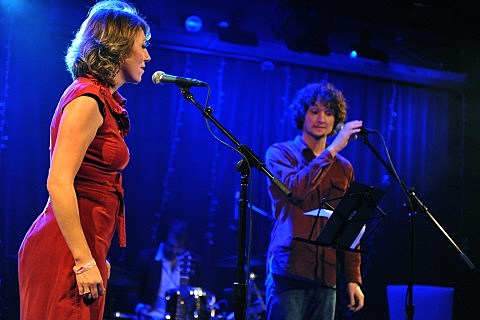 Sharon Van Etten & Heather Woods Broderick