'Our Band Could Be Your Life' in pics, video & review (Dirty Projectors, St Vincent, Dan Deacon, Ted Leo, Wye Oak & more)
The "Our Band Could Be Your Life" tribute Sunday night at Bowery Ballroom ran more than four hours with 14 bands playing the music of 13 bands (plus a special encore act that covered Nirvana). Set changes were kept short, and bands generally played about 10-15 minutes (between one and four songs). Unannounced guests included Tim Harrington and Lee Ranaldo singing the Minutemen, Craig Finn playing the role of Minneapolis cop, and Dan Deacon's multimedia barrage and three-piece band. More highlights, lots of pictures, and a bunch of videos (UPDATE: NPR has audio of the show) are below...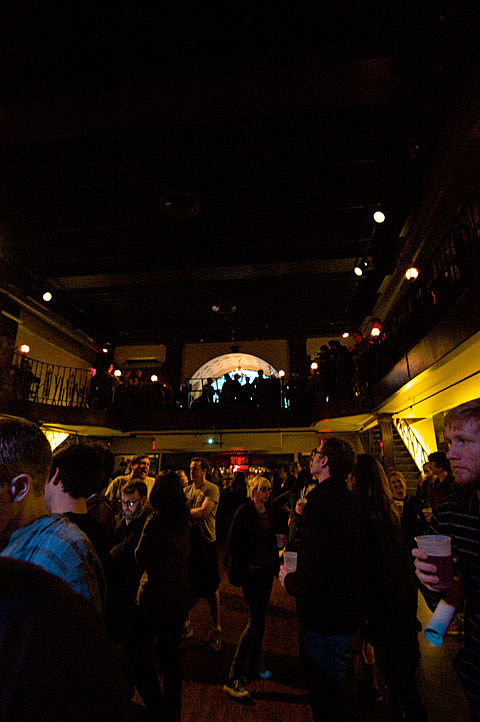 Dirty Projectors guys flipped the script on their Black Flag set by actually playing the songs like the originals (I missed this, and cohosts Janeane Garofalo & Eugene Mirman introducing the show, but that's what I heard from outside). They played "Police Story", "Gimmie Gimmie Gimmie", "Spray Paint", "Thirsty and Miserable", and "Rise Above".
Members of Dirty Projects covering Black Flag

Delicate Steve performed a fairly faithful rendition of the music of the Minutemen, first with a solo guitar version of "Cohesion," then with Tim Harrington singing "This Ain't No Picnic." Lee Renaldo came on to chime in on the chorus, then took the lead for "History Lesson Pt. II" and "Jesus and Tequila." (Lee read the words off a sheet of paper, which made me a bit nervous for the rest of the sets. Thankfully nobody else did.)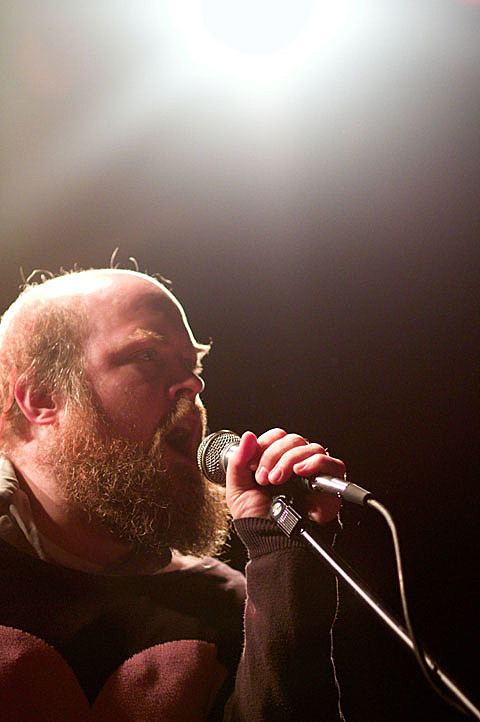 Citay played Mission of Burma (again, fairly faithfully). Setlist: "Term Two" and "Peking Spring".
Ted Leo prowled the stage as he sang Minor Threat over backing tracks played on a reel-to-reel tape machine. The instruments sounded appropriately gritty and blown out, but could have used a couple notches more of volume (a common thought on the night). "Salad Days" made a great closer. He also played "Minor Threat", "Stand Up", "Filler" and "Look Back And Laugh".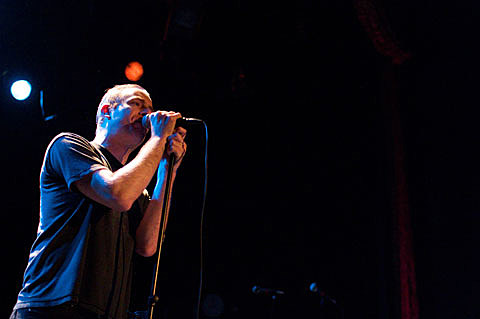 Ted Leo covering Minor Threat

Grooms played Husker Du. Setlist: "Pink Turns To Blue" / "Diane" / "Something I Learned Today"
Titus Andronicus played the Replacements. Craig Finn came out to play the role of the cop at the beginning of "Kids Don't Follow," before diving into the crowd. He almost made it all the way to the back bar. They also played "Raised In The City" and "Treatment Bound".
Titus Andronicus covering The Replacements

Tune-Yards played (one) Sonic Youth song, "The Burning Spear." Easily the most avant take of the night, Merril looped her voice to mimic the droning guitar of the original, pounded a set of toms, and got some help from a bassist.
Callers played a more Sonic Youth songs ("Shadow Of A Doubt" and "The World Looks Red"). The drummer, correcting his introduction, said "We're callers not the callers" to much heckling.
Dan Deacon & his "All-Star Ensemble" staged a multimedia performance for their set of Butthole Surfers songs, which included a shred-tastic version of "Sweet Loaf", and "Human Cannonball", ad "The Shah Sleeps In Lee Harvey's Grave". The lights were turned off for the hallucinogenic video projections, and the crowd took that as a cue to mosh, stage dive, etc. Someone in the front row got their nose broken, but (dedicated!) stayed for the rest of the night with towel on their face to soak up the blood.
St. Vincent absolutely tore apart a pair of Big Black songs with help from the Dirty Projectors rhythm section and Shahzad Ismaily on moog. Her versions of "Bad Penny" and "Kerosene" were easily the highlights of the night (wait for the bootleg).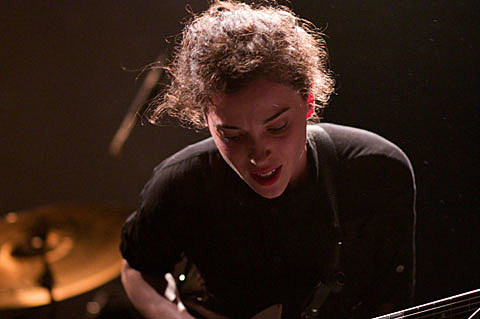 St. Vincent covering Big Black

I think it says something about Michael's curatorial intent (and the state of indie music currently) that 9 out of the 14 acts featured women playing the very male-centric music of the original bands. Still, that thoughtfulness doesn't necessarily stop guys in the audience from catcalling when a woman takes the stage at a punk/indie-rock show, as was the case here. Azzerad points out the disconnect between bands and their audiences in the book (Black Flag vs. its fans is a memorable one), so perhaps this echoes that, and I guess it's not really a surprise that male rock nerds still have a problem dealing with women artists, but alas - one bummer of the otherwise inspiring night.
Wye Oak played Dinosaur Jr. This was predictably great. They played "Sludgefest" and "Tarpit".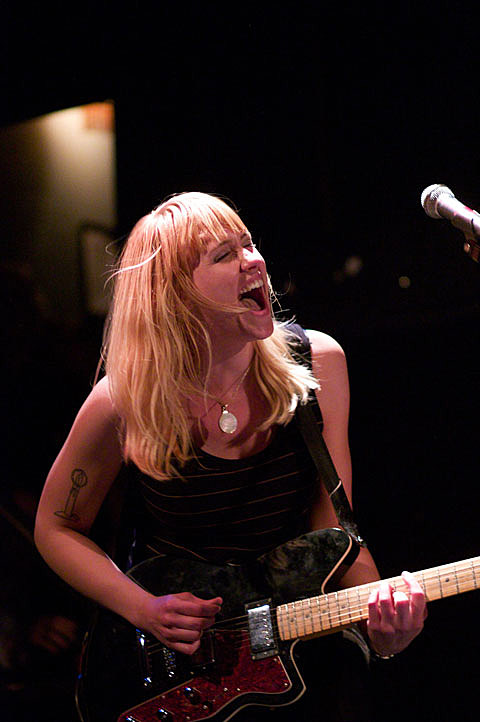 Buke & Gass played one long, wiry Fugazi tune (that was actually two songs. They played "Long Division" and "Guilford Fall".)
Buke and Gass covering Fugazi

White Hills jammed out on Mudhoney (Maybe an unfair task, since you can still go see the still-very-energetic original). Setlist: "In 'N' Out Of Grace" / "When Tomorrow Hits"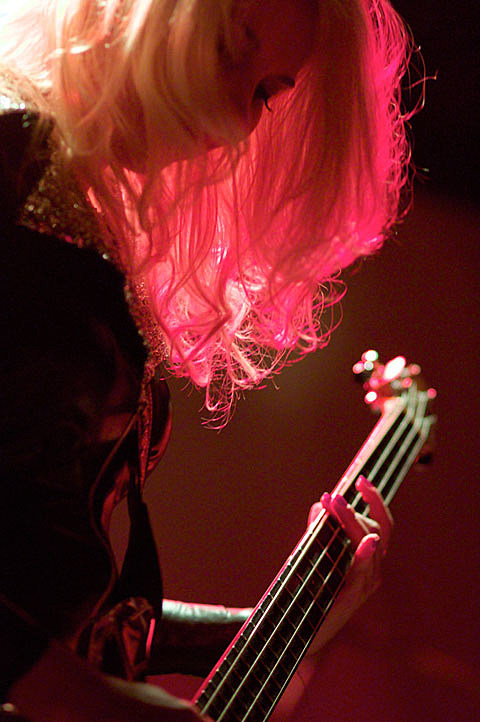 Yellow Ostrich played Beat Happening: a set I had low expectations for (I'm wasn't familiar with Yellow Ostrich, and Beat Happening doesn't exactly seem like a big finish on paper), but their version of "Indian Summer," with flugelhorn and trumpet, was a sweet finish. They also played "Left Behind".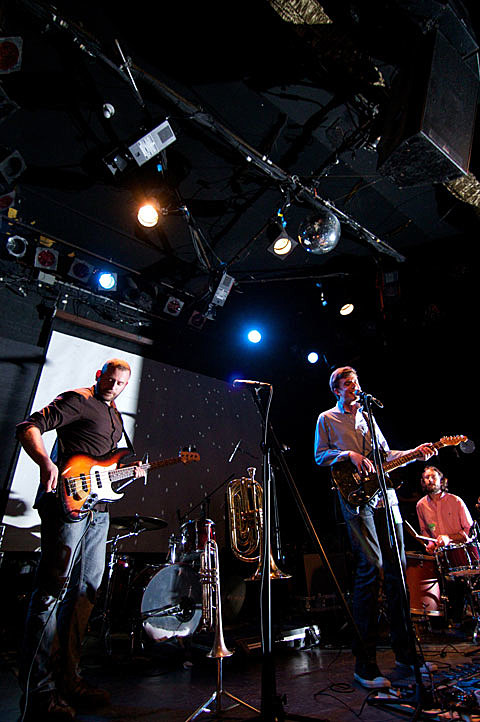 Michael Azzerad gave a nice speech before the encore (Deacon introduced him by saying, "Some of you are going to hate him for this, but if it wasn't this man I wouldn't be making music.") then stagedove into the crowd, who started to grab the monitors and microphones and create general disorder during the...
Nirvana encore with Wye Oak (Jenn on guitar, Andy on bass) and Brian McOmber on drums. First, Dan Deacon and Arone of Buke & Gass took vocals for "Negative Creep" (someone from the crowd also nabbed a mic), then Patrick Stickles sang "Sliver," and Merrill rocking out to "Lithium."
Tune-Yards, members of Wye Oak and Dirty Projectors cover Nirvana

Dan Deacon, members of Wye Oak and Dirty Projectors cover Nirvana