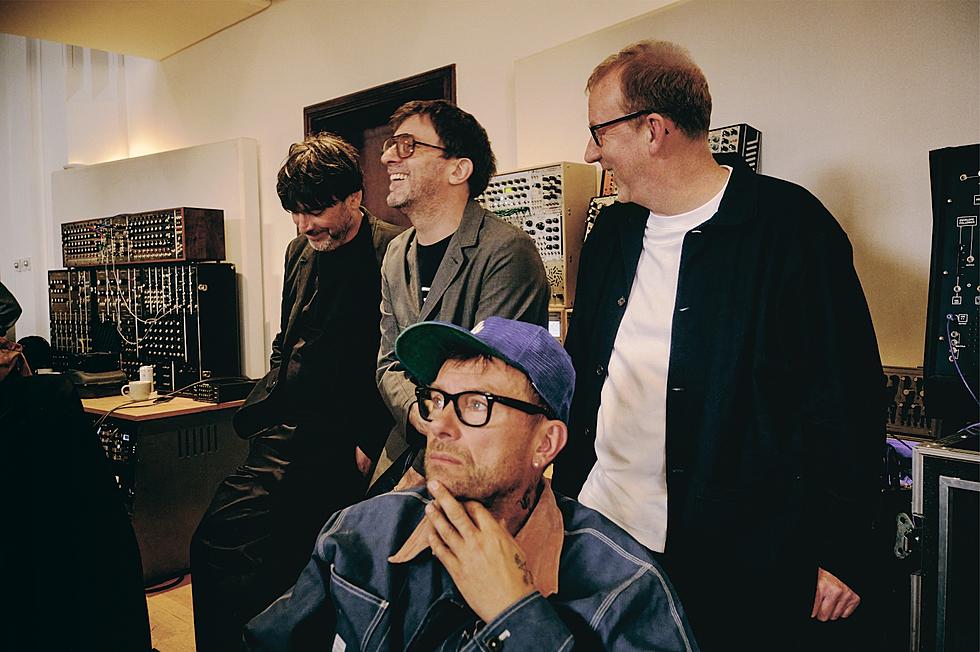 Our favorite songs of the week (playlist)
photo: Reuben Bastienne-Lewis
Between our daily coverage, our Notable Releases and Indie Basement columns, and our monthly punk and rap roundups, we post tons of new music all the time here on BrooklynVegan. In an effort to keep track of all the new music we're excited about, we've been posting a new playlist each week with many of the songs we love that were (mostly) released that week.
This week's playlist includes new music by Blur, Róisín Murphy, Genesis Owusu, Girl Ray, Julie Byrne, Bad Bunny, Morgan Wade, Lord Huron, Kaytraminé (ft. Freddie Gibbs), Mandy Indiana, Gumm, bar italia, Bully, Koyo, Origami Angel, The Chisel, Bent Knee, Hannah Jadagu, Lande Hekt, Cornelius, Activity, Melenas, Spoon, MAN ON MAN, deary, Interpol (Jeff Parker interpolation), Daniel Avery (ft. GEORGIA), Snõõper, bdrmm, Kieran Hebden & William Tyler, Holy Wave, Mega Bog, Kyle Nix & the 38's, Outer Heaven, Lido Pimienta, Kitba, Melody English, Maple Glider, Shapednoise (ft. Armand Hammer), The Wonder Years, Spanish Love Songs, Chris Farren, The Japanese House (ft. Matty Healy), and Frozen Soul
Subscribe to the playlist and/or listen below...
BV WEEKLY PLAYLIST 5/26/2023
Blur - The Narcissist
Róisín Murphy - The Universe
Genesis Owusu - Leaving the Light
Girl Ray - Up
Julie Byrne - The Greater Wings
Bad Bunny - Where She Goes
Morgan Wade - Psychopath
Lord Huron - Ace Up My Sleeve
Kaytraminé - letstalkaboutit (ft. Freddie Gibbs)
Mandy, Indiana - The Driving Rain (18)
Gumm - Give You Back Your Youth
bar italia - changer
Bully - Change Your Mind
Koyo - You're On the List (Minus One)
Origami Angel - My PG County Summer
The Chisel - Cry Your Eyes Out
Bent Knee - Lawnmower
Hannah Jadagu - Lose
Lande Hekt - Pottery Class
Cornelius - Sparks
Activity - Careful Let's Sleepwalk
Melenas - Bang
Spoon - Sugar Babies
MAN ON MAN - Take it from Me
deary - Beauty in all Blue Satin
Interpol - Passenger (Jeff Parker Interpolation)
Daniel Avery - Going So Low (ft. GEORGIA)
Snõõper - Fitness
bdrmm - Pulling Stitches
Kieran Hebden (Fout Tet) & William Tyler - Darkness, Darkness
Holy Wave - Happier
Mega Bog - Don't Doom Me, Now
Kyle Nix & the 38's - Play Nice
Outer Heaven - Rotting Stone/D.M.T.
Lido Pimienta - EIN SOF, Infinito
Kitba - My Words Don't Work
Melody English - Parasite
Maple Glider - Don't Kiss Me
Shapednoise - Family (ft. Armand Hammer)
The Wonder Years - GODDAMNITALL
Spanish Love Songs - Haunted
Chris Farren - Cosmic Leash
The Japanese House - Sunshine Baby (ft. Matty Healy)
Frozen Soul - Death and Glory