Outside Lands Festival 2012: Day 1 in pics (Beck, Andrew Bird, Foo Fighters, Washed Out and more)
photos by Amoreena Lucero
Beck / Andrew Bird at Outside Lands 8/10/2012

Who needs to travel to Southern California for Coachella or to Texas for Austin City Limits? Certainly not music fans living in the Bay Area.
They can just stay right at home and enjoy the increasingly popular Outside Lands Music & Arts Festival in San Francisco's Golden Gate Park. That is, if they can get a ticket. This year's gathering of the musical tribes, which runs through Sunday, completely sold out in advance -- 65,000 tickets snatched up for each of the three days.
That's quite an accomplishment for the still-young event, which, in its fifth year, has certainly become one of the nation's premiere music festivals.
This success story is no mystery. Berkeley-based concert promoter Another Planet Entertainment always lines up terrific acts for the festival -- and that's certainly the case in 2012.
The large-scale production, which features six performance stages as well as great food and drink offerings (mostly from local providers), kicked off in triumphant fashion on Friday with sets by hometown hero Neil Young (with Crazy Horse), the Foo Fighters, Beck, Of Monsters and Men, Die Antwoord and many other talents. - [Oakland Tribune]
San Francisco's Outside Lands Music & Arts Festival kicked off Friday night (8/10) with sets from Beck, The Foo Fighters, Andrew Bird, Reggie Watts, Two Gallants, Futurebirds, Washed Out and more. More pictures from Day 1 are below.

---
The Futurebirds
Two Gallants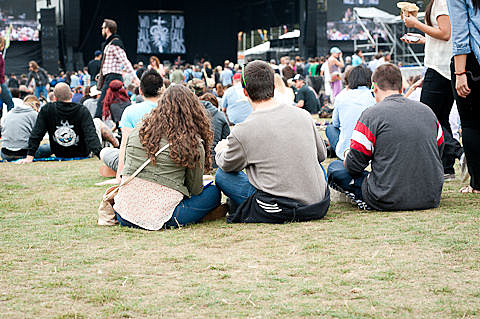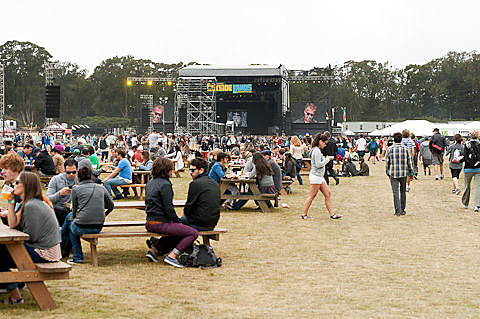 Reggie Watts
Beck
The Foo Fighters
Andrew Bird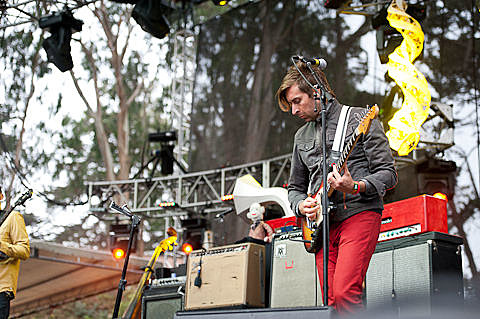 Washed Out