Outside Lands Festival 2012 Day 3 in pics (Jack White, Franz Ferdinand, Bloc Party, Regina Spektor & more)
photos by Amoreena Lucero
Franz Ferdinand / Jack White / Bloc Party, Outside Lands 8/12/2012

Outside Lands might be the only major festival where 93 percent of the musical acts on the bill could walk the grounds without getting recognized.

The headliners certainly had their fans - particularly the Vermont jam band Phish, which played nearly 3 1/2 hours of droopy guitar licks to twirling dancers on Friday. But the rest of the acts on the three-day bill drew less discriminating crowds.

On Sunday, the kids waiting for the Swedish electro-pop troupe Little Dragon to take the stage in Lindley Meadow sang along to the sounds of John Fogerty floating through the trees from the Polo Field. The 66-year-old Rock and Roll Hall of Fame inductee and former leader of Creedence Clearwater Revival filled his hour-long set with classic rock staples such as "Bad Moon Rising" and "Up Around the Bend."

But turntables were as prevalent as guitars. One of the biggest draws of the weekend was Girl Talk, the 30-year-old Pittsburgh DJ Greg Gillis, who on Saturday in Speedway Meadow did nothing more than stitch together hundreds of familiar riffs and beats from other peoples' songs in rapid-fire bursts.
If you didn't know where to head at any given time, all you had to do was jump into the nearest stream of young people. It was almost impossible to go wrong with more than 70 acts on the bill, including the Black Keys, Foster the People, Best Coast, the Arctic Monkeys and the Roots. - [SF Gate]
San Francisco's Outside Lands Festival wrapped up another successful year on Sunday (8/12) with performances with performances from Stevie Wonder, Jack White Franz Ferdinand, Regina Spektor, fun., Bloc Party and loads more.
Pictures from Day 1 are here and Day 2 are here. More pictures from Sunday are below.

---
You Made It Weird with Pete Holmes and guests from Adult Swim: Eric Andre, Brett Gelman and Jon Glaser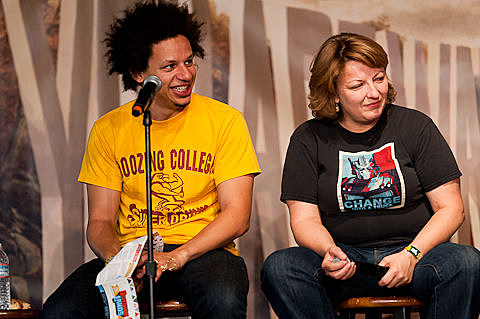 fun.
Franz Ferdinand
Regina Spektor
Jack White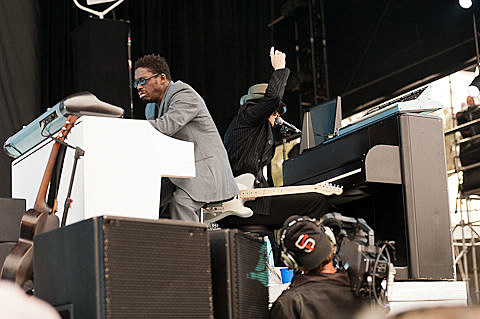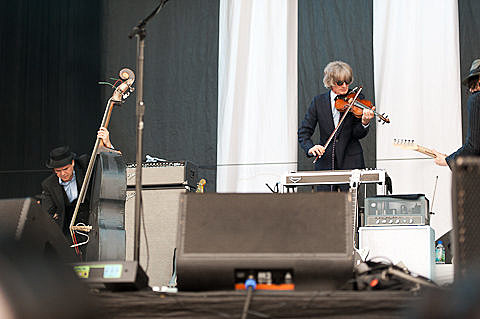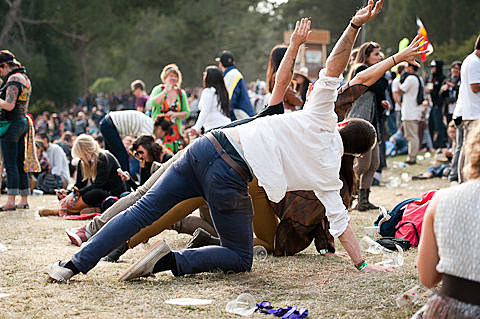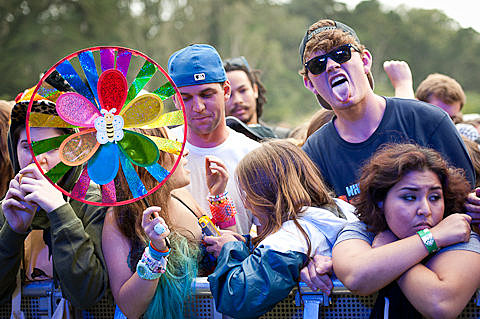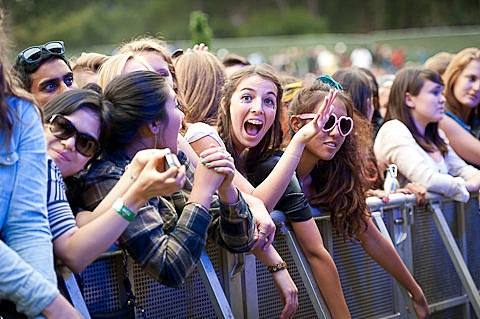 Bloc Party