Owen Pallett, Extra Life & the Luyas played Webster Hall in NYC – pics & setlist
Headliner Owen Pallett (no longer called Final Fantasy like he was when he played Webster Hall in December) joined opening act The Luyas for a few songs. Luyas singer Jessie Stein, who has an inviting demeanor, commented on Owen's shirt, "That looks like an 80's mom's shirt." It was a black top with some patterns sprawled around the neckline and printed in gold. He replied that it looked pretty manly. Jessie shared a story about how she and Owen used to be roommates (and then neighbors) when she was about 21; Owen would go down to practice and listen to bands like Animal Collective and Devendra Banhart, and Jessie would think "This stuff is never going to fly".
Extra Life was heavy music with a prominently featured violin, which added refined tragedy to raw anger. You could say Shakespeare meets goth, dorky meets scary. Unlike The Luyas and Owen Pallett, who are both from Canada, these guys are from Brooklyn. Front man Charlie Looker should definitely play Bartleby in a movie.
Owen Pallett's set was spectacular. He played several old songs solo, and had an additional musician, Thomas Gill, play percussion and guitar with him on new ones. Thomas is a talent on his own, which was most obvious when he helped Owen sing the chorus on the last song, a cover of Mariah Carey's "Sweet Fantasy".
Extra Life's next show is May 9th at Cake Shop with Queening and Larkin Grimm ("Also in May, Planaria will release a split 12" single with Larkin Grimm, featuring the Extra Life cover of R Kelly's "Your Body's Callin'" and two new exclusive tracks from Larkin.").
Owen (who played as a member of Arcade Fire at Webster Hall in 2005) played Coachella over the weekend and now continues on tour. More pictures from last night at Webster Hall, with Owen's setlist, below...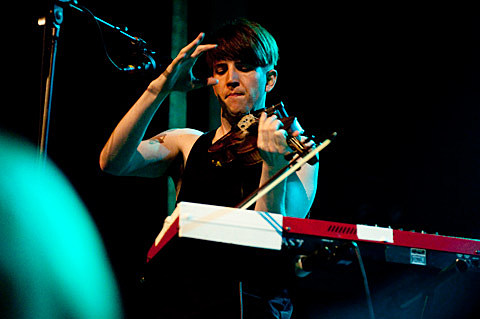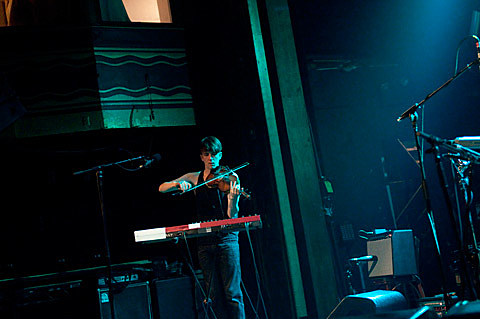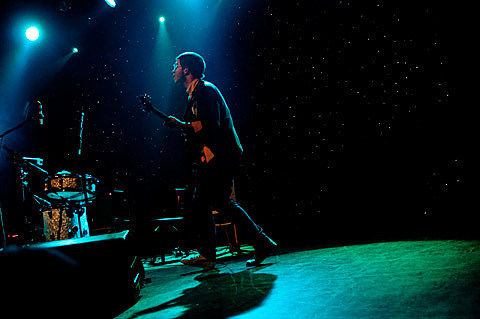 Owen Pallett
2010-04-22
Webster Hall
New York, NY USA
Setlist: (via NYC Taper)
[Total Time 1:10:07]
01 E Is for Estranged
02 This is the Dream of Win & Regine
03 Scandal in the Parkade
04 [banter]
05 That's When The Audience Died
06 Midnight Directives
07 Keep the Dog Quiet
08 The Great Elsewhere
09 Lewis Takes Action
10 Don't Stop the Party on My Account [new song]
11 He Poos Clouds
12 Flare Gun
13 The Butcher
14 Many Lives -> 49 MP
15 [banter]
16 Lewis Takes Off His Shirt
17 [encore break]
18 The CN Tower Belongs To The Dead
19 Fantasy (Mariah Carey)