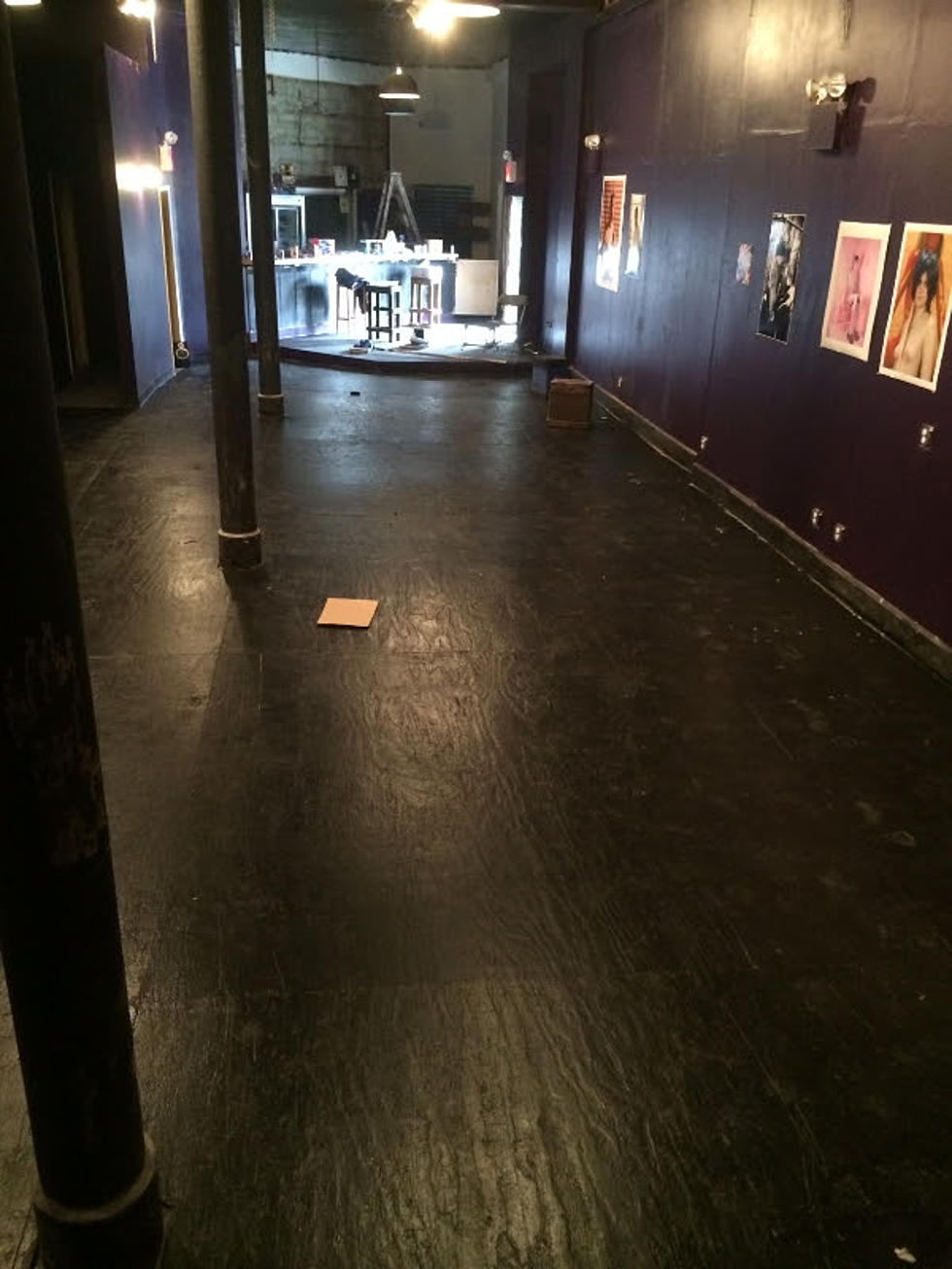 Palisades is a 'music venue / art gallery / full bar' in Bushwick (906 Broadway)
Palisades with no people in it

Now on the map thanks to a high profile Trash Talk show at the venue last night (that even the NY Times previewed), Palisades in Bushwick is a new DIY venue that has been throwing events for over a month now. Their official opening was April 25th. The invite came with this description:
Palisades is a new music-venue/art gallery opening on the corner of Bushwick and Bedstuy located at 906 Broadway, Brooklyn, New York one block from the Myrtle JMZ-Train stop. This cultural event-space and consciousness-expanding visual gallery will display works of various mediums from local and international artists, host a diverse range of musical performances, and sell beer, liquor, and dumplings to stay alive.
The bill on opening night was a modest one that looked like it was ripped right off Sidewalk Cafe's antifolk leaning schedule. One of the bands was The Johns who they pointed out "are an offshoot from the harmony-rich and sharp-witted antifolk quartet The WoWz, who actually held a secret reunion show after a 2-year hiatus at Palisades at 1AM Saturday, April 19th." Palisades hosted an art show on May 15th for Preston Spurlock who plays Sidewalk Cafe this Thursday. Antifolk scenester Brook Pridemore, who recently released an album recorded 'Live at Sidewalk Cafe,' already played there and is scheduled to again. You get the picture.
Is Palisades antifolk's new home in Brooklyn? Will it fill a void left vacant by the closing of Bar 4 in Park Slope. Maybe, but Palisades is a DIY venue in a hip section of Brooklyn, so naturally things are already looking more diverse. Trash Talk, who played a free show at 285 Kent with members of Odd Future in the past, played a free show at Palisades with members of Odd Future last night. Earl Sweatshirt has now been there. There was a hip hop show there in May, and ex Vivian Girl Cassie Ramone played there on 5/29. Upcoming shows include EULAs 7" record release show with Big Ups, one of the nights of Ascetic House's long weekend in NYC, and a Yung Lean show on 7/10 (tickets) the day after he plays Webster Hall's Marlin Room (all of his dates and a video, below). Check out Palisades' full calendar which currently goes out to 7/25. For now, it looks like all of their shows will be easy to get into, unlike Trash Talk last night...
The line to get in Trash Talk @ Palisades (via Ric Leichtung)

Have you been there? How was it? Did you go to Trash Talk? Did you get in? If so, how long did you wait in line? We heard from someone who was there last night that it was very hot inside.

---
Yung Lean -- 2014 Tour Dates
7/9/14 - USA - New York - Webster's Hall Marlin Room (Manhattan)
7/10/14 - USA - New York - Palisades (Brooklyn)
7/11/14 - Canada - Ottawa - Bluesfest
7/12/14 - Canada - Montreal - Le Cabaret Underworld
7/13/14 - Canada - Toronto - Hoxton
7/14/14 - Canada - Toronto - Rockpile West
7/16/14 - Canada - Winnipeg - Union Sound Hall
7/17/14 - Canada - Calgary - Hi Fi
7/18/14 - Canada - Vancouver - Chapel Arts (early all ages)
7/18/14 - Canada - Vancouver - Fortune Sound Club
7/19/14 - USA - San Francisco - The Independent
7/20/14 - USA - Los Angeles - Ace Hotel (afternoon DJ set)
7/20/14 - USA - Los Angeles - The Troubadour
7/22/14 - USA - Chicago - Reggies
7/23/14 - USA - Raleigh - Kings Barcade