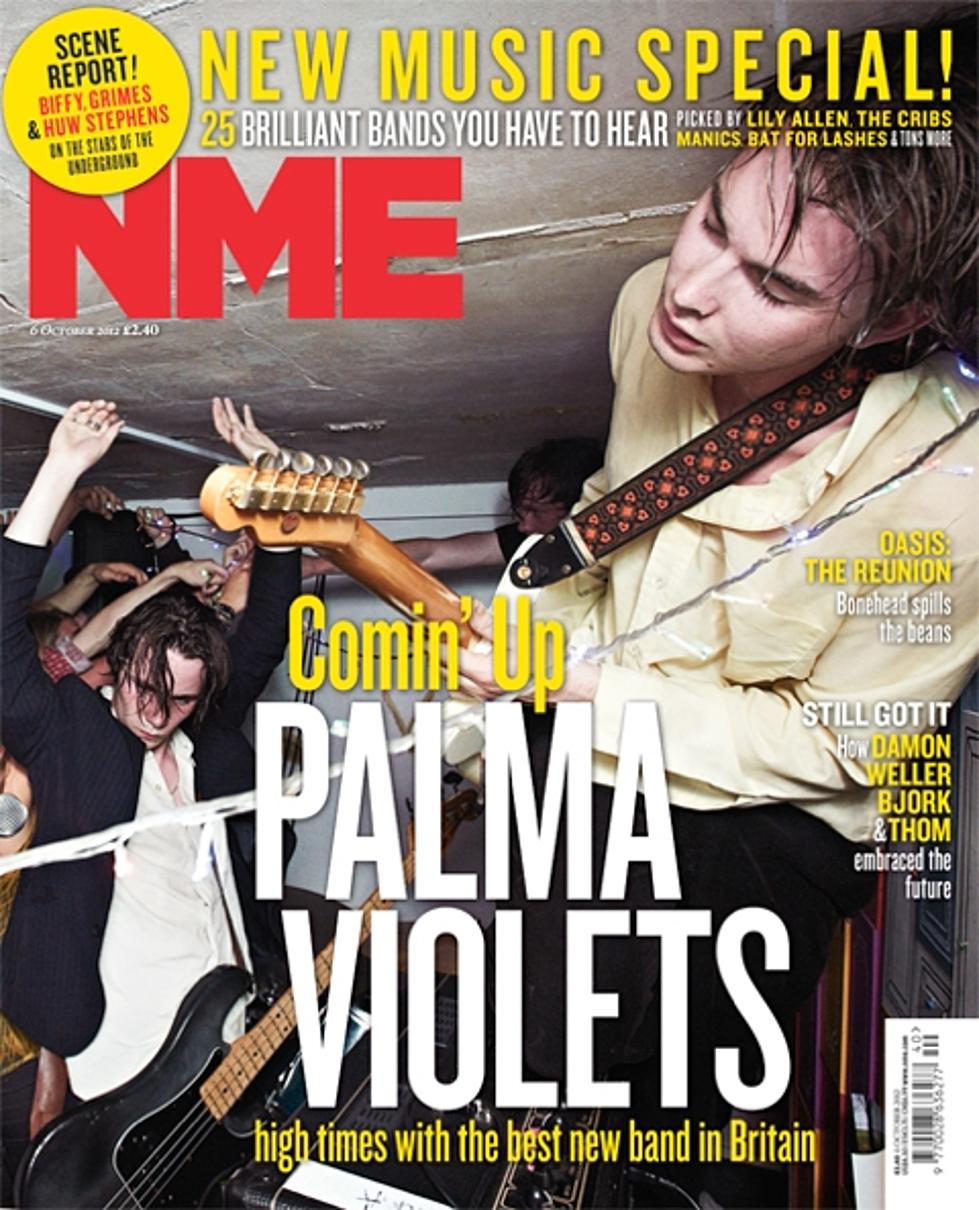 Palma Violets made NME's #1 track of 2012, ready debut album and first-ever North American tour (dates, streams)
What we're all falling in love with in here is a sound centred around echo-laden guitars, Spiritualized-style Farfisa organ and basslines picking out instantly euphoric, simple chord sequences. Oh yeah, and singer Sam Fryer's voice - Ian McCulloch, Jim Morrison - and the way it rises into ecstatic shrieks that launch the band into similarly ecstatic psych-garage freakouts. There are already five or six awesome songs - direct, clever/simple, totally fresh'n'new-sounding fired-up rock'n'roll of the type we've been waiting for. They finish with a cover of Eddie Cochran's 'I Remember', and then everyone screams, so they play another tune that goes, "I've got a brand new song, I've got a brand new song". Except literally everyone here knows all the words already.- [NME]
"The best new band in Britain," according to NME, are Palma Violets who so far only have a double-a-side single out, both sides of which you can stream via YouTube below. At the start of the quoted-above review, NME actually begins with "OK, yes, you might think we at NME have a tendency to get over-enthusiastic about bands sometimes," but then goes on to say they're sure they're right about these guys. "It's time to get very excited."
That was written back in April and the mag has stuck with them, and just named that single, "Best of Friends," as the NME's #1 single of 2013. (Tame Impala's Lonerism was the #1 album.) With the UK in the throws of hype-fueled rapture, it's time for America (well the Northeast at least) to get very... cautiously curious. Palma Violets will be coming over in January for a few North American dates, including Shea Stadium on January 19 (no word on advance ticktets yet) and two shows at Glasslands on 1/23 and 1/28 and tickets to both Glasslands shows are on sale now.
UPDATE: The second Palma Violets Glasslands show got moved from 1/30 to 1/28 and changes were made in this post to reflect this. The Suzan is now playing at Glasslands on 1/30.
The 1/23 show is with Canadian funsters Hollerado and the 1/28 show has El Sportivo on the bill. Right after their stateside visit, Palma Violets will release their debut album via Rough Trade which was produced by Pulp's Steve Mackey. They'll also be part of the NME Awards Tour 2013 in February which packages a bunch of new bands together and trucks them around the UK. In this case, Django Django, Miles Kane and Peace.
The full list of for the NME's tracks of the year is below, along with a Spotify playlist, along with all tour dates, Palma Violets' videos and a live clip as well.

---
Palma Violets - "Best Friend"

Palma Violets - "Last of the Summer Wine"

Palma Violets - "Tom The Drum" live at Studio 180

Palma Violets -- 2012 / 2013 Tour Dates
TUE 4 DECEMBER The Bruxelles Bar Dublin, Ireland
THU 10 JANUARY Boston Arms London, UK
Sat, Jan 19 = Shea Stadium
Tue, Jan 22 = Middle East in Boston
Wed, Jan 23 = Glasslands
Thu, Jan 24 = Horseshoe in Toronto
Fri, Jan 25 = Schubas in Chicago
Tue, Jan, 29 = Kung Fu Necktie Philly
Mon, Jan 28 = Glasslands
NME's Best Tracks of 2012
1 MIA -Bad Girls
2 Blur - Under The Westway
3 Haim - Forever
4 Plan B - Ill Manors
5 Grimes - Oblivion
6 Jake Bugg - Lightning Bolt
7 Bat For Lashes - Laura
8 Tame Impala - Elephant
9 Jack White - Sixteen Saltine
10 Palma Violets - Best Of Friends
11 Savages - Husbands
12 Frank Ocean - Pyramids
13 Peace - Califronia Daze
14 Alt J - Breezeblocks
15 Kanye West, Jay-Z & Big Sean - Clique
16 Grimes - Genesis
17 The Cribs - Come On, Be A No-One
18 Arctic Monkeys - R U Mine?
19 Solange - Losing You
20 Carly Rae Jepsen - Call Me Maybe
21 Melody's Echo Chamber - I Follow You
22 TNGHT - Higher Ground
23 Jessie Ware - Wildest Moments
24 Taylor Swift - We Are Never Getting Back Together
25 Pond - You Broke My Cool
26 The Cribs - Chi-Town
27 Cat Power - Ruin
28 Chvrches - Lies
29 Angel Haze - New York
30 Everything Everything - Cough Cough
31 Deap Vally - Gonna Make My Own Money
32 David Byrne & St Vincent - Who
33 Burns - Lies
34 Jai Paul - Jasmine
35 King Krule - Rock Bottom
36 Teenage Icon - The Vaccines
37 Mosca feat. Katy B - What You Came For
38 Spector - Friday Night, Don't Ever Let It End
39 Kanye West - Mercy
40 Tame Impala - Feels Like We Only Go Backwards
41 Django Django - Default
42 The Rolling Stones - Doom & Gloom
43 Peace - Bloodshake
44 Crystal Castles - Wrath Of God
45 Zebra Katz - Ima Read
46 Frank Ocean - Forrest Gump
47 Peace - Follow Baby
48 Major Lazer - Get Free
49 Kendrick Lamar - Backseat Freestyle
50 Psy - Gangnam Style