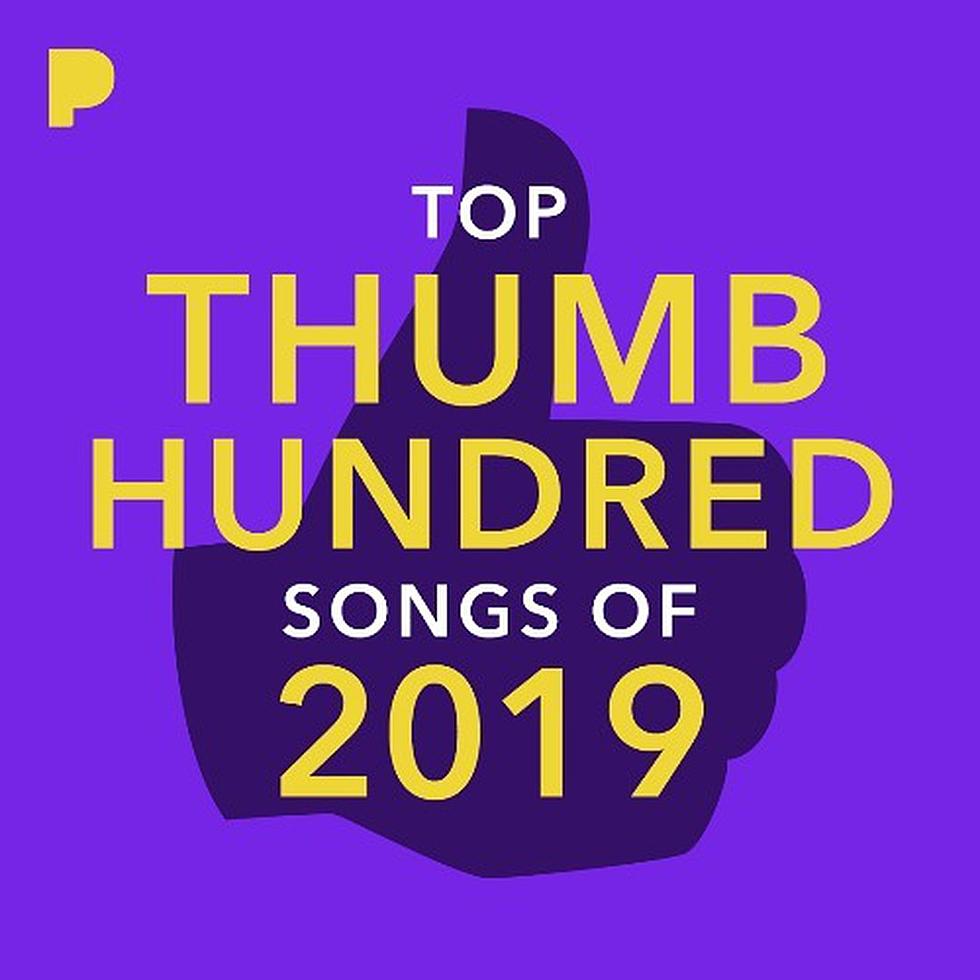 Pandora's "Top Thumb Hundred" of 2019 and the decade
Pandora have published their annual "Top Thumb Hundred" list for 2019, which consists of the top 20 most thumbed-up songs of the year, and they also published one for the entire decade.
It may not surprise you to learn that Lil Nas X's "Old Town Road" was the most thumbed-up song of 2019, with J. Cole's "Middle Child," Ariana Grande's "7 rings," Post Malone's "Wow," and more not far behind.
The most thumbed-up song of the entire decade was The Weeknd's "Earned It" (weird?), with songs by Adele, Wiz Khalifa, Drake, Ed Sheeran, and more trailing behind. Most of the list is super mainstream stuff, but M83's "Midnight City" made it too.
Pandora also has an event with Halsey, who will perform for the final installment of the Pandora Live concert series of 2019 at Avant Gardner's Great Hall in Brooklyn on Tuesday (12/10), and the show will stream live in Times Square as part of a silent disco. You can join the waitlist for the free event.
Also, today U2 announced that they're teaming with SiriusXmM and Pandora to launch U2X RADIO in 2020.
See the top 20s for the Pandora Top Thumb Hundreds for 2019 and the entire decade below, and listen to a playlist of the full 100 for 2019 here and the decade here.
Pandora Top Thumb Hundred 2019:
1. "Old Town Road" - Lil Nas X
2. "MIDDLE CHILD" - J. Cole
3. "7 rings" - Ariana Grande
4. "Wow." - Post Malone
5. "Please Me" - Cardi B & Bruno Mars
6. "Going Bad" (feat. Drake) - Meek Mill
7. "Sunflower" - Post Malone & Swae Lee
8. "No Guidance" (feat. Drake) - Chris Brown
9. "Talk" - Khalid
10. "thank u, next" - Ariana Grande
11. "bad guy" - Billie Eilish
12. "break up with your girlfriend, i'm bored" - Ariana Grande
13. "Sucker" - Jonas Brothers
14. "Look Back At It" - A Boogie Wit Da Hoodie
15. "Worth It" - YK Osiris
16. "Suge" - DaBaby
17. "a lot" - 21 Savage
18. "Money In The Grave" (feat. Rick Ross) - Drake
19. "Someone You Loved" - Lewis Capaldi
20. "Señorita" - Shawn Mendes & Camila Cabello
Pandora Top Thumb Hundred 2010-2019:
1. "Earned It" - The Weeknd
2. "Someone Like You" - Adele
3. "See You Again" (Feat. Charlie Puth) - Wiz Khalifa
4. "The Motto" - Drake
5. "Thinking Out Loud" - Ed Sheeran
6. "A Thousand Years" - Christina Perri
7. "When I Was Your Man" - Bruno Mars
8. "Counting Stars" - OneRepublic
9. "Stay With Me" - Sam Smith
10. "Radioactive" - Imagine Dragons
11. "Hello" - Adele
12. "Stay" (Feat. Mikky Ekko) - Rihanna
13. "All Me" - Drake
14. "Love The Way You Lie" - Eminem
15. "Love Me" - Lil Wayne
16. "Needed Me" - Rihanna
17. "Somebody That I Used To Know" (Feat. Kimbra) - Gotye
18. "Royals" - Lorde
19. "Roar" - Katy Perry
20. "Blank Space" - Taylor Swift