Paramount Records box set discussed & celebrated at NYPL by Jack White, Greil Marcus & more (pics & review)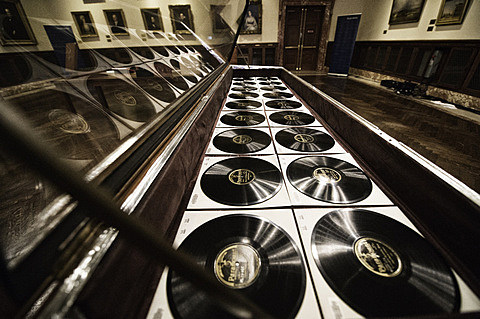 So how does a music recording label from Wisconsin who -- paraphrasing the words of renowned musicologist Greil Marcus -- used materials from dirt and recorded what they thought was dirt, end up with one of the great catalogs in the history of the American songbook. Well that was the subject of the discussion last night (11/19) at the NY Public Library's Live from NYPL series. Held in the beautiful 5th Ave Saloman Room, it was in honor of the release of the massive gorgeous box set The Rise and Fall of Paramount Records 1917-1932. Jointly put out by Jack White's Third Man Records and Revenant Records which was founded by the late great guitar player John Fahey and Dean Blackwood. This is actually the first in a 2 volume set. The 2nd volume will be released this time next year. Along with Jack White and Dean Blackwood, the panel included Dean's brother Scott Blackwood, Princeton professor and writer Daphne Brooks (who moderated the panel) and rounded out with the aforementioned Greil Marcus.
Before the evening began, attendees were able to view the set which was on display as well as see actual original Paramount 78s. Extremely collectible and rare, the ones on display have also been preserved in beautiful form which is some feat as most existing ones are beat to hell and of course most of the recordings were only ever available in limited quantities. As one story goes, when Paramount Records went out of business, employees were able to take whatever remaining supply was available in lieu of pay. Some used them to cover holes in walls while some employees just flew them off the roof of the buildings into the river.
The discussion was set up in 2 parts. For the first one, Daphne Brooks discussed the history of the label with both White and Dean Blackwood. They traded off stories about this company whose main objective was to sell record players and had decided to boost those sales by recording any type of black "race records" they could. There was no quality control either in who was recorded or how they were recorded. It was cheap (75 cents for each C.O.D.) and quick and when it began, very inauspicious. In the 1920s though, with the great migration and under the guidance of a persuasive "A & R man" named Mayo "Ink " Williams, the label was recording out of Chicago and finding itself with some remarkable talent. From there they would go on to amass this singular historical archive. The discussion was interspersed with selections from the label chosen by each speaker. There was everything from Jelly Roll Morton's New Orleans stomp and spooky gospel (chosen by Jack White) to underrated blues singer Ethel Waters who Daphne Brooks asked the audience to make sure to not sleep on.
After an hour of this, they invited Scott Blackwood and Greil Marcus onstage for the throwdown. The part where each panelist picked songs that they thought were unbeatable from the rest. This was the best part of the evening with each choosing some fascinating numbers. One of the Blackwoods chose an incredible song, "My Man Rocks Me", by washboard player Jimmy O'Bryant and his famous original band containing some syncopated beats that would make a few of today's producers salivate. Jack White picked a song he said he wished he would have wrote called "Mamas Angel Child" by an artist named Sweet Papa Stovepipe. That song and the b side were his only known recordings. But the moment for me was when Greil Marcus chose his pick. Original Stack O'Lee Blues was recorded in 1927 by Papa Harvey Hull and Long 'Cleve' Reed also known as the Down Home Boys, Not the first version (that would be Ma Rainey in 1917) of Stack O'Lee or Stagger Lee which has been recorded by countless artists over the years but one of the most beautiful I've ever heard.
Marcus, a master storyteller, enlivened the audience with the story of how this recording came to be. It was actually recorded by Mayo Williams who had formed a separate company called Black Patti which was at some point absorbed by Paramount. Black Patti was named after a soprano star in the 1920s. Apparently at that time in Chicago, Black Patti was so influential that any song given a seal of approval was bought up by the public without even first being heard. An irony that could not possibly be lost on the person (Jack White) sitting next to Marcus whose got much the same sway in music today. Oh and I've read that apparently the owner of the only known copy of this specific record in existence today has turned down offers of up to $20,000 for it. I only wish they had given more time to Greil Marcus to spin some more tales.
At that point, Daphne Brooks thanked the audience, a Third Man staffer, in the standard bowler hat and getup, whisked Jack White out of the building and a very entertaining evening came to an end. As people exited the room they were given one last parting gift which was a special limited edition (200 copies maybe?) Third Man replica of a Paramount '78. It features 2 gospel blues shouters so loved by Jack White, the A-Side being "You Better Run" by Sister Ernia Mae Cunningham and the B-Side "The New Birth" by Rev. H.C. Greenwood.
Pictures of the evening are in this post. More below...

---