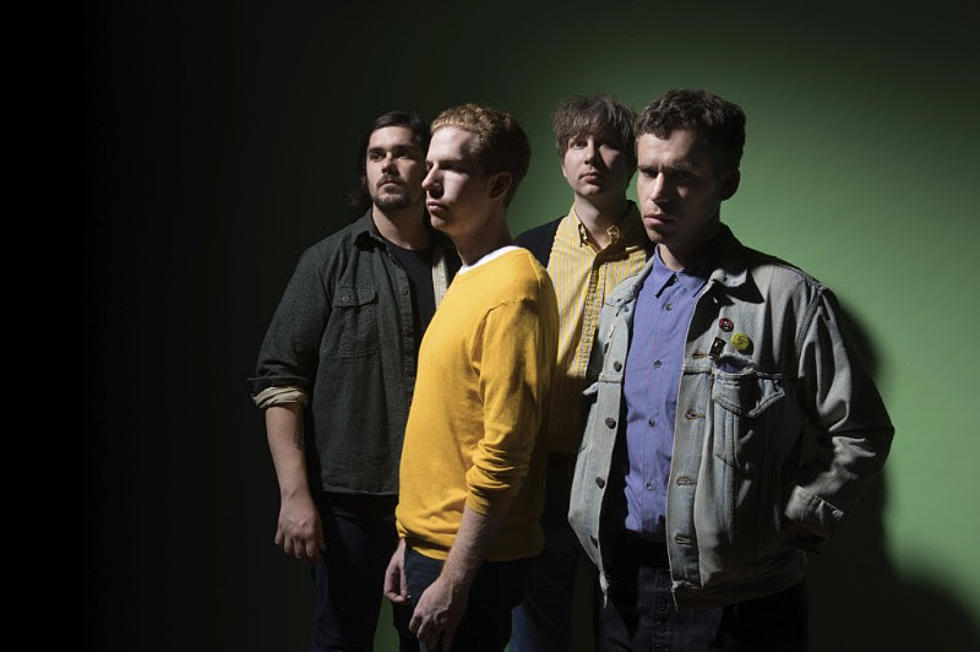 Parquet Courts cover Neil Young's "We R in Control" (listen)
Parquet Courts have covered Neil Young's "We R in Control" for the Amazon Original series. The song is from Neil's 1982 synth record, Trans, and Parquet Courts really make it their own. "I'm a big fan of whenever an artist does something different from what they're known for - for instance, Bob Dylan's gospel/Christian period," says the band's Austin Brown. "And I have a similar affection for Neil Young's electronic record Trans. This is my favorite song off it. We actually started it during the Human Performance sessions where we were trying to do something different as a band too, so it seemed kind of appropriate." You can listen to that, and Neil's original, below. The band released Wide Awake! earlier this year.
Parquet Courts are on tour in Europe now, and will be back in North America in late November to play a few shows, including Pittsburgh, Columbus, OH, Cleveland, Chicago, Toronto, Montreal, and will wrap up 2018 with that big NYC show at Hammerstein Ballroom on December 8 with Sun Ra Arkestra (tickets).
PARQUET COURTS - 2018/2019 TOUR DATES
Mon. Nov. 5 - Newcastle, UK @ Boiler Shop
Tue. Nov. 6 - Glasgow, UK @ SWG3 (sold out)
Wed. Nov. 7 - Leeds, UK @ The Church (sold out)
Sat. Nov. 10 - Bristol, UK @ SWX (sold out)
Sun. Nov. 11 - Birmingham, UK @ The Crossing (sold out)
Mon. Nov. 12 - London, UK @ Roundhouse (sold out)
Wed. Nov. 14 - Amsterdam, NL @ Paradiso
Thur Nov 15th – Brussels, BE Botanique (sold out)
Fri. Nov. 16 - Paris, FR @ Elysee Montmarte (sold out)
Sun. Nov. 18 - Cologne, DE @ Gebaude 9
Mon. Nov. 19 - Munich, DE @ Ampere (sold out)
Tue. Nov. 20 - Frankfurt, DE @ Brotfabrik
Thu. Nov. 29 - Baltimore, MD @ Meyerhoff Symphony Hall w/ Baltimore Symphony Orchestra
Fri. Nov. 30 - Pittsburgh, PA @ Spirit (sold out)
Sat. Dec. 1 - Columbus, OH @ Skully's Music Diner
Sun. Dec. 2 - Cleveland, OH @ Beachland Ballroom
Mon. Dec. 3 - Chicago, IL @ Vic Theatre
Wed. Dec. 5 - Toronto, ON @ Danforth Music Hall
Thu. Dec. 6 - Montreal, QC @ Corona Theatre
Sat. Dec. 8 - New York, NY @ Hammerstein Ballroom w/ Sun Ra Arkestra
Mon. Jan. 21 - San Diego, CA @ Music Box w/ Snail Mail
Tue. Jan. 22 - Santa Ana, CA @ Constellation Room w/ Snail Mail
Wed. Jan. 23 - Los Angeles, CA @ NOVO w/ Snail Mail
Mon. Jan. 28 - Auckland, NZ @ Laneway Festival: Albert Park Precinct
Sat. Feb. 2 - Brisbane, AUS @ Laneway Festival: Brisbane Showgrounds
Sun. Feb. 3 - Sydney, AUS @ Laneway Festival: SCA and Callan Park
Fri. Feb. 8 - Adelaide, AUS @ Laneway Festival: Hart's Mill
Sat. Feb. 9 - Melbourne, AUS @ Laneway Festival: Footscray Park
Sun. Feb. 10 - Fremantle, AUS @ Laneway Festival: Esplanade Reserve and West End