Passion Pit – SXSW pics, a new LP, cancelled Canada shows, 2 nights in NYC & other tour dates
DOWNLOAD: Passion Pit - Sleepyhead (MP3)
DOWNLOAD: Passion Pit - Sleepyhead (Wallpaper remix) (MP3)
words by Andrew Frisicano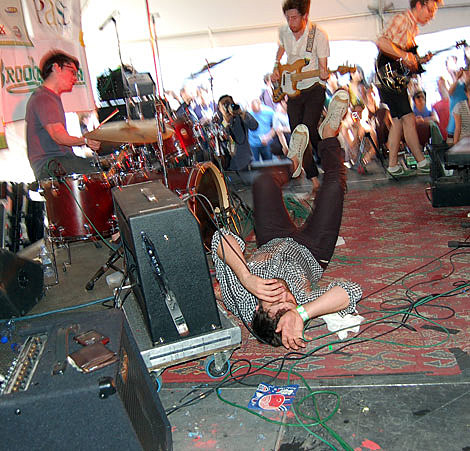 Down at SXSW last week, MA band Passion Pit played the Brooklyn Vegan day party on Thursday afternoon (pictures above and below), the Spin day party on Friday afternoon, and the Thursday night Frenchkiss/Startime International showcase. French Kiss is putting out the band's debut, Manners, on May 26th. The same album comes out on Columbia Records in the UK on May 18th..
"A real deal album in other words, one that delivers on the blissful and bright promises of early fan favorites like "Sleepyhead." It took nearly two months of "explosive" off-the-cuff sessions with producer Chris Zane (Les Savy Fav, The Walkmen) to get there-everything was written and recorded on the fly-but Manners is exactly that, an irresistible, filler-free glimpse into the mind of a man who'd like to unleash his very own Pet Sounds someday.

Check the carefully-sculpted songwriting on display: the speaker-panning synths and slightly sinister children's chorus (straight outta P.S. 22 in NYC) of "Little Secrets" and "The Reeling," the lead dulcimer loops and melancholic melodies of "Moth's Wings," the ecstatic, riled-up climax of "Folds in Your Hands." All part of a greater plan, the next step of which is taking Passion Pit's live show to a level that matches, and eventually exceeds, Manners' ambition and kaleidoscopic soundscapes. Because when Angelakos says he wants to be the next Randy Newman, he's dead serious. And when he adds that Passion Pit is "a band with a lead songwriter, not just Michael Angelakos and these guys," it's clear he's just getting started." [Manners press release]
Passion Pit recently canceled a set of Canadian dates planned for the next few weeks. That aside, the band will tour Europe in April and May, returning in time for two shows at the Bowery Ballroom on June 19th and 20th. Tickets for the NYC shows go on sale Friday, March 27th at noon. (The band last played NYC at the same venue in February.)
Updated tour dates and more pictures from the BV day party below...


Passion Pit - 2009 Tour Dates
May 1 - Paradiso - London Calling Festival Amsterdam, Netherlands
May 4 - Knaak Klub Berlin, Germany
May 6 - Botanique Brussels, Belgium
May 7 - Academy Dublin, Ireland
May 11 - Manchester Moho Manchester, UK
May 12 - Leadmill Sheffield, UK
May 13 - Heaven London, UK
May 14 - Southampton Orange Rooms Southampton, UK
May 15 - Great Escape Festival Brighton, UK
May 16 - O2 Academy Bristol, UK
May 23 - The Gorge -- Sasquatch! Festival Quincy, Washington
Jun 19 - Bowery Ballroom New York, NY
Jun 20 - Bowery Ballroom New York, NY
Jul 4 - Eurockeennes Malsaucy, France
Sep 11 - Bestival Isle of Wight, UK
(more dates TBA)