Patti Smith celebrated 'Horses' 40th anniversary at Beacon Theatre w/ surprise opener Michael Stipe (review, video)
Patti Smith @ Beacon Theatre 11/10/2015 (photo via @gregpallante)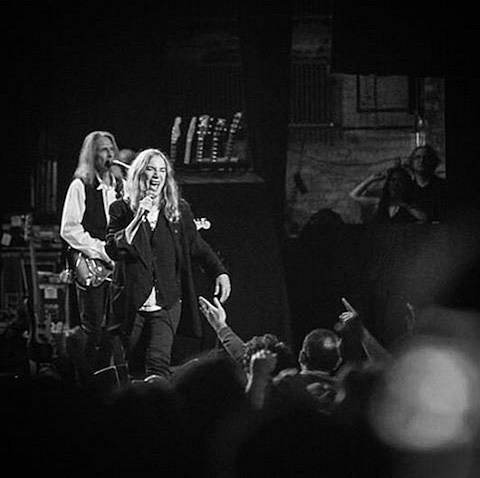 I am nearly the age now (two months from 28) that Patti Smith was in 1975 (29), the year she released her seminal album Horses. It's one of those thoughts that can't help but be followed by - "Damn, I haven't accomplished nearly enough".
Like many seminal albums she (and the rest of the country) had no idea the impact it would later have at the time it was released. Now considered one of the most influential punk rock records of all time, Tuesday night (11/10), Patti and her band - with help from her son Jackson and daughter Jessie - performed Horses for the 40th anniversary of its release in its entirety to a sold out Beacon Theatre audience.
Serving as an opener and encore performer was Smith's longtime friend Michael Stipe of R.E.M. He opened the show with four songs performed "karaoke style" - machine included. Among them were a beautiful rendition of "Imagine" by John Lennon and "People Are Strange" by The Doors, where Stipe took the opportunity to dance around and swivel his hips giddily, just as eagerly anticipating the headlining performance as we in the audience were. Video of both those covers (plus Boy George's "The Crying Game") are below.
After his brief warm-up, Patti Smith and her band came out full force, blowing through Horses in its entirety and finishing it way before I wanted it to be over. To hear such classic tracks live for the first time ("Gloria", "Redondo Beach", "Free Money") was inherently excellent for me regardless, but I was most surprised with which vigor Patti still knocks them back.
Now 68 years old, she shows no intentions of slowing down, a feat all the more impressive when considering the brief elegy she gave mid-show for all of the close friends in the music community she has lost over the years - Robert Mapplethorpe, Johnny, Joey, Dee Dee and Tommy Ramone, Janis Joplin, Lou Reed and more. They even incorporated a Velvet Underground medley into the set that had the entire audience on its feet as they busted through "Rock & Roll," "I'm Waiting for the Man" and "White Light/White Heat."
At the end of the night Patti, Stipe and the full band rang out a rendition of The Who's "My Generation," a most appropriately fitting ending for such a show. Patti pounded her Stratocaster so vigorously the strings broke off, one by one, until finally she pulled off the last one remaining, growling with glee.
While at 27 I may not be a part of "their" generation, last night's show solidified my unflinching respect for all I can learn from it, and Patti Smith in particular.
Video of both Patti and Michael Stipe at Beacon Theatre, plus a few more Instagrams, below...

---