Paul Banks reschedules this week's Webster Hall show for December ++ belated CMJ pics
photos by Amanda Hatfield
Paul Banks at CMJ Union, 10/17/2012

Hello to all,
Regrettably, we are going to postpone the Nov 13th Webster Hall show.
The show will be rescheduled for December 14th.
Tickets that have already been purchased are of course valid, or refundable..
Needless to say, we were VERY excited about rocking out for our hometown crowd. But it will just have to wait.
Basically, Sandy managed to disrupt the preparations that are necessary to put on a good concert.
Again, I apologize for any inconvenience this causes any of you.
But I hope to see you ALL in December. You bring your cherubic faces, and I will bring the rock.
Best,
Paul Banks
Paul pretty much said it all there himself but tickets to the new 12/14 Paul Banks date at Webster Hall are on sale now. You can stream the Interpol frontman's new solo album, Banks, in its entirety via YouTube below along with an updated list of tour dates and some belated pics of Paul from CMJ.

---
Paul Banks - 'Banks'

Paul Banks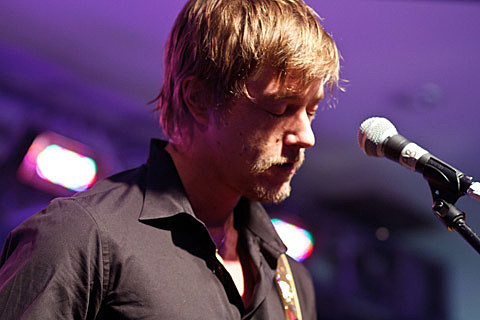 Paul Banks - 2012/2013 Tour Dates
29 NOVEMBER 2012: House of Blues Las Vegas, NV
30 NOVEMBER 2012: Constellation Room Santa Ana, CA
1 DECEMBER 2012: Slim's San Francisco, CA
3 DECEMBER 2012: House of Blues San Diego, CA
5 DECEMBER 2012: THe Fonda Theatre Hollywood, CA
14 DECEMBER 2012: Webster Hall
20 JANUARY 2013: The Academy (Dublin), Dublin
21 JANUARY 2013: King Tuts, Glasgow
22 JANUARY 2013: Sound Control, Manchester
24 JANUARY 2013: Koko, Camden
25 JANUARY 2013: AB, Brussels
27 JANUARY 2013: Den Atelier, Luxembourg
28 JANUARY 2013: Frankfurt Mousonturm, Frankfurt
29 JANUARY 2013: Gloria Theatre, Koeln
31 JANUARY 2013: Les Docks, Lausanne
1 FEBRUARY 2013: Magazzini Generali, Milan
3 FEBRUARY 2013: WuK, Vienna
5 FEBRUARY 2013: Roxy (Prague), Prague
6 FEBRUARY 2013: Kesselhaus, Berlin
7 FEBRUARY 2013: Amger Bio, Copenhagen
9 FEBRUARY 2013: Grunspan, Hamburg
10 FEBRUARY 2013: Melkweg, Amsterdam
11 FEBRUARY 2013: L'Alhambra, Paris
13 FEBRUARY 2013: Babylon (Istanbul), Istanbul
14 FEBRUARY 2013: Babylon (Istanbul), Istanbul
15 FEBRUARY 2013: Fuzz Club, Athens