Paul McCartney played 2 nights Yankee Stadium (pics, review, setlists & Billy Joel)
Paul McCartney played his second of two shows at Yankee Stadium Saturday night (7/16). Like the first night, the 35+ song set was Beatles-heavy. Unlike the first night, Billy Joel showed up and performed "I Saw Her Standing There" with Paul during the first encore on Saturday. A set of pictures from Saturday are in this post. Both setslists are also below.
Twentysomething Andrew Sacher was there on Friday, seeing Paul live for the first time. Here is his review...
Paul McCartney made his Yankee Stadium debut on Friday (7/15). HIs set, as noted, was majority Beatles songs with a number of Wings songs, some solo cuts and the Fireman track, 'Sing the Changes." To put it bluntly, The Beatles are the band that I (and many, many others) have probably heard more times than any other band in history. Hearing Beatles songs, while always great, is not nearly a rare occurrence. But as Paul and his band performed their material, I couldn't stop thinking this is the guy who wrote these songs. As someone who never really thought about going to see Paul McCartney live before these shows were announced, the whole thing was actually surreal.
Before Paul went into "All My Loving," he said, "Here's an old one you might remember," and as soon as the song took off, video clips of The Beatles in their early days showed up on the screen behind the stage. Seeing those clips in contrast to where Paul is at now, standing before them in real life at age 69, made the experience even more staggering. And on top of that, Paul hasn't aged a bit. Nothing about the show was dated at all. Paul's voice and musicianship were totally intact, his band was excellent, and the clips/images/visuals screening on the stage's backdrop were widely appealing. The sound at Yankee Stadium was also amazing, and Paul had no problem delivering to the extremely large venue.
Though almost every song in the set was written by Paul, he also paid tribute to his late Beatle-bandmates John and George. He brought out a ukulele for one song and told a story about how George Harrison had a period where he was really into ukuleles. During that period, Paul went to George's house and said, "I've learned one of your songs on ukulele, do you want to play it with me?" Then Paul proceeded to play us the song on his ukulele, which ended up being one of Harrison's Abbey Road contributions, "Something." About halfway through the song, he was joined by the rest of his band for a rendition closer to the Beatles original.
Paul prefaced the song "Here Today" by telling the crowd that sometimes in life you want to apologize to someone but before you do, you realize it's too late. He said that the song is written about a conversation between him and John Lennon that they never got to have. This was actually my first time hearing the song, but the story behind it and the song's lyrics left an immediate impact on me. Paul then paid even more tribute to John later in the set when he took the joint McCartney/Lennon track "A Day in the Life" directly into Lennon's "Give Peace A Chance."
The medley of those two tracks began what largely appeared as the 'end of the set.' While most shows I go to save a single or an epic track to end the [pre-encore] set, sometimes even two, Paul McCartney and his band end their shows with four climactic performances. In "A Day in the Life"'s psychedelic crescendo, smoke filled the stage and the images on screen swirled into trippy visuals before abruptly clearing up as Paul's peppy piano-led offering to the song kicked in. Once the upbeat Paul McCartney found his way upstairs and had a smoke, and somebody spoke and he went into a dream, the visuals kicked back in, and after soaking that up, Paul and his band drifted into "all we are saying is 'give peace a chance.'"
They calmed things down for a bit with the captivating "Let It Be," which reached the same level of grandiosity by the song's end. That was followed by the best Wings track of the night, "Live and Let Die." The song started off soft as usual, and as soon as the heavy orchestral break exploded, flames shot up in front of the stage, which were joined by fireworks once the drums kicked in. Paul McCartney and his band then ended the set with the crowd sing-along "Hey Jude."
The band returned for two encores, both consisting entirely of Beatles material. Paul began the second encore with the most recorded song in history, "Yesterday." He was accompanied by no more than his own acoustic guitar and his keyboard player (who had some of the most realistic instrument replication I've ever heard) taking care of George Martin's string arrangements. After mesmerizing the entire audience with the song, the rest of the band walked on stage to kick things up to a way harder level with "Helter Skelter." The show then ended with a chunk of Abbey Road's b-side medley; "Golden Slumbers"/"Carry That Weight"/"The End," which Paul recently started doing in place of ending his sets with "Sgt. Pepper's Lonely Hearts Club Band (Reprise)"/"The End."
Both setlists and more pictures from Saturday night, below...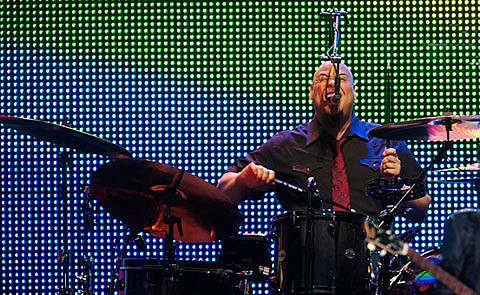 Paul McCartney Concert at Yankee Stadium, New York, NY, USA
Setlist on July 16, 2011
Magical Mystery Tour (The Beatles song)
Jet (Wings song)
All My Loving (The Beatles song)
Junior's Farm
(Paul McCartney & Wings song)
Drive My Car (The Beatles song)
Sing the Changes
(The Fireman song)
The Night Before (The Beatles song)
Let Me Roll It (Wings song)
Foxy Lady
(The Jimi Hendrix Experience cover) (instrumental)
Paperback Writer (The Beatles song)
The Long and Winding Road (The Beatles song)
Nineteen Hundred and Eighty-Five (Wings song)
Let 'Em In (Wings song)
Maybe I'm Amazed
I'm Looking Through You (The Beatles song)
I Will
Blackbird (The Beatles song)
Here Today
Dance Tonight
Mrs Vanderbilt (Wings song)
Eleanor Rigby (The Beatles song)
Something (The Beatles song)
Band on the Run (Wings song)
Ob-La-Di, Ob-La-Da (The Beatles song)
Back in the U.S.S.R. (The Beatles song)
I've Got a Feeling (The Beatles song)
A Day in the Life / Give Peace A Chance
Let It Be (The Beatles song)
Live and Let Die (Paul McCartney & Wings song)
Hey Jude (The Beatles song)
Encore:
Lady Madonna (The Beatles song)
I Saw Her Standing There (The Beatles song) (with Billy Joel)
Get Back (The Beatles song)
Encore 2:
Yesterday (The Beatles song)
Helter Skelter (The Beatles song)
Golden Slumbers / Carry That Weight / The End (The Beatles song)
-------------
Paul McCartney Concert at Yankee Stadium, New York, NY, USA
Setlist on July 15, 2011
Hello, Goodbye (The Beatles song)
Junior's Farm (Paul McCartney & Wings song)
All My Loving (The Beatles song)
Jet (Wings song)
Drive My Car (The Beatles song)
Sing the Changes (The Fireman song)
The Night Before (The Beatles song)
Let Me Roll It (Foxy Lady ending)
Paperback Writer (The Beatles song)
The Long and Winding Road (The Beatles song)
Nineteen Hundred and Eighty-Five (Wings song)
Let 'Em In (Wings song)
Maybe I'm Amazed
I've Just Seen a Face (The Beatles song)
I Will (The Beatles song)
Blackbird (The Beatles song)
Here Today
Dance Tonight
Mrs Vandebilt (Wings song)
Eleanor Rigby (The Beatles song)
Something (The Beatles song)
Band on the Run (Wings song)
Ob-La-Di, Ob-La-Da (The Beatles song)
Back in the U.S.S.R. (The Beatles song)
I've Got a Feeling (The Beatles song)
A Day in the Life / Give Peace A Chance
Let It Be (The Beatles song)
Live and Let Die (Paul McCartney & Wings song)
Hey Jude (The Beatles song)
Encore:
Lady Madonna (The Beatles song)
Day Tripper (The Beatles song)
Get Back (The Beatles song)
Encore 2:
Yesterday (The Beatles song)
Helter Skelter (The Beatles song)
Golden Slumbers / Carry That Weight / The End (The Beatles song)
--