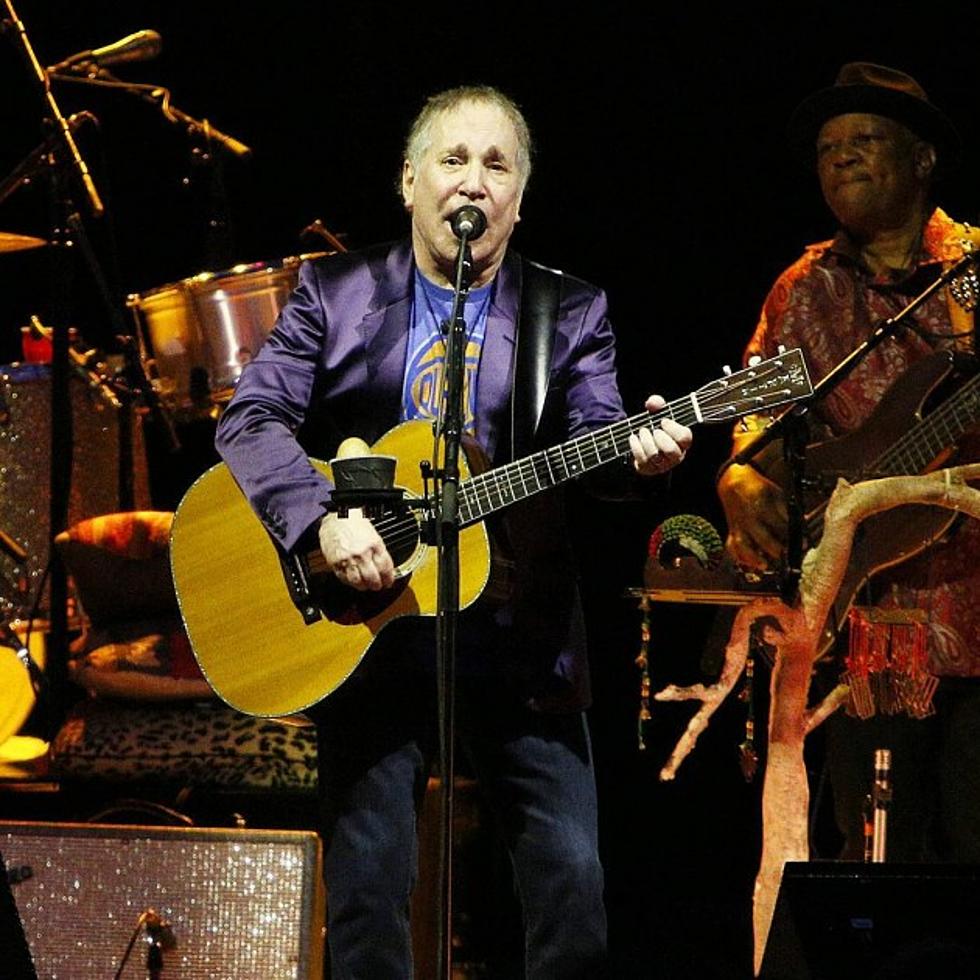 Paul Simon played a very rainy Forest Hills Stadium (night 2 pics, setlist, review)
Paul Simon @ Forest Hills Stadium - 7/1/16 (photo by Greg Cristman, via BrooklynVegan Instagram)
If the rumors are true that Paul Simon is retiring after this year, he's certainly going out with a bang. The Forest Hills High School graduate played his second of two consecutive nights at Forest Hills Stadium on Friday (7/1), his first appearances at the venue since 1970. And at seventy four years young, he still performed with an energy that wouldn't make you think he's ready to retire. The show was delayed over an hour due to pouring rain, but Paul didn't let that hinder his performance at all. He finally took the stage around 8:50 and played for over two hours, pushing the stadium's 10 PM curfew back to 11. Still crazy after all these years indeed.
A handful of guys around Paul's age are still ace live acts -- there's a whole major festival this fall dedicated to rock septuagenarians -- but a much smaller number of them are still putting out essential material. Paul Simon of course played the classics, but he had a special kind of spirit reserved for the songs off his recently-released Stranger to Stranger, which may very well be his best album since the '90s. Surely part of that is the excitement that comes from playing new material live, versus the same songs you've played every night for decades. But there's really something about these songs. At Friday night's show, I specifically found myself enjoying the trippiness of "The Werewolf" and the danceable "Wristband" as much as stone-cold classics like "Mother and Child Reunion" and "Diamonds on the Soles of Her Shoes." If Stranger to Stranger goes down as his final album, his career will truly be, uh, bookended, by greatness.
The new songs were great, the stadium-wide dance parties for "Me and Julio Down by the Schoolyard" and "You Can Call Me Al" were great, but the real treats of his set were the Simon & Garfunkel songs. Like on Thursday night, he played "Homeward Bound" (which, I mean, he had to play in Forest Hills, right?), "El Condor Pasa (If I Could), and "The Boxer," but we got two others this time. Quite possibly the most magical moment of any Paul Simon show is when it's just him up there with an acoustic guitar playing "The Sound of Silence." He did just that on Friday night in the second encore (right after playing "The Boxer"), lit up by nothing more than a dim spotlight. (No offense to Art Garfunkel but) of the various versions of that song that exist, sometimes I think there's nothing more powerful than Paul's bare-bones solo version. It's the most timeless too. As long as we keep getting breakthroughs from the Robin Pecknolds and Angel Olsens of the world, "The Sound of Silence" will remain forever relevant. Paul got his band back on stage to follow that with the final song of the night, another Simon & Garfunkel tune which he said he hadn't played in a while, "Bridge Over Troubled Water." A fitting ending to a night that's only trouble was rain.
Check out more pictures in the gallery above. A few Instagram pics/videos and Paul's setlist, below...
Paul Simon @ Forest Hills Stadium - 7/1/16 Setlist (via)
Proof
The Boy in the Bubble
50 Ways to Leave Your Lover
Dazzling Blue
That Was Your Mother
Rewrite
Honky Tonk (Bill Doggett cover)
Slip Slidin' Away
Mother and Child Reunion
Me and Julio Down by the Schoolyard
Spirit Voices
The Obvious Child
Stranger to Stranger
Homeward Bound (Simon & Garfunkel song)
El Condor Pasa (If I Could) (Simon & Garfunkel song)
Duncan
The Werewolf
The Cool, Cool River
Diamonds on the Soles of Her Shoes
You Can Call Me Al
Encore:
Wristband
I Know What I Know
Late in the Evening
Still Crazy After All These Years
Encore 2:
That's All Right (Arthur "Big Boy" Crudup cover)
The Boxer (Simon & Garfunkel song)
The Sound of Silence (Simon & Garfunkel song)
Bridge Over Troubled Water (Simon & Garfunkel song)