Pavement @ the Toronto Island Festival – pics, video, setlist
by Andrew Frisicano
As the sun hid its face behind the island's ring of trees, Pavement took to a Toronto stage for the first time in a decade.

The crowd was a little diminished at this point. Presumably, Toronto didn't want to miss out on the other aging rockers, Iggy and the Stooges, who were playing a free gig at Yonge-Dundas Square starting at 9 p.m.

But Pavement, equipped with a dedicated cult following, delivered to the fans. The fans including both Kevin Drew and Band of Horses' Ben Bridwell, who joined Pavement for Kennel District. Both were clearly ecstatic by the honour. The epitome of '90s indie rock, the California band blasted their feel-good lo-fi rock. It was all well-received nostalgia with hits like, Fight This Generation, Father to a Sister of Thought and Shady Lane. It was one of those down-memory-lane-we-go moments for sure. [Blog.to]
Pavement followed Broken Social Scene at Saturday's June 19th show on Toronto Island. The hometown BSS set was clearly a tough act to follow, but Pavement seemed up to the task, with opener "Cut Your Hair" setting the tone. The reunion tour is clearly not about coyness, and the set that followed was a satisfying string of hits that marked the band's first Canadian show in more than 10 years.
It goes without saying that people were excited, and the band seemed happy to oblige with 26 songs.
Bob Nastanovich hopped around and traded lyrics with Stephen Malkmus, who was personable if a little awkward (Malkmus called the show "relatively successful," which seemed like a weird thing to point out to a sold-out 10,000+ crowd who traveled to an island for the show).
The island itself was spacious with lots of leafy trees, and room to spread out while still being in earshot of the show. The six-foot stage meant you could see the band clearly even from the back of the crowd (though the location of the perpetual beer line was a bit too far off).
Pavement will be in NYC for five shows in September. More dates HERE. More pictures from the Toronto show, videos and the setlist, below...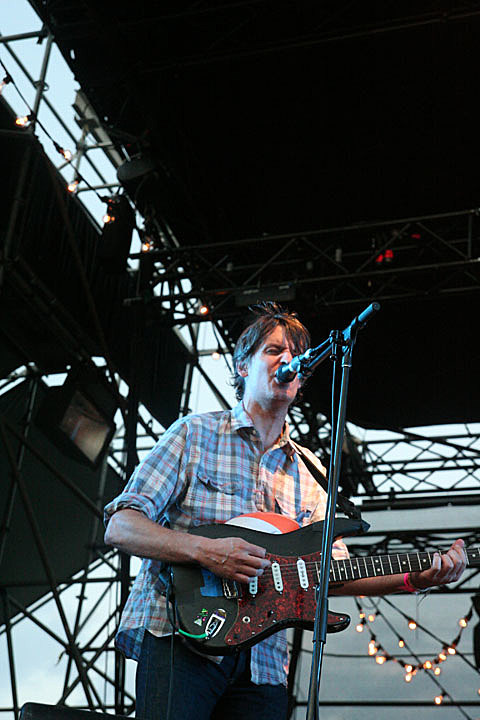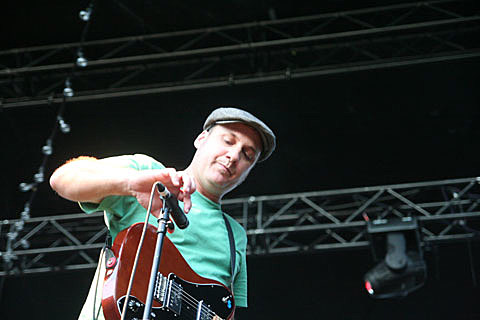 Pavement at Toronto Island Concert - Shady Lane

Pavement at Toronto Island Concert - Rattled By The Rush

Broken Social Scene & Band of Horses pics & setlists HERE.
Pavement at Toronto Island June 19, 2010 setlist
1. Cut Your Hair
2. Trigger Cut
3. Rattled by the Rush
4. Father to a Sister of Thought
5. Kennel District (w/ Kevin Drew)
6. In the Mouth a Desert
7. Grounded
8. Silence Kit
9. Elevate Me Later
10. Spit on a Stranger
11. Unfair
12. Starlings of the Slipstream
13. Fight This Generation
14. Shady Lane
15. Conduit for Sale!
16. Here
17. Stereo
18. Two States (w/ Kevin Drew)
19. Gold Soundz
20. Perfume-V
21. Range Life
22. (Unknown)
23. Summer Babe
Encore:
24. Date w/ Ikea
25. Debris Slide
26. Stop Breathin