Pearl Jam played Barclays Center, not fans of the financial district (pics, review, setlists)
Dana (distortion) Yavin
Pearl Jam in Brooklyn

While Arcade Fire was playing a Bushwick warehouse and CMJ was going on all around the city, Pearl Jam brought their tour to Brooklyn for two sold out shows at the Barclays Center. Choosing the new Brooklyn venue over the being-renovated MSG has been a recent trend, and for PJ to skip the Garden was a big deal for fans. Especially since they've had some of their most legendary shows there. Unofficial spokesman for the city and the building itself, Jay-Z, joined PJ onstage at the Made In America Fest in Philadelphia last year for a version of '99 Problems,' but this was Pearl Jam's first trip to Jay's borough. After a 30+ song set on Friday night, fans felt that the bar was set high but knew they could top it on night #2 and they did just that. On what was the 20th anniversary of the release of their second album, VS., Pearl Jam played for nearly 3 hours and 33 songs on Saturday (10/19) for what many fans are calling one of their best shows ever. Dennis Rodman was even in attendance, bumping elbows with the 10Club members in the pit. Everyone knew from the beginning it going to be "one of those nights."
continued below...

--
After opening with 'Pendulum,' a song from their 10th studio album, Lightning Bolt, they followed it up with the rarely played (and usually only once a tour) b-side, 'WASH.' The crowd went crazy and from this point on it was non-stop. Pearl Jam has always had a way of connecting with their fans and knowing exactly what they want to hear and the Brooklyn shows was a true testament to that. Eddie Vedder and crew cranked out the "hits" (Alive, Evenflow, Betterman, Black), die hard fan favorites (Footsteps, In Hiding, Present Tense), rarities requested by sign (All those Yesterdays) and of course some covers (Leaving Here [Eddie Holland/the Who], Rockin in the Free World [Neil Young] ). To ironically quote the Wall Street Journal,
Vedder dedicated "Rats" to "the nice people in the financial district" - a comment that echoed one he made earlier, when introducing the song "Infallible":

"This one's about fragility - of life, of the planet. We all live with this knowledge but it is perhaps a reminder to somebody in the financial district who concerns himself with the fragility of other people," he said.
They play something for everyone and rarely leave a crowd disappointed. If anything, they leave the crowd wanting more and after 3 hours, that is not easy. Eddie broke out his signature bottles of red wine and talked about how it was a rare night, no fist fights in the stands (like the night before) and how he felt like the crowd and band were operating as one unit. A difficult task to pull off in a cavernous arena, but Pearl Jam has figured out how to do it for over 20 years now.
After thanking the crowd (and the entire Northeast region of the country), the band and the crew, PJ kept with their tradition of turning the house lights on during the last few songs. They went into their 'sing-a-long to every word although no one really knows what the actual words are' song, Yellow Ledbetter. There's something special about seeing a band in a sold out arena when the lights are still on; it gives an eerie yet warm feeling. The show finished with Mike McCready serenading the crowd with Jimi Hendrix's version of the Star Spangled Banner, something he has mastered over the years. After the final note, they lined up, took a bow and promised to see us next time around.
The talk as everyone left was not only of where that show ranked amongst their own personal list of favorites, but also the overall legacy of Pearl Jam shows in general. This was a special one, indeed, but something that has kept Pearl Jam going for all these years are their fans. And the fact that no matter what, they are never fully pleased. Pearl Jam fans have such a high standard because the band are the ones who have set the bar and keep raising it. We just follow their lead. My first Pearl Jam show was in 1994 and to think I can still see one that will be just as powerful, 20 years later, is hard to imagine.
Pictures from Friday's show are in this post. More of them with both setlists below...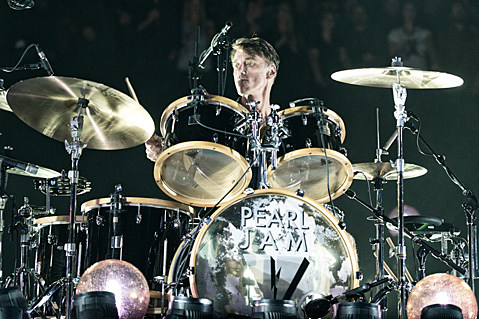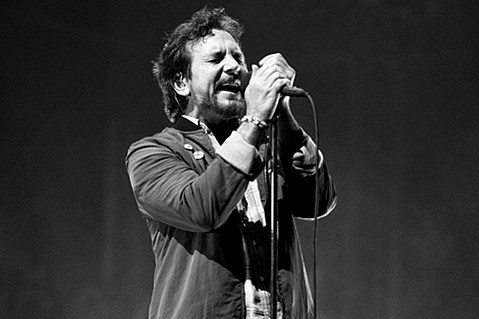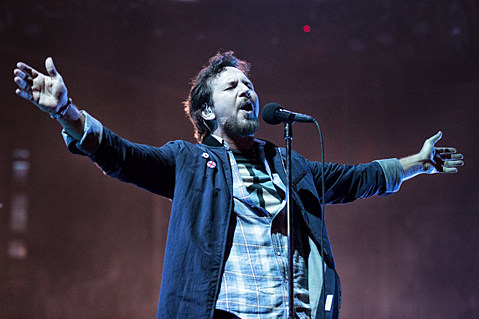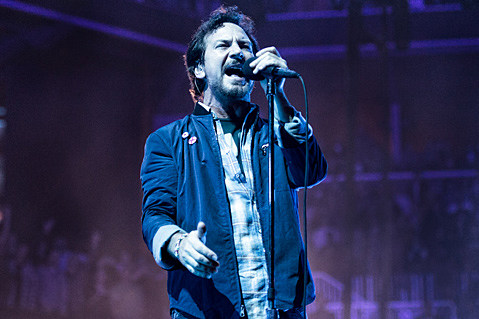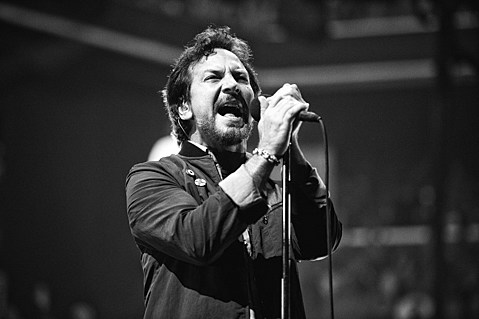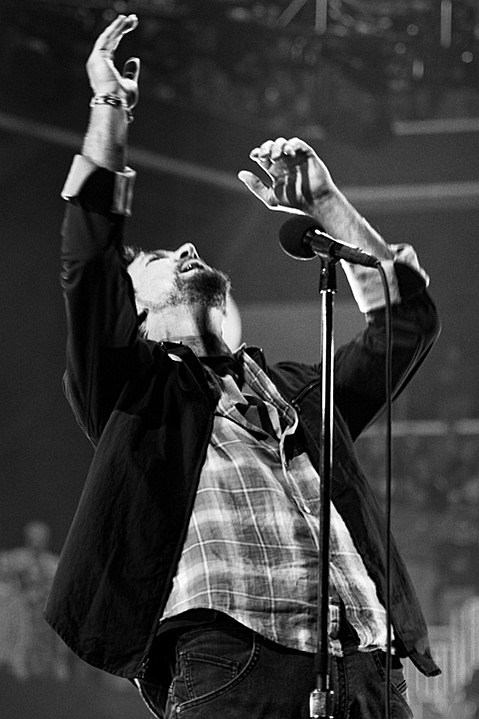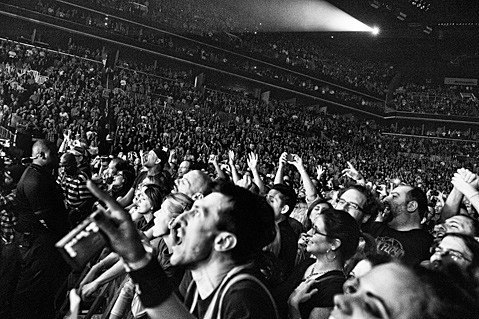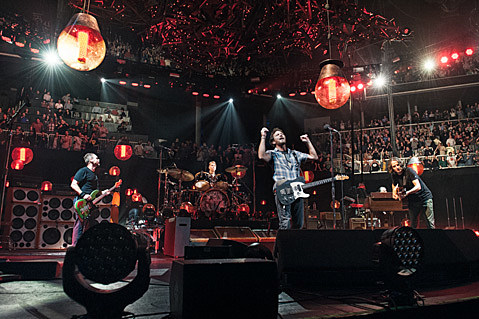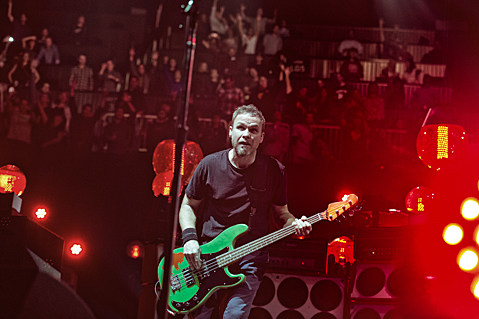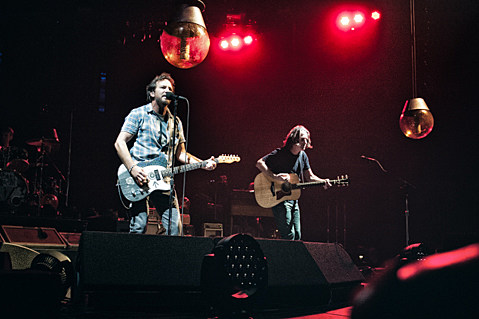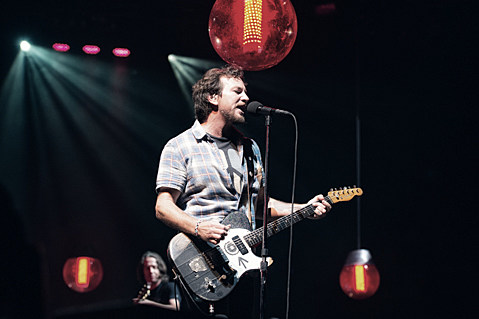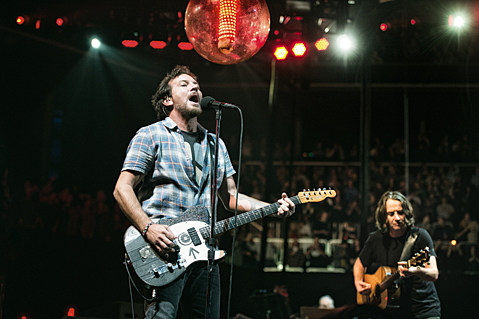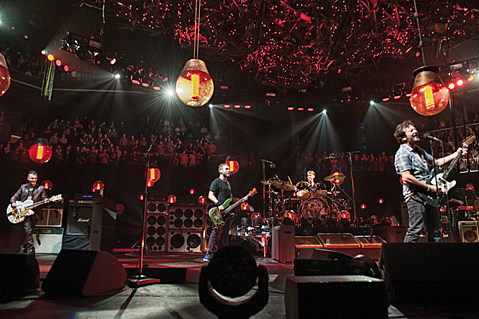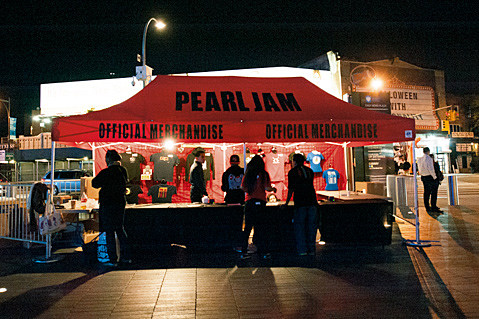 setlist: Pearl Jam @ Barclays Center - 10/18/2013
Pendulum
Release
Elderly Woman Behind the Counter in a Small Town
Lightning Bolt
Corduroy
Mind Your Manners
Dissident
Why Go
Swallowed Whole
I Am Mine
Infallible
Given to Fly
Sirens
Eruption (Van Halen cover)
Spin the Black Circle
Chloe Dancer (Mother Love Bone cover)
Crown of Thorns (Mother Love Bone cover)
Save You
Let the Records Play
Do the Evolution
Rearviewmirror
Encore:
Oceans
Yellow Moon
Sleight of Hand
Just Breathe
Daughter ('Blitzkrieg Bop' tag)
Got Some
Porch
Encore 2:
Wasted Reprise
Life Wasted
Alive
Sonic Reducer (Dead Boys cover)
Indifference