Pete Seeger tributes happening at 2014 Clearwater Festival
Pete Seeger at Clearwater 2009 (more by Chris La Putt)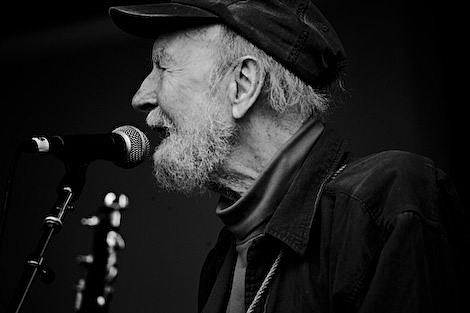 As previously discussed, Croton, NY's Clearwater Festival returns this year from June 21-22 with Richard Thompson, Rufus Wainwright, Puss N Boots (feat. Norah Jones, Sasha Dobson, Catherine Popper), Josh Ritter, Lucinda Williams and more. Since we last spoke, it was announced that the festival's founder Pete Seeger (who normally plays every year but sadly passed away earlier this year) and his wife Toshi will be honored at the festival with a series of musical tributes:
"Pete and Toshi's legacy is truly something to celebrate," says Clearwater Festival Director Steve Lurie. "We're excited to host a variety of tributes throughout the weekend - both on and off the stages." Among the tributes planned is a set by the Clearwater Family Band featuring Clearwater friends Tom Paxton, Tom Chapin, Guy Davis, David Amram, Dar Williams, Holly Near, Josh White, Jr. and others. There will also be a banjo tribute lead by Tony Trischka and featuring other great banjo players, and sets of both The Weavers' music as well as the Almanac Singers, both of which Pete Seeger was a member.

In addition, a special set will feature songs from Seeger's repertoire that were written in honor of the 3,000 Americans who volunteered to serve in the Spanish Civil War. Pete originally wrote the songs to pay tribute to those who fought against the fascist government led by Francisco Franco, and supported by the fascist governments of Italy and Nazi Germany.

"A Square Dance in Memory of How Pete and Toshi Met" will be hosted by Clearwater friends Jay Ungar & Molly Mason on the Dance Stage. Pete and Toshi were very fond of dancing and personally funded the launch of Clearwater's Dance Stage in the early 80's, making it the first participatory dance stage at an American Folk Festival.
Tickets for the festival are still available.