PettyFest @ Bowery Ballroom – setlist & pics (Adam Green, Strokes & Killers members, Nicole Atkins, Kid Rock, more)
Timothy S. Griffin
photos by Tim Griffin
"I went to Pettyfest 2009 at Bowery Ballroom [Thursday] night, which was sick. Lots of drunk and stoned people shouting along to the hits and some great performers-- Nicole Atkins, Adam Green, Steve Schiltz, Antony Ellis, members of The Strokes and The Killers.

One of my favorite performances-- and this took me by surprise -- was the dude from Augustana singing "You Got Lucky." They're not a band I generally have a strong opinion about one way or another, but his voice was sick and he had a commanding presence-- like a subdued Mick Jagger with the wrist at the hips with a dash of Joe Cocker in the vocal tone." [EYTAN]
Jesse Malin, Hymns, Teenage Prayers, The Pierces, and members of Little Joy, Love as Laughter, Longwave (Steve) and Five O'clock Heroes (Anthony) were also among those who performed Tom Petty songs at the show. Most of the Killers were there. It was a night off on their current tour with Wolfmother (who used the evening to play a show at Bowery Electric right down the avenue). Kid Rock was there too (are you scared yet?), but didn't perform. He was in town to play a benefit at Terminal 5 one night earlier. More pictures and some pictures of the setlist below...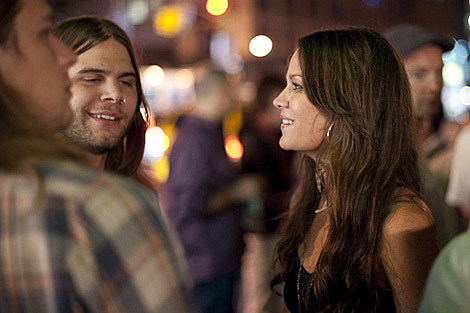 The London Souls opened the show.
The same crowd also recently honored Dylan, but at a smaller venue.