Pharmakon played Mercury Lounge with Destruction Unit, playing Basilica tonight, added more tour dates
Pharmakon at Mercury Lounge - 9/11/13 (via @idieisaiahdavid)

She plays another NYC-area show a bit north of here tonight (9/13) for the first day of Hudson, NY's two-day Basilica Sound Scape. Joining her on tonight's diverse lineup is Pig Destroyer, Julianna Barwick, Evian Christ, Richard Hell (reading), and more. Tickets for tonight will be available at the door, and advance tickets for Saturday are still available.
Pharmakon also announced that she is expanding her European tour and adding west coast shows before she crosses the pond to play a number of dates including several festivals and a secret show in London in support of her recent album Abandon. Pharmakon's club shows include dates with Deafheaven, Savages, Kim Gordon and more. All tour dates are listed below.
Pharmakon's show with Destruction Unit at Mercury Lounge earned a mention in this week's New Yorker in the Goings On About Town section, marking what has to be one of the few times (I'm looking at you, Prurient) the words "power electronics" have made it into the mag. Check out an insane photo of Destruction Unit from that show and continue reading for complete Pharmakon tour dates below...

---
Pharmakon - "Crawling On Bruised Knees"

Destruction Unit at Mercury Lounge - 9/11/13 (via @shoppykins)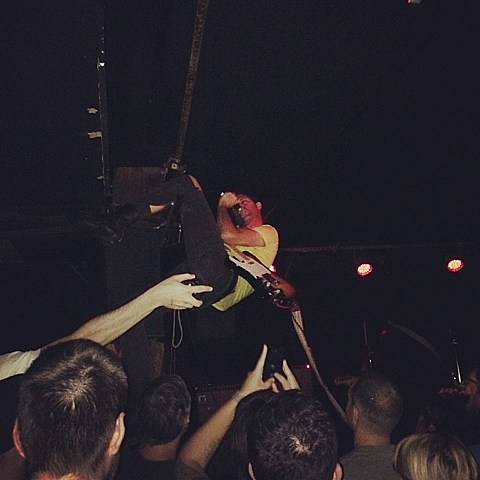 Pharmakon -- 2013 Tour Dates
Sep 13, 2013: Hudson, NY, Basilica Soundscape (w/ Evian Christ, Pig Destroyer, Julianna Barwick)
Sep 24, 2013: San Diego, CA, The Void
Sep 26, 2013: Los Angeles, CA, Dilettante
Sep 27, 2013: San Francisco, CA, Elbo Room
Sep 28, 2013: Seattle, WA, Decibel Festival
Sep 29, 2013: Vancouver, BC, Electric Owl
Oct 19, 2013: Krakow, Poland, Unsound Festival
Oct 20, 2013: Porto, Portugal, Amplifest
Oct 22, 2013: Lisbon, Portugal, ZDB
Oct 24, 2013: Brussels, Belgium, AB
Oct 25, 2013: Paris, France, Le Trabendo
Oct 26, 2013: Graz, Austria, Elevate Festival
Oct 30, 2013: Amsterdam, Netherlands, OT301
Oct 31, 2013: Tilburg, Netherlands, Incubate Special
Nov 2, 2013: Stockholm, Sweden, RBMA Weekender Festival
Nov 3, 2013: Copenhagen, Denmark, CPH: DOX Festival
Nov 5, 2013: Copenhagen, Denmark, Mayhem
Nov 6, 2013: Hamburg, Germany, Hafenklang
Nov 7, 2013: Strasbourg, France, Museum of Contemporary Art
Nov 8, 2013: Lausanne, Switzerland, Luff Festival Closing Party
Nov 9, 2013: Ravenna, Italy, Bronson
Nov 12, 2013: Milan, Italy, Rocket
Nov 13, 2013: Padova, Italy, (w/ Lust For Youth, Destruction Unit)
Nov 14, 2013: Madrid, Spain, The Space Cadet
Nov 15, 2013: Barcelona, Spain, Mira Festival
Nov 18, 2013: London, UK, ATP Secret Location
Nov 19, 2013: Manchester, UK, Islington Mill
Nov 20, 2013: Bristol, UK, The Old Coroners Court & Morgue
Nov 21, 2013: London, UK, Brixton Academy
Nov 24, 2013: Camber Sands, UK, ATP Festival
Nov 26, 2013: Moscow, Russia, 16 Tons
Nov 27, 2013: St Petersberg, Russia, Secret Location
Nov 28, 2013: Helsinki, Finland, Aaniwalli
Nov 29, 2013: Berlin, Germany, Berghain
Nov 30, 2013: Utrecht, Netherlands, Le Guess Who Festival
Dec 1, 2013: Kortrijk, Belgium, Sonic City Festival
Dec 7, 2013: Madeira, Portugal, MadeiraDig Festival