Phil Lesh adds 3rd NYC-area 76th birthday show +++ other Dead-related shows happening in NYC
Gregory R. Cristman
photo: Phil Lesh at the Cap in 2015 (more by Greg Cristman)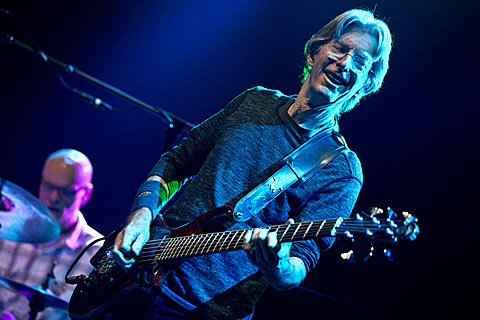 The Grateful Dead's Phil Lesh recently announced his 76th birthday shows which happen at the Capitol Theatre on March 17 and 18. Those both sold out, but now he added a third show for March 15 at the Cap. Like the other two, his band for this one is "The Q" but the lineup for 3/15 differs slightly. It's with Warren Haynes, Eric Krasno, Rob Barraco and John Molo. (The other shows have Jimmy Herring instead of Eric Krasno.) Tickets go on sale Saturday (2/27) at noon and promo tickets go on sale Thursday (2/25) at noon.
As you may know, the Cap is booked by Peter Shapiro who also books Brooklyn Bowl, which has many Dead-related shows coming up (as usual). There's Half Step: Grateful Dead Tribute, Melvin Seals and JGB, The Jerry Dance Party, Grateful Rockers for Kids, Joe Russo's Almost Dead, Old Soul Revival - An Evening of The Allman Brothers Band meets The Grateful Dead, and Dead On Live.
Dead & Company (Grateful Dead members Bob Weir, Mickey Hart and Bill Kreutzmann, plus John Mayer) are also touring, including two nights at Citi Field.
Watch a video of Phil Lesh with Warren Haynes, John Molo and more at Mountain Jam 2007, below...

---