Phil Lesh & Friends played four nights at Capitol Theatre (pics, setlists); four more shows announced ++ more Dead news
Gregory R. Cristman
Phil Lesh & Friends @ The Capitol Theatre 3/18/2015

The Grateful Dead turn 50 this year and Phil Lesh turns 75, and in celebration of the latter Phil & friends played a sold-out four-show run at his NYC-area home base, The Capitol Theatre, this week. Making the shows extra special, Warren Haynes played in his band. The shows also included Eric Krasno, Rob Barraco, and John Molo the first two nights (3/15 & 3/16); and Barry Sless subbed for Krasno on Wednesday (3/18) and Thursday (3/19). As you'd expect, setlists were different each night and included a ton of Dead songs, plus a few cuts throughout the run from Warren's former band, The Allman Brothers. Setlists from all four nights and pictures from Thursday's show are in this post.
Phil now announced another four-night run at The Cap happening October 30, Halloween, November 6 and November 7. Tickets for those shows are on sale now.
In related news, there's going to be an auction in Chicago on April 11 and 12 of privately-held Dead-related memorabilia. Chicagoist reports:
Some of that "stuff" includes pretty cool artifacts like a chair owned by Jerry Garcia and featured in a Rolling Stone article. There are posters--some autographed--from shows long ago. There's Garcia's old Colt .25 pistol and some art utensils used by Rick Griffin and even legal documents.

...Another item that intrigues [Dead historian and publicist Dennis] McNally is Garcia's hand-written lyrics to "He's Gone." "A song is an amazing thing, really," he said. "You can hear a song a million times, but we don't really witness the creation of a song." "To see the original lyrics written out, with edits and scratched out words and Jerry's doodling in the margins, it's a way to see that creative process which is impressive to me." "It's just pencil to paper," McNally continued. "It's so human and normal and not what you'd expect."
Read more and check out a few pictures of the memorabilia that will be up for auction here.
In other related news, Examiner reports that when Jerry Garcia was arrested in 1985 on drug possession charges after a San Francisco police officer noticed 23 packets of "brown and white substances" in his briefcase, that the briefcase also contained a number of Dead songs that Jerry and Robert Hunter were working on, and that police may still have the briefcase. Robert Hunter recently told Rolling Stone:
I haven't gone searching for it, but I happen to know that briefcase had a number of new songs he was working on. And if the police still have them, I'd like them back, please. It doesn't seem right. A lot of those songs disappeared. I would give [Bob] Weir the only copy of a song, and he'd put it in his back pocket and he would do the wash and there would go that song. And he'd say, "Do you remember any of that song?" and I'd say, "Maybe I can remember a verse or two." But that's one good thing about word processors coming along -- there are no more lost songs.
Well let's hope they do get them back!
More pictures and setlists from the Cap, below...

---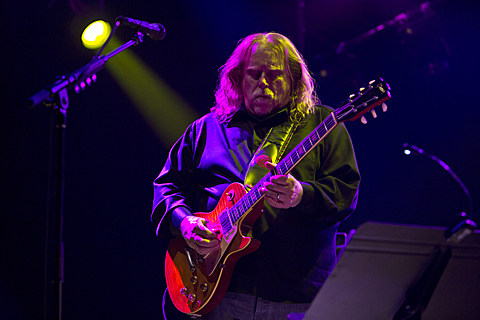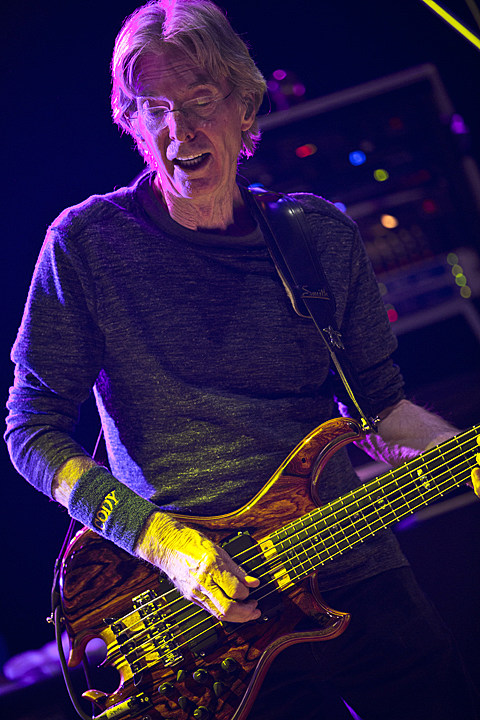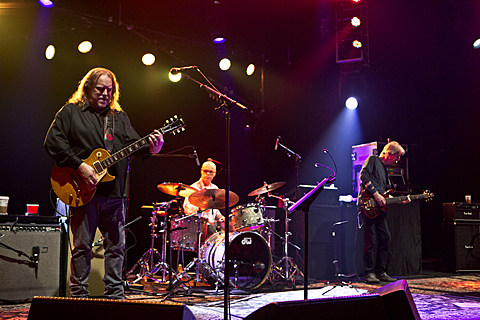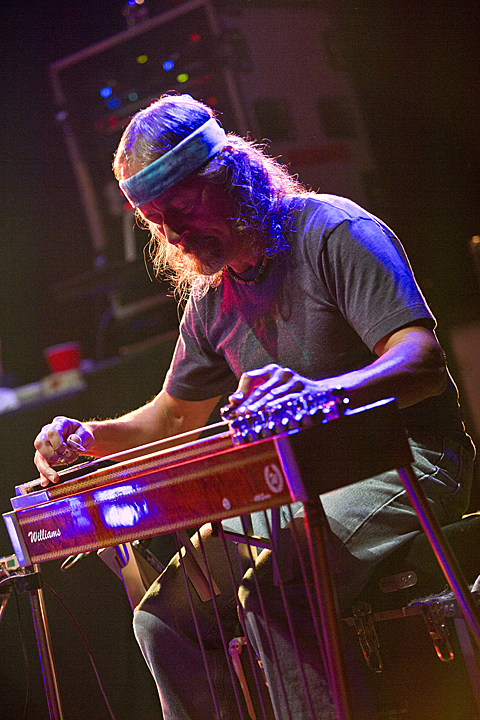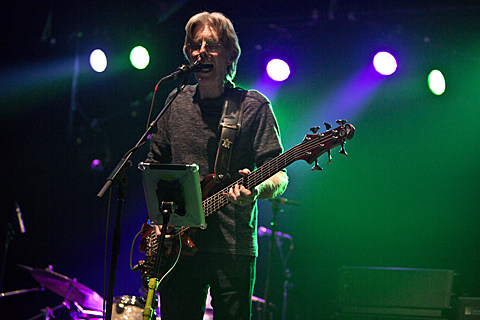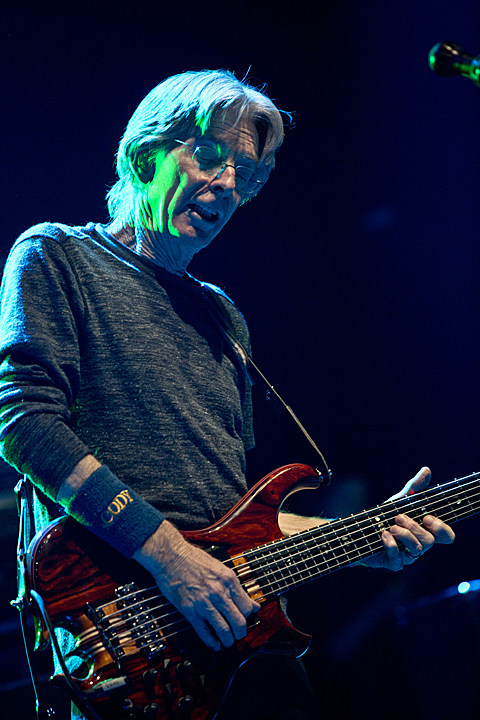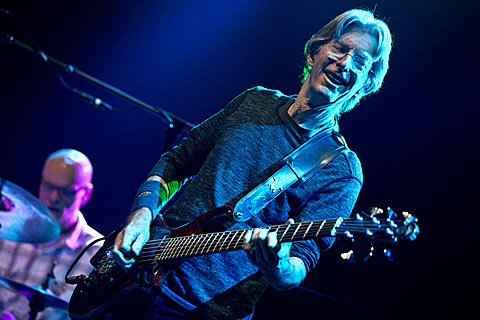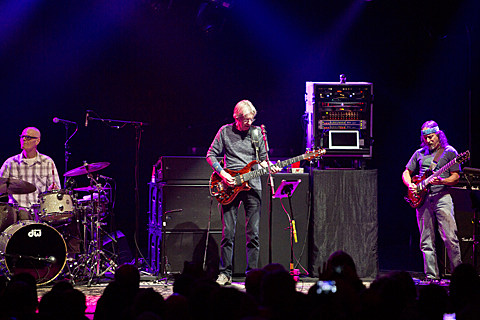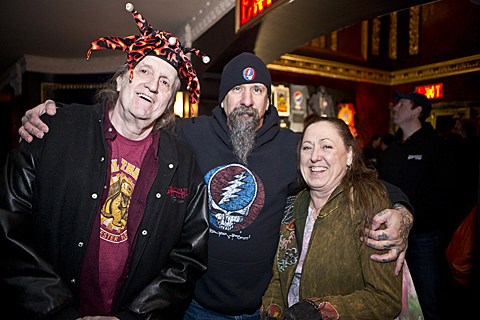 Phil Lesh & Friends @ Capitol Theatre - 3/15/15 (via)
Set 1:
Ripple (Grateful Dead song) (Phil Lesh vocals)
End Of The Line (The Allman Brothers Band cover) (Warren Haynes vocals)
Althea (Grateful Dead song) (Rob Barraco vocals)
Sunshine of Your Love (Cream cover) (Warren Haynes vocals)
Bertha (Grateful Dead song) (Rob Barraco vocals)
Mississippi Half-Step Uptown Toodeloo (Grateful Dead song) (Phil Lesh vocals)
Sugaree (Grateful Dead song) (Warren Haynes vocals)
Set 2:
Playing In The Band (Grateful Dead song) (Rob Barraco vocals)
Jam
Low Spark of High Heeled Boys (Traffic cover) (Warren Haynes vocals)
The Wheel (Grateful Dead song) (Lesh, Haynes, Barraco vocals)
Broken Arrow (Robbie Robertson cover) (Phil Lesh vocals)
Lady With A Fan (Grateful Dead song) (Phil Lesh vocals)
Terrapin Station (Grateful Dead song)
Midnight Rider (The Allman Brothers Band cover) (Warren Haynes vocals)
Morning Dew (Grateful Dead song) (Warren Haynes vocals)
Encore:
Happy Birthday (Peter Shapiro with cake)
Going Down the Road Feelin' Bad (Henry Whitter cover)
Phil Lesh & Friends @ Capitol Theatre - 3/16/15 (via)
Jam
Dupree's Diamond Blues (Grateful Dead song)
Doin' That Rag (Grateful Dead song)
West L.A. Fadeaway (Grateful Dead song)
Cosmic Charlie (Grateful Dead song)
Alabama Getaway (Grateful Dead song)
Here Comes Sunshine (Grateful Dead song)
Blue Sky (The Allman Brothers Band cover)
Jam
Dear Mr. Fantasy (Traffic cover)
All Along the Watchtower (Bob Dylan cover)
Viola Lee Blues (Cannon's Jug Stompers cover)
Into the Mystic (Van Morrison cover)
Help on the Way (Grateful Dead song)
Just a Little Light (Grateful Dead song)
Uncle John's Band (Grateful Dead song)
Slipknot! (Grateful Dead song)
Franklin's Tower (Grateful Dead song)
Stella Blue (Grateful Dead song)
Phil Lesh & Friends @ Capitol Theatre - 3/18/15 (via)
Set 1:
Jam
Dire Wolf (Grateful Dead cover)
Candyman (Grateful Dead cover)
Peggy-O ([traditional] cover)
China Cat Sunflower (Grateful Dead cover)
Cold Rain and Snow (Grateful Dead cover)
Comes a Time (Jerry Garcia cover)
Deal (Jerry Garcia cover)
Set 2:
Crazy Fingers (Grateful Dead cover)
Unbroken Chain (Grateful Dead cover)
Dark Star (Grateful Dead cover) (verse 1)
Mason's Children (Grateful Dead cover)
The Other One (Grateful Dead cover)
Wharf Rat (Grateful Dead cover)
Not Fade Away (The Crickets cover) (>)
I Know You Rider ([traditional] cover)
Encore:
Box of Rain (Grateful Dead cover)
Phil Lesh & Friends @ Capitol Theatre - 3/19/15 (via)
Jam
Cassidy (Bob Weir cover)
Bird Song (Jerry Garcia cover)
Brown-Eyed Women (Grateful Dead cover)
Black Peter (Grateful Dead cover)
He's Gone (Grateful Dead cover)
Pride of Cucamonga (Grateful Dead cover)
In the Midnight Hour (Wilson Pickett cover)
Set 2:
Scarlet Begonias (Grateful Dead cover)
King Solomon's Marbles (Grateful Dead cover)
Mountains of the Moon (Grateful Dead cover)
The Eleven (Grateful Dead cover)
Fire on the Mountain (Grateful Dead cover)
Passenger (Grateful Dead cover)
St. Stephen (Grateful Dead cover)
Shakedown Street (Grateful Dead cover)