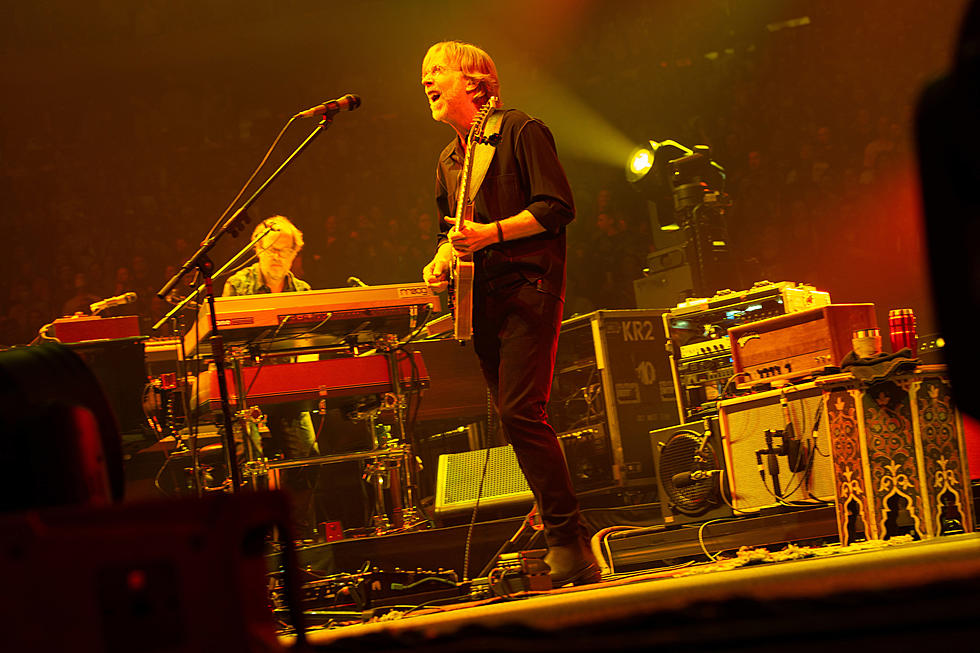 Phish began MSG run on 4/20 (pics, video, setlist)
photo by David Andrako
Phish were supposed to do another of their Madison Square Garden New Year's runs until Omicron got in the way, so they rescheduled their four-night run at the venue for the spring, and it began last night, on 4/20. Here's an excerpt of Scott Bernstein's review for JamBase:
The energy in the room reached a fevered pitch as the clock struck 8 p.m. and the band was about to take the stage. Huge cheers greeted the "Carini" opener. Phish wasted little time breaking through the song's typical structure for the first Type II excursion of the run. The four-piece moved from an evil soundscape to a blissful jam space in a minor-to-major key modulation that has been a trademark of the band's jamming and was repeated a number of times on Wednesday night. The "Carini" approached the 20-minute mark, giving light designer Chris Kuroda ample time to show off his massive rig, complete with moving trusses assembled in new shapes and patterns. Anastasio and keyboardist Page McConnell took turns leading a "Carini" jam that was filled with impressive interplay between the pair while the rhythm section of drummer Jon Fishman and bassist Mike Gordon anchored the improv with a steady beat.

The crowd responded to every turn made within "Carini" and was attentive throughout the evening for the most part. A blazing "Possum" followed along with an extended "The Moma Dance" featuring "Bug" teases before Phish took it down a notch with the contemplative "Leaves" and introspective "Strange Design." The latter was last played on December 7, 2019 — a 50-show gap — and hadn't seen action at MSG since December 31, 2002. By the time Page sang "Strange Design" all four members of the band had taken a turn singing lead.
Read more here. Check out videos, the setlist, and photos from the show by David Andrako below.
The run continues through Saturday (4/23), and Phish will be back in the NYC-area when their spring/summer tour hits Jones Beach on July 26 & 27 and Atlantic City Beach on August 5, 6 & 7. All upcoming dates and tickets here.
Phish @ MSG - 4/20/22 Setlist (via)
Set 1:
Carini
(>)
Possum
The Moma Dance
(>)
Leaves
Strange Design
Stash
Blaze On
Set 2:
Sigma Oasis
(>)
Down With Disease
(>)
The Howling
(>)
Twist
(>)
Mountains in the Mist
Reba
Drift While You're Sleeping (Trey Anastasio song)
Encore:
Gumbo
Slave to the Traffic Light