Phoenix, Dirty Projectors, WAVVES & Daft Punk @ MSG (pics, video & setlist)
photos by Andrew St. Clair, additional pics by Phoebe Vickers
As you know, Madison Square Garden headliner Phoenix was blessed with a surprise appearance from Daft Punk, another French group who they are related to via early endeavor Darlin'.
Dirty Projectors and Wavves also opened the show (Wavves's first of two shows for the evening). The second was at Purevolume House with Matthew Dear and Two Door Cinema Club who headline Webster Hall tonight (10/21).
The MSG show was announced way before CMJ, but then became a CMJ show when CMJ announced the final CMJ lineup, though reportedly only very few badges were let in, and those badge tickets went to people who showed up to pick the tickets up at CMJ headquarters early that morning. Those who showed up early to the large venue thinking they'd get in with their badge, were out of luck.
(note from BBG: Quick question- can anyone confirm it wasn't a janitor underneath those robot suits? I smell an MF Doom-style conspiracy?)
A bit more about the show HERE. More pictures, the Phoenix set list (sans encore), and some video of the Daft Punk madness is below.


Wavves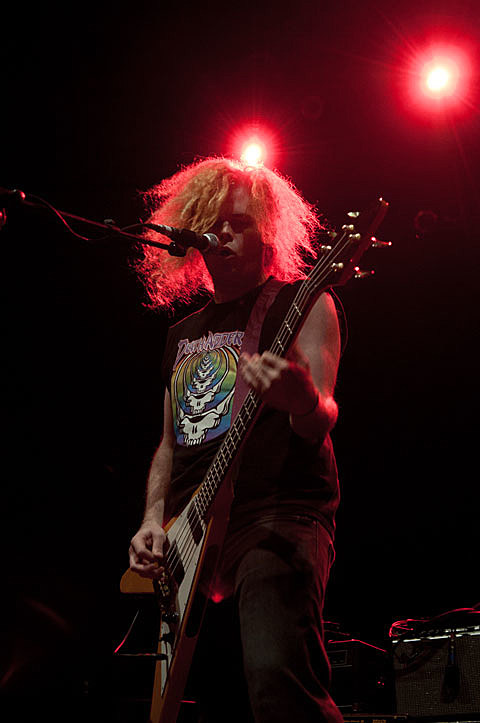 Dirty Projectors
Phoenix
and then came Daft Punk... (photos by Pheobe Vickers)...
Pheonix setlist courtesy of Matt Berman

EPIC NIGHT PHOENIX & DAFT PUNK SPECIAL GUESTS!! 2010 LIVE @ Madison Square Garden NYC 10202010

PHOENIX & DAFT PUNK LIVE 2010 "AROUND THE WORLD / HARDER BETTER FASTER STRONGER @ MSG

Phoenix Daft Punk MSG 10/20

PHOENIX & DAFT PUNK 1901 / Harder Better Faster Stronger / Around the World @ Madison Square Garden