Amen Dunes, Kevin Morby & Nude Beach @ Bowery Ballroom (pics)
"Last night was really incredible for us...much luv to all you who came out, and to our friends @kevinmorby & Nude Beach, thank you xx" - Amen Dunes
".@AmenDunes delivered a trance like performance tonight at @BoweryBallroom. Beautiful stuff!" - Will Oliver
Amen Dunes / Kevin Morby

Brooklyn psych outfit Amen Dunes came to Bowery Ballroom last night (1/22) with Kevin Morby and local power-poppers Nude Beach in support of his new Cowboy Worship EP. Last night's show was a one-off in his hometown, but Amen Dunes is heading out on a longer tour this spring and you can check out the dates for that below. Were you there? What did you think? Pictures are in this post.
As discussed, Kevin Morby is also touring and stopping back in NYC at Baby's All Right on March 15 with psych-folk singer Ryley Walker. Tickets for that show are still available.
Nude Beach also have other dates coming up, including two shows in NYC. As discussed, they're playing the first of the three Don Giovanni showcases at Knitting Factory on February 6 with Shellshag, The Hamiltons, Mal Blum, Black Wine, Crow Bait and host Chris Gethard (tix), and coming to Bell House on April 3 with White Hills (tix).
More pictures from last night, and the list of Amen Dunes dates, below...

---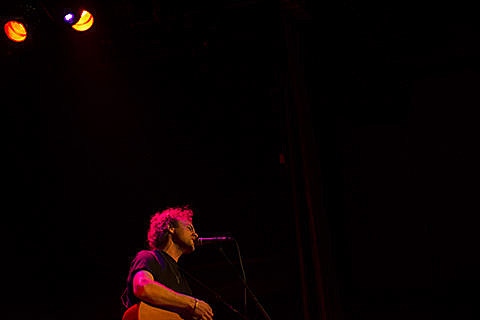 Amen Dunes - 2015 Tour Dates
Mar 26: Baltimore, MD @ Metro Gallery
Mar 27: Durham, NC @ Pinhook
Mar 28: Knoxville, TN @ Big Ears Festival
Mar 29: Bloomington, IN @ The Bishop
Mar 31: Iowa City, IA @ Mission Creek Festival
Apr 1: Chicago, IL @ Schubas
Apr 2: Cleveland, OH @ Beachland Tavern