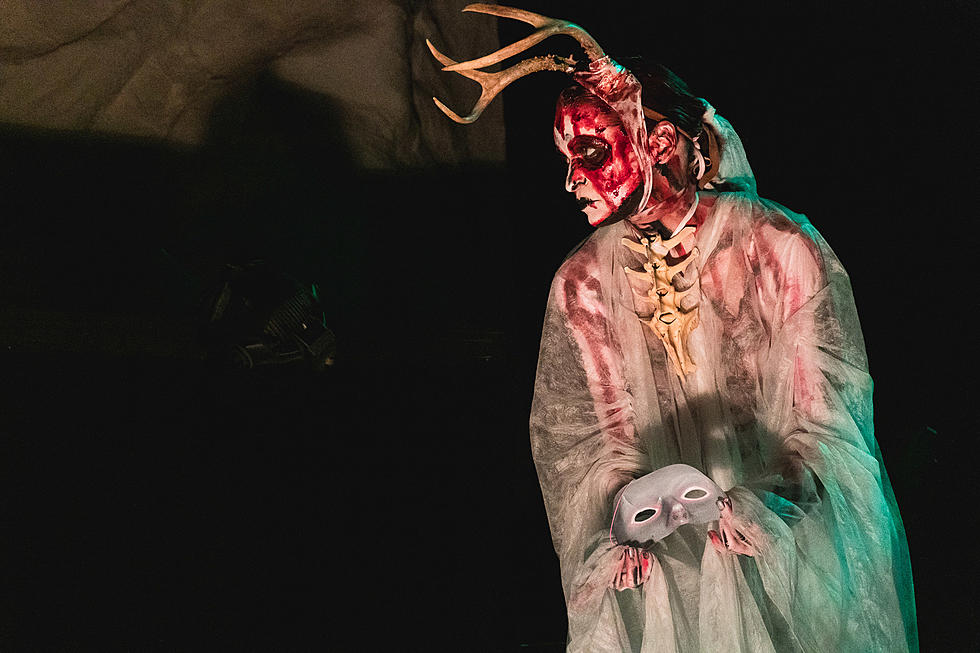 pics: ANOHNI's 'She Who Saw Beautiful Things' w/ Laurie Anderson & more @ The Kitchen
photo by Ryan Muir
From the event's official description:
Written and directed by ANOHNI, SHE WHO SAW BEAUTIFUL THINGS is a two-act, absurdist and surrealist drama containing music, painting, video, and performance by some of NYC's greatest luminaries, including Laurie Anderson, Charles Atlas, Matteah Baim, Michael Cavadias, Tom Cole, Johanna Constantine, Eliza Douglas, Connie Fleming, Scott Jackson, Lola Niasse, Lorraine O'Grady, Kembra Pfahler, and Marti Wilkerson.

As described in a Johnsons program from 1996—when a portion of this work appeared in first draft—the premise of this one-off, multimedia performance event is: "A hermaphrodite searches for her parents in an apocalyptic landscape."

Yet at the very heart of SHE WHO SAW BEAUTIFUL THINGS is the late Johnsons member Dr. Julia Yasuda (1943-2018) and, more specifically, a book of portraiture photography by Yasuda's wife, Erika Yasuda (1946-1986), which ANOHNI has reprinted and expanded, interlayering the images with transparencies of ANOHNI'S delicate drawings, culminating in a beautiful, hardcover, limited-edition volume that functions as much as an artifact.
SHE WHO SAW BEAUTIFUL THINGS draws a broad circle around and encapsulates aspects from thirty years of ANOHNI's diverse artistic output. In part a memorial dedicated to Dr. Julia Yasuda—a longtime collaborator and frequent protagonist in ANOHNI's plays with The Johnsons—the theater piece, artist's book, and exhibition at The Kitchen summon influences from Kazuo Ohno and Jack Smith to Marsha P. Johnson, after whom The Johnsons were named. More broadly, however, the works underscore correlations between crises past and present, inhaling the AIDS epidemic and exhaling the ecological disaster currently unfolding.

"We face grave uncertainty about the existence of a future," ANOHNI says. "Can we reorganize our compulsion to cut the throat of nature? I keep asking myself, 'What Is Really Happening?' The same illness infecting the biosphere has grown around the systems that support my own contemporary life, and a bloom of hopelessness opened up in me. I think about holding space for vanishing, of people, of communities, of biodiversity, in a way that opens into spectral time, leaking all points at once."
ANOHNI did not appear in the performance, but on the day we were there -- which was a benefit gala on April 21 -- she did take part afterwards in a short performance of "Femme Fatale" with Laurie Anderson, Bill Frisell and Hal Willner. Photos from everything are in the gallery above.