pics from Electric Zoo 2011 @ Randall's Island
photos by Leia Jospe
Rusko & fans

Clean or dirty? Uplifting or brutal? Those were choices dance-music fans could make on Saturday, the second day of the weekend-long Electric Zoo 2011 on Randalls Island. They could go for the polished tones, warm chords and step-by-step buildups of trance and house, the overlapping styles that have long dominated dance clubs worldwide and that gave Electric Zoo its headliners: Tiesto on Friday, David Guetta on Saturday and Armin van Buuren on Sunday. The unsubtle four-on-the-floor beat of trance has been a longtime staple of European pop hits, and in recent years American acts like Black Eyed Peas, Lady Gaga and Rihanna have also embraced it.
Or they could get knocked around by the squirmy, distorted bass lines, sudden blasts and saw-toothed bits of melody of dubstep, which after years of enjoyment by devotees is now making itself known to a broader United States audience through D.J.'s like Skrillex, whose fans screamed with joy on Saturday afternoon. [NY Times]
Due to a family emergency, a BV photographer wasn't able to make it to all three days of Electric Zoo at Randall's Island over Labor Day weekend, but Leia did get there for the first day (the Friday that Plastikman didn't happen), and came back with this fun set of pictures. They continue below...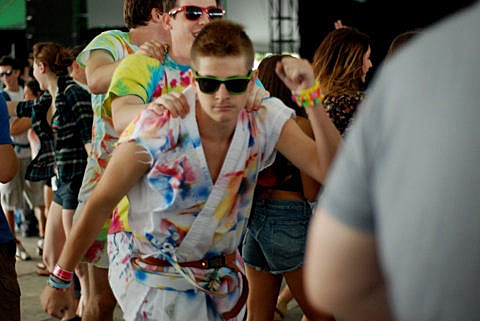 Josh Wink
Rusko
Benny Benassi
Sebastian
MSTRKRFT
Tiesto