pics from the Pietasters boat show, more dates & The Business & The Slackers too
photos by Vincent Cornelli
Ska band The Pietasters played a Rocks Off Concert Cruise on July 29th with DJ 100DBs. A set of pictures and videos are in this post.
The Pietasters will return to the area for a weekend of East Coast dates in October. They'll kick off the short run of shows at Maxwell's in Hoboken on Oct 7th. Tickets are on sale. All dates are listed below.
D 100DBs will also be on the 1s & 2s when ska band The Slackers play a Rocks Off Cruise on August 20th. Tickets are still on sale. The Slackers also play a boat show in Boston one day earlier with iLa Mawana.
In somewhat related news, Oi punks The Business will hit Mercury Lounge on September 2nd as part of a larger East Coast/Midwest tour before they loop back for a another leg of dates that will include RiotFest 2011. Tickets for Mercury are on sale. The Business released their last LP Doing The Business last year via Sailor's Grave.
Pics, videos, and all tour dates below...

--
The Pietasters Rocks Off Cruise 7/29/11

The Pietasters Rocks Off Cruise 7/29/11

DJ 100 DBs
Pietasters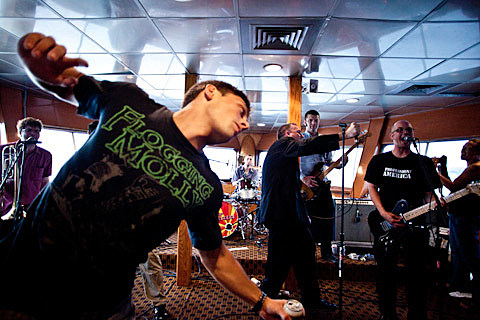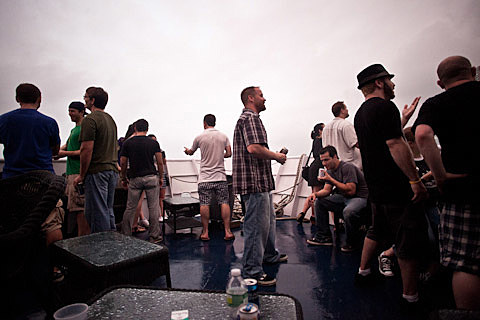 PIETASTERS - 2011 TOUR DATES
AUG 27 Jammin' Java Vienna, VA
OCT 7 Maxwell's Hoboken, NJ
OCT 8 Brighton Music Hall Allston, MA
OCT 9 Daniel St. Millford, CT
THE BUSINESS - 2011 TOUR DATES
Sep 2 New York, NY @ Mercury Lounge
Sep 3 Albany @ NY Bogies
Sep 4 Hartford, CT @ Webster Theater. TNT Fest w/ Cockney Rejects, Sheer Terror, Evil Conduct, Forced Reality, many more
Sep 7 Greensboro, PA @ 42nd St. Rock House
Sep 8 Hamtrack, MI @ Small's
Sep 9 Cleveland, OH @ Now That's Class
Sep 10 Newport, KY @ The Southgate House
Sep 11 St. Louis, MO @ Firebird
Sep 12 Lexington, KY @ Cosmic Charlies
Sep 13 Atlanta, GA @ Masquerade - Hell
Sep 14 Raleigh, NC @ The Brewery
Sep 15 Virginia Beach, VA @ Jewish Mother
Sep 16 Baltimore, MD @ Otto Bar
Sep 17 Revere, MA @ Club 58
Sep 18 Revere, MA @ Club 58
Sep 27 Liege @ Péniche InsideOut (Belgium)
Sep 28 Immenhausen @ Akku (Germany)
Sep 29 Torino @ United Club (Italy)
Sep 30 Rome @ Traffic (Italy)
Oct 1 Bologna @ Laboratorio Crash (Italy)
Oct 2 Dortmund @ Kaktus Farm (Germany)
Oct 8 Chicago, IL @ Riot Fest (Cobra Lounge) w/ Weezer, Social Distortion, Descendents, Youth of Today, Suicide Machines, ALL, Helmet, D Generation, many more
Oct 13 Bremerton, WA @ The Charleston
Oct 14 Seattle, WA @ El Corazon
Oct 15 Portland, OR @ Rotture
Oct 17 Sacramento, CA @ The Blue Lamp
Oct 18 San Jose, CA @ Blank Club
Oct 19 San Francisco,CA @ Thee Parkside
Oct 20 Los Angeles, CA @ The Airliner
Oct 21 San Diego, CA @ Shakedown Bar
Oct 26 Adelaide @ Enigma
Oct 27 Sydney @ The Lewisham Hotel
Oct 28 Melbourne @ The Tote
Oct 29 Brisbane @ The Prince of Wales Hotel w/ Mouthguard
Oct 30 Burleigh Heads @ Shed 5
Nov 2 Dunedin @ The Musicians Club
Nov 3 Christchurch @ Al's Bar
Nov 4 Wellington @ Bodega
Nov 5 Auckland @ The Kings Arms
Nov 22 Kosice, Slovakia @ Colosseum
Nov 26 Pforzheim, Germany @ Bottich
Dec 2 Derby, England @ Victoria Inn
Dec 3 Manchester, England @ Moho Live
Dec 8 Dundee, Scotland @ Beat Generator Live
Dec 9 Belfast, North Ireland @ Auntie Annies
Dec 10 Dublin, Ireland @ TBA
Dec 15 Gateshead, England @ The Three Tuns
Dec 16 London, England @ The Boston Arms
Dec 17 Stoke-On-Trent, England @ The Green Star