PICS & video: BV Saturday @ Baby's All Right (part 1) — Yuck, Courtney Barnett, Pity Sex, King Dude, Spires & more
Courtney Barnett / Pity Sex / Yuck

Thursday morning we still didn't even know if new Williamsburg venue Baby's All Right would be allowed to open. One day later, we hosted what ended up being the venue's first show ever for six hours straight on Friday afternoon. We then returned the next morning for an all-day Saturday CMJ party that went from noon til just after 2 AM. Pictures, videos and a recap of that 14 hour 10/19 BrooklynVegan show are in this post.
We kicked things Saturday off with local band Spires, who may be a newish band from Brooklyn but sound more like one from the UK in the late '60s, followed by the shoegazey emo of Pity Sex, who balanced whispered vocals and atmospheric guitars on either side of the stage with their driving rhythm section in the middle. Before their set, at least one member of Pity Sex got some new art on his body in our pop up Three Kings Tattoo shop courtesy of Sailor Jerry who also supplied the free rum we started serving right at noon.
Next up was Australian singer/songwriter Courtney Barnett, one of the big winners of this year's CMJ, who just released The Double EP: A Sea Of Split Peas, a collection of witty lyrics and Summer of Love psych pop. The songs are excellent, and she's got a nice stage presence with a funny attitude and some killer guitar freakouts. She offered a free CD to anyone who got a tattoo of her name.
After Courtney was Yuck, who were playing their first U.S. shows since singer Daniel Blumberg left the band. He wasn't really missed, as the rest of the band traded off vocals on the first album's songs and their new material seemed to go over equally well. (They also gave us their cover of New Order's "Age of Consent.) It was a packed -- and sweaty -- house with a very enthusiastic crowd. Great set.
Then we changed gears for goth/country singer King Dude (playing as a trio), who were a bit more rockin' than they are on record, which made for a good transition into Nothing, who have been tagged as shoegaze, are signed to a metal label but really just came off as a heavy rock band not tied to any specific subgenre (catch them, complete with a new tattoo they also got at the show, at 285 Kent on 10/29).
More about this show with pictures of the second half of the day are HERE. Everything described above, is pictured below...

--

--
Pity Sex - "Dogwalk" @ BV Party - 10/19/13

Courtney Barnett @ BV Party - 10/19/13

Yuck - "Holding Out" @ BV Party - 10/19/13

Yuck - "Get Away" @ BV Party - 10/19/13

Yuck - Losing My Breath @ BV Party - 10/19/13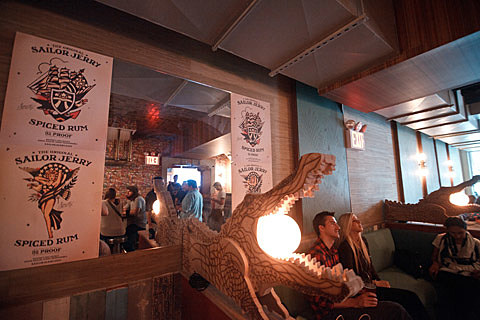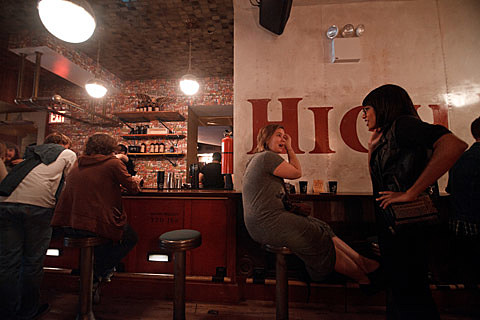 King Dude - "Vision In Black" @ BV Party - 10/19/13

Nothing @ BV Party - 10/19/13

Thanks again to Sailor Jerry and to Raw Revolution for supplying the free organic live food bars that scattered around the venue. Thanks to Vinny's Music, who provided backline equipment for the artists, to Baby's All Right for being so accomodating and for getting the doors open on time, to all the bands who played and to everyone that stopped by.