pics & video from the jazz at New Languages Festival 2009
Happy Holidays! I take on more than I can handle. That results in a lot of unposted content. In the name of catching up, while also taking it easy during this final/first week of the year, here's some of that lost material.
Tyshawn Sorey

Since the well-documented "fall" of The Shank, things have been pretty quiet at 98 Bayard St, Brooklyn, NY. For two weekends in September though, there was noise in the form of the fifth annual New Languages Festival. Eighteen acts comprised of some of the city's top jazz composers and improvisers played over six nights - from the lauded big band project led by Darcy James Argue (who recently blogged about the influence on him of another big band leader, Bob Brookmeyer) to saxist Tim Berne to Jessica 6, fronted by ex-Hercules & Love Affair singer Nomi Ruiz.
The pictures here are from the space's Thursday, Sept. 24th show with Little Women (featuring the dueling, deconstructed saxes of Travis Laplante and Darius Jones), the Mario Robbins/Pete Pavone/Tyshawn Sorey trio (drummer Sorey took apart his instrument too) and fest organizer Jackson Moore's Septet (with three drumsets going at once). Pictures and videos from both weekends are below...

---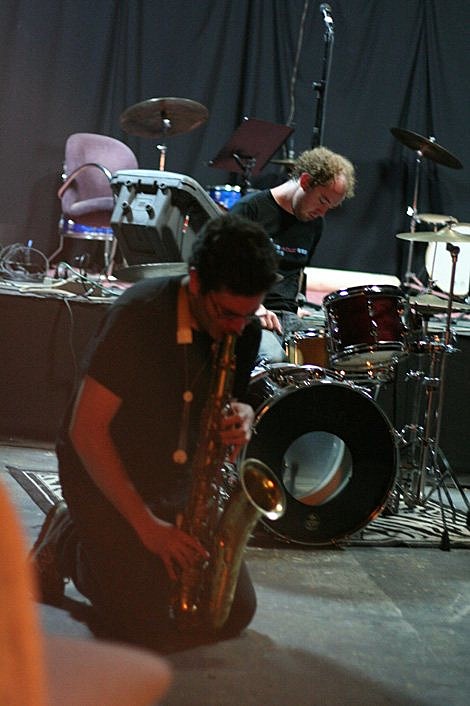 Mario Robbins, Pete Pavone, Tyshawn Sorey...
The Respect Sextet play "Displaced" by Eli Asher @ New Languages 2009

The Respect Sextet play "Stray Alligator" by Ted Poor @ New Languages 2009

Positive Catastrophe at New Languages Festival 2009

Jackson Moore Septet at New Languages Festival 2009