Kirin J Callinan, Absolutely Free & live karaoke band Infinity Spaceship played the BV 'un-CMJ' party at Saint Vitus (pics)
Karoake chaos / Kirin J Callinan / Absolutely Free @ Saint Vitus, 10/20/2012

After a few days of utter CMJ madness, what better way to wash away your troubles than with Infinity Spaceship, the karaoke live band that specializes in punk/indie/hardcore and more. Perhaps due in part to the complimentary Raw Rev bars, Sailor Jerry's rum and PBR (both were free for a limited time) and a possible avoidance of hangover care of Mercy, the crowd at the BrooklynVegan un-CMJ party at Saint Vitus on 10/19 was more than ready to unwind by covering songs by Smashing Pumpkins, Minor Threat, Gorilla Biscuits and many others while backed by the current and former members of On the Might of Princes, No Way, Primitive Weapons, Nakatomi Plaza, Ghost Robot Ninja Bear and more.
It wasn't all covers and amateur hour though. The Saint Vitus shindig, one night before our metal show in the same venue, also featured a pair of performances including mind-blowing, gothic guitarist Kirin J Callinan and Toronto's precise, rhythmically-adept Absolutely Free. Pictures of both bands and the karaoke crowd are below...

--
Infinity Spaceship karaoke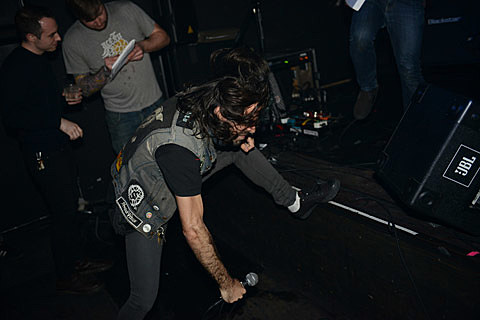 Special thanks goes out to the always fun Infinity Spaceship, as well as Kirin J Callinan and Absolutely Free, not to mention the fine folks at Saint Vitus, Sailor Jerry, PBR, Mercy and Raw Rev.