Pitchfork Festival 2014 day 1 pics (Beck, Giorgio Moroder, Sun Kil Moon, Sharon Van Etten, Factory Floor, more)
Beck / Sun Kil Moon / disgruntled Death Grips fan

The 2014 Pitchfork Music Festival began on Friday afternoon (7/18) in Chicago's Union Park with a variety of acts packed into the compressed schedule. Friday headliner Beck was led up to by sets from Giorgio Moroder, Avey Tare's Slasher Flicks, Sun Kil Moon, Sharon Van Etten, Factory Floor, and others...
LA via Florida experimentalists Hundred Waters kicked off the festival with a 3:30PM set on the Red stage. The quartet's delicate arrangements translated surprisingly well to the festival setting -- standout tunes "Cavity," "Out Alee," and "Down From the Rafters" were awarded additional layers of gauze-y production and live percussion. The crowd grew steadily throughout their set, and were extremely attentive on quiet numbers like the a cappella The Moon Rang Like a Bell opener "Show Me Love." -ZP
Post industrialists Factory Floor performed on the Blue stage and effectively disrupted everyone's nap in the shade with their looped heart-thumping beats and nightmarish soundscapes. The band's show was as much an experimental art performance as it was a musical one, combining everything from arpeggiated synths to random strikes on a wooden block. In addition, the band's singer created some brooding soundscapes by clanging what looked like a drum stick against her guitar's strings, occasionally making a few heavily processed vocals in a nearby mic. Overall the band performed a challenging set that rewarded anyone tough enough to stay for the whole thing. If Swans and Kraftwerk had a baby it would most likely sound like Factory Floor. -MM
Neneh Cherry's appearance at Pitchfork Fest was only her second-ever in North America despite a twenty-some-odd year career. Frequent collaborators RocketNumberNine backed the singer, and the trio delivered a fun performance. Blank Project cuts "Spit Three Times" and "Everything" saw Cherry's energy at its highest point, while Ben and Tom Page churned out their great industrial clamor. And yes, she finished her set with the classic "Buffalo Stance." -ZP
British musician and producer Bobby Krlic, otherwise known as atmospheric drone artist The Haxan Cloak, brought a live drummer to add intensity to his dark afternoon set. Familiar songs from his 2013 record Excavation morphed into grooves that were nearly danceable. (If you're wondering why this is so surprising, listen to his dropless song, "The Drop.") While fans enjoyed the tension and release of the forty-five minute set, one couldn't help but imagine it might be more appropriately suited for a small, dark room, rather than a bright, mid-afternoon festival stage. -AG
Sharon Van Etten

As I continue to see Sharon Van Etten live, her performances only get better and better. This time around, she was joined by new-ish live members Brad Cook (Megafaun) on bass and Darren Jessee (Ben Folds Five) on drums, in addition to usual suspects Doug Keith and Heather Woods Broderick. Sharon and her four-piece band were heavy on this year's great Are We There, but older tunes like "Save Yourself," "Don't Do It," and "Serpents" were also played. SVE provided a welcome, laid-back, early evening set, and it served as a great precursor for Sun Kil Moon. -ZP
Legendary Italian producer and composer Giorgio Moroder closed off the Red stage last night with an eclectic and seamless DJ set that drew from his long list of hit collaborations. Morodor, now 74, no doubt looked a little out of place on stage alongside the psychedelic visuals, perplexing some of the younger fest goers, but he was as lively as DJs a quarter his age, enthusiastically pointing his fingers in time with the mix, and starting a few waves and clap-alongs with the crowd, appearing to have as good of a time as his audience. The mix, a career retrospective of sorts, followed a chronological timeline, playing his disco hits including Donna Summers' "I Feel Love" (which Beck later covered in his set on the Green stage), before transitioning to the '80s anthem "Take My Breath Away" which was accompanied by visual snippets from Top Gun, featuring the vampire ageless Tom Cruise. Not content with just playing old hits, Morodor also threw in some of his more recent work into the mix, including last year's collaboration with Daft Punk, as well as his excellent new track "Giorgio's Theme". For a guy in his 70s, Moroder showed he still has the chops to get crowds moving, cueing enough buildups and drops to satisfy any Monster guzzling EDM fan in attendance. -MM
Alt-rock legend Beck played a career-spanning set with heavy emphasis on his most recent records. He didn't shy away from the hits, pleasing both longtime fans and casual listeners. Opening with the classic Odelay cut "Devil's Haircut", Beck and his band were possibly the tightest act of the entire day. Particularly exciting was his tribute to fellow performer Giorgio Morodor, a cover of Donna Summer's Morodor-produced hit, "I Feel Love." Beck kept the crowd excited for his entire ninety-minute headlining set with a palpable energy during "Loser" and a particularly rousing rendition of "Where It's At." Peep his full setlist below. -AG
Pitchfork Festival continues today (7/19) with sets from Neutral Milk Hotel, St. Vincent, Danny Brown, tUnE-yArDs, Cloud Nothings and more. If you're not there, you can stream it online.
UPDATE: Day 2 pics are up HERE and HERE and Day 3 are HERE. More pictures of day 1 at BV Chicago and below...

---
Neneh Cherry with RocketNumberNine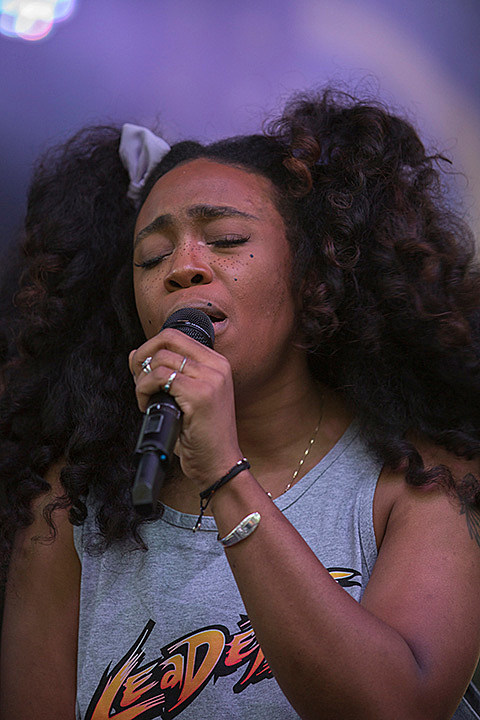 Avey Tare's Slasher Flicks
Beck Setlist
Devil's Haircut
Black Tambourine
Soul of a Man
Gamma Ray
I Think I'm in Love / I Feel Love
(Donna Summer cover)
Blue Moon
Lost Cause
Loser
Get Real Paid
Soldier Jane
Chemtrails
Heart Is a Drum
Wave
Waking Light
Girl
E-Pro
Encore:
Sexx Laws
Debra
Where It's At > One Foot In The Grave > Miss You > Where It's At