Pitchfork Festival 2014 day 2 pics (Neutral Milk Hotel, Danny Brown, St. Vincent, tUnE-yArDs, Wild Beasts & more)
Neutral Milk Hotel / St. Vincent / Danny Brown @ P4K Fest 7/19/2014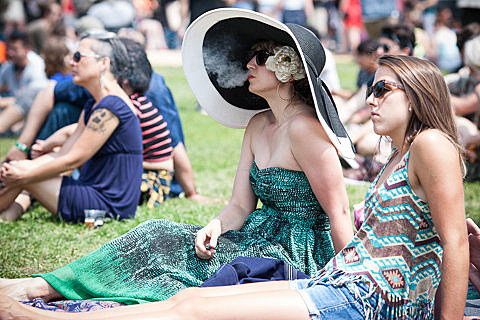 Day 2 of the 2014 Pitchfork Music Festival featured a headlining set by Neutral Milk Hotel, plus sets from St. Vincent, Wild Beasts, Danny Brown, FKA Twigs, tUnE-yArDs and more. Pictures and field report from Saturday's goings-on are in this post. Here we go...
Day 2 began with an early afternoon set from locals Twin Peaks. Although guitarist/main vocalist Cadien Lake James was confined to a wheelchair due to a recent leg injury, the band still managed to put on the kind of appropriately rowdy performance that they've become known for. James and co. got things started with the Sunken standout "Stand in the Sand," and they also played their great, newish single "Flavor" off of their forthcoming LP Wild Onion. James traded lead vocals with fellow guitarist Clay Frankel and bassist Jack Dolan throughout the set. Before playing their final tune, James seemed to be feeling reflective -- he offered, "This is definitely our high point so far in our... whatever the fuck this is." -ZP
After Twin Peaks, I moved over to the nearby red stage to catch the Chicago debut of Brooklyn-based rapper Ka. Ka was able to hold a sizable crowd with his down-tempo beats and methodical delivery. His slow-moving tunes contain rich lyrical content and are undeniably impactful. Before playing the somber cut "Summer," he spoke about how the season in his Brownsville neighborhood isn't full of bikinis and BBQs, but rather an increased level of violence -- he also acknowledged that we've got a very similar summer landscape here in Chicago. Memorable numbers from his performance include "Our Father" and "Jungle." -ZP
Saturday's P4K-goers were treated not to one, but two Elephant Six Collective bands, both of whom have been touring together. Circulatory System was the first of the two, (the other being the day's headliner Neutral Milk Hotel) playing a solid set of '60s-influenced indie rock under the cool shade of the Blue Stage. Each of the band's members played multiple instruments, casually adding everything from a clarinet to a xylophone, with frontman Will Cullen Hart even contributing some additional drumming. One highlight was an excellent instrumental interlude, a duet between the band's violinist and cellist. The band played some new songs off their most recent release, Mosaics within Mosaics, which was released earlier last month. Fans of Yo La Tengo had a lot to enjoy here. - MM
tUnE-yArDs

Back over at the Red Stage, Merrill Garbus and the rest of tUnE-yArDs were a few songs into their set and playing "Hey Life" off of their 2014 LP Nikki Nack. In addition to bassist Nate Brenner, two backup vocalists and a percussionist rounded out the band. This allowed for expanded versions of Whokill favorites "Gangsta" and "Bizness." The additional members took a breather during "Powa," providing the room for Garbus and Brenner to experiment a bit. Though the project is now more pop-forward, tUnE-yArDs' funky and jammy backbone was still able to peek through. -ZP
Danny Brown intended to throw a party during his Pitchfork Fest set. The Detroit rapper sprinted back and forth across the stage while performing fan favorites like "Break It (Go)," "Smokin' and Drinkin'," "I Will," "Bruiser Brigade," and "Kush Coma." It was without a doubt the funnest set of the day, and Brown appeared to be having just as much fun as the massive crowd watching him perform. -ZP
Swedish techno minimalist The Field played a largely ambient set to a crowd that was eager to get out of the sun and recharge before the day's headliners played. The set started slow but progressively built up to include a live drummer. Generously borrowing stylistic cues from early Warp Record signees like Aphex Twin, The Field kept things simple and steady, opting for a more IDM approach. The set might have been better suited for a venue with less light, but listeners, myself included, were entranced throughout. - MM
St. Vincent (aka Annie Clark) brought her now-choreographed performance to Pitchfork Festival for an evening set on the red stage. The choreography only enhances and doesn't hinder her guitar heroics and pitch perfect vocals. Clark and her band began their set by playing "Rattlesnake" into "Digital Witness" into "Cruel." For "Cheerleader," she mounted her podium-like setup and the song was played slower than usual, reminding me of "We Are The Champions." During "Birth in Reverse" the band left room for a freak-out section, and Clark ended up kneeling on the stage to headbutt her drummer's bass drum. Clark has consistently reinvented what St. Vincent is from album to album, and has now honed the live chops to be able to play to whichever attribute she'd like. -ZP
Headliners for the night were storied indie rock band Neutral Milk Hotel whose two '90s album have become massively influential since main man Jeff Mangum dropped out the music world shortly after making 1998's In the Aeroplane Over the Sea. That has turned the band into a huge draw for their current reunion tour and his songs still hold power. The fests big projection TV screens were turned off for the performance that showcased favorites from the band's two albums. (Setlist is below.) NYC can expect the same when Neutral Milk Hotel play Celebrate Brooklyn! in Prospect Park on Tuesday (7/22) and Wednesday (7/23). Tickets are still available for Tuesday's show.
Pictures from Day 1 of Pitchfork Fest are HERE and HERE and a second set from Day 2 (including FKA Twigs) are HERE and Day 3 are HERE. More of Day 2, including sets from Pusha T, Empress Of, and Wild Beasts, below...

---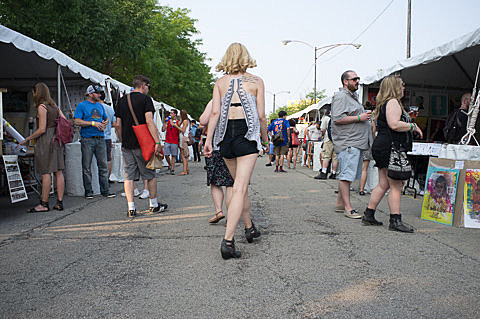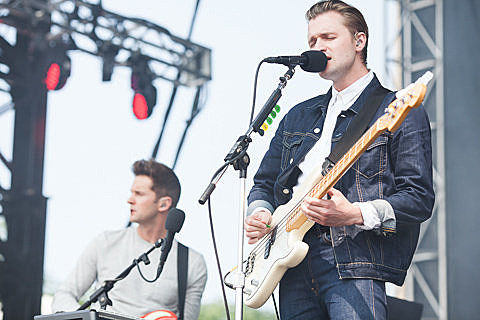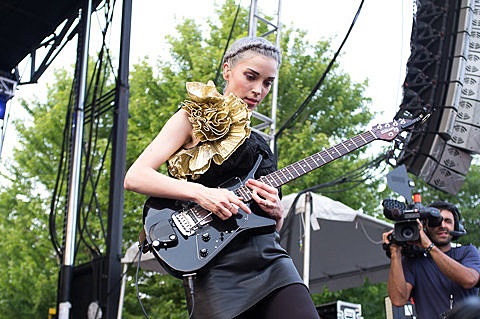 SETLIST: Neutral Milk Hotel @ Pitchfork Fest 7/19/2014
I Will Bury You in Time
Holland, 1945
The King of Carrot Flowers, Part One
The King of Carrot Flowers, Parts Two & Three
Naomi
Ferris Wheel on Fire
Two-Headed Boy
The Fool
In the Aeroplane Over the Sea
Gardenhead / Leave Me Alone
Song Against Sex
Ruby Bulbs
Snow Song, Part One
Little Birds
Ghost
[untitled]
Two-Headed Boy, Part Two
Oh Comely