Pitchfork Paris day 2 review: Belle & Sebastian, St. Vincent, CHVRCHES, Future Islands, Son Lux & more
Belle & Sebastian at Pitchfork Paris on Friday - 10/31/14

Perfect Pussy began the second day of the festival, but I showed up a little later and my night started with Australian songwriter D.D Dumbo, a one man act. Dumbo used a Danelectro 12-string guitar, an octave pedal, drums, pan flute and recorder to generate an entirely loop-based sound. I thought that Dumbo was an incredibly proficient looper, but sometimes the layers were so thick that it became difficult to follow the songs.
Up next was Son Lux, the project of New York City's baroque experimental songwriter Ryan Lott. On stage, Lott (playing keyboards and vocals) was joined by drummer Ian Chang (also of Brazos) and avant-jazz guitarist Rafiq Bhatia, a highly impressive trio. The song's arrangements left room for Bhatia's improvisations to shine, and the guitarist responded with an arresting series of sounds, combining distortion, panning and tremolo to send his guitar soaring around the room through a series of seemingly broken speakers. Chang drummed with mechanic deliberation and Lott added layers of effects on his vocals to match the grand nature of his soundscapes.
Future Islands came out dressed in Halloween costumes, which included lead singer Sam Herring in vampire makeup (which he quickly sweat off after the first few songs). It's no secret that Herring is an incredibly engaging performer, and last night he danced all over the stage with remarkable fluidity, bending his knees in ways I never thought possible, jumping into the photo pit to sing with the crowd, and injecting his delivery with more than a little of the theatrical. The band nailed a variety of high-energy selections from their 4AD debut Singles, including "Seasons," which has apparently just been dubbed a "miracle" by Bono.
Danish singer-songwriter MO kept the energy high, performing her style of synth-heavy electronic pop backed by a drummer, guitarist and multi-instrumentalist, and complemented with a series of projections. If last night was the post-rock and ambient night, then tonight was the pop night, and I thought that the upbeat hook-heavy run from Future Islands all the way through Belle & Sebastian gave the night a great energy.
CHVRCHES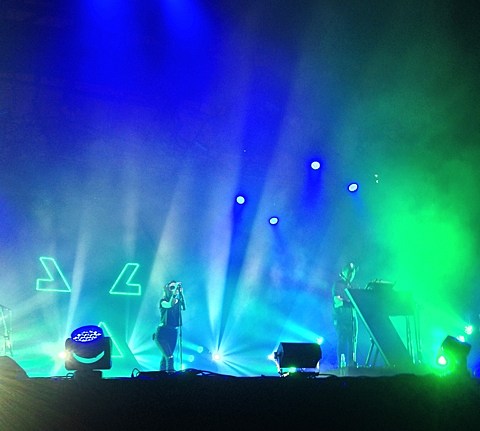 CHVRCHES brought out the most extensive lighting set up of the festival thus far, complementing their arena-ready songs with equally commanding visuals. Lauren Mayberry's voice was spot-on - the best I've heard it thus far - and the band performed many of the highlights from their full-length, including "Recover," "The Mother We Share," "We Sink" and "Gun."
St. VIncent was next. It's been such a pleasure to watch St. Vincent's live show evolve into the aggressive, fully realized animal that it is now. A set that started with "Rattlesnake" only grew in intensity throughout, with the guitars and synths especially screaming on new songs like "Huey Newton" and "Bring Me Your Loves." It's inspiring to witness the variety of textures that Annie Clark can pull out of her guitar - it felt like a jet airplane, a synthesizer, a vacuum cleaner and a theremin at various points in the night - and it helped propel the band through an incredibly engaging set, closing out with an updated version of "Your Lips Are Red" from Marry Me.
And what a treat it was to see Belle & Sebastian! Stuart Murdoch and company brought out a four-piece string section to complement their already intricate arrangements, and there could be no complaints about the setlist: The show opened with the rocking "You're Just A Baby" and included magnificent takes on "Fox In the Snow," "Like Dylan In The Movies," The Boy With The Arab Strap" and "Sleep The Clock Around." Murdoch was in excellent form and as charming as ever, attempting his best French, pulling out some Sam Herring-esque dance moves, inviting fans to come dance on stage, and (most importantly) delivering his gorgeous vocal with delightful ease. The band received what appeared to be a true encore from the loudest crowd of the night, ending on the ever-so-appropriate "Get Me Away From Here, I'm Dying."
The festival continues tonight with tUnE-yArDs, Caribou, Four Tet, Jamie xx, Foxygen and much more. If you're not there, you can stream it live HERE. Archived videos of previous sets at that link too.
A few more pictures from Friday (including one of Belle & Sebastian's setlist) below...

---
D.D. Dumbo