Parquet Courts played Bowery Ballroom w/ Pixies, playing MHOW tonight (pics, setlist & new EP stream)
Pixies / Parquet Courts @ Bowery Ballroom - 9/20/2013

Much like the summer, Pixies' run of small NYC shows seems like a distant memory, but it was just a couple weeks ago. The last of them happened at Bowery Ballroom on September 20 where they blessed the crowd with "Broken Face," "Motorway to Roswell," and both versions of "Wave of Mutilation" that bookended their show. Plus, that cover of The Fall's "Big New Prinz" and "In Heaven" from Eraserhead and a bunch more. Setlist and a belated set of pictures from the show are in this post.
Opening were locals Parquet Courts who may just owe a thing or two to the Pixies. (And I bet they both like The Fall.) Parquet Courts play tonight (10/2), headlining Music Hall of Williamsburg and tickets are still available. It'll work as a record release party for the band's new Tally All the Things That You Broke EP which comes out next week (10/8) on What's Your Rupture. You can stream it full right now in this post.
Tonight's MHOW show is pretty all-in-the-family. Pals The Beets are the undercard. Omaha, NE's Yuppies have a very good new album out on Dull Tools, the label that's co-run by Parquet Courts singer, Andrew Savage. You can stream that in full below as well. And opening tonight are Future Punx, which is the new band from Jason Kelly of Fergus & Geronimo which Andrew Savage used to be in as well. The Future Punx live band is basically the last touring line-up of F&G minus Savage. The band's first 7" will be out on Dull Tools soon and you can stream it now below.
More Pixies and Parquet Courts pics from Bowery, plus those streams, below....

---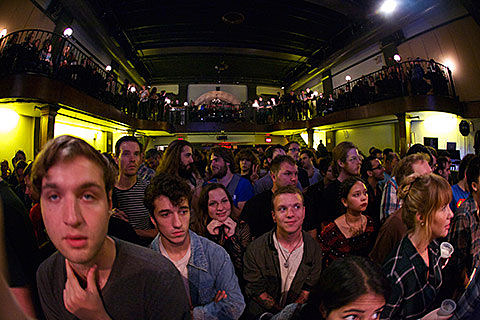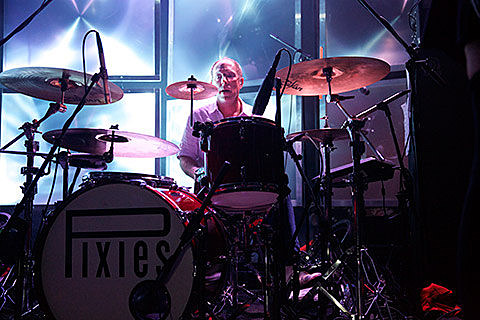 SETLIST: Pixies @ Bowery Ballroom 9/20/2013
Wave of Mutilation (U.K. Surf)
In Heaven
Andro Queen
Here Comes Your Man
Motorway to Roswell
Where Is My Mind?
Nimrod's Son
Vamos
Havalina
Velouria
Hey
Magdalena 318
Cactus
River Euphrates
Broken Face
Something Against You
Ed Is Dead
Indie Cindy
Allison
I've Been Tired
Another Toe in the Ocean
What Goes Boom
Bagboy
Gouge Away
Big New Prinz
Greens and Blues
Monkey Gone to Heaven
Planet of Sound
Encore:
Wave of Mutilation
Rock Music